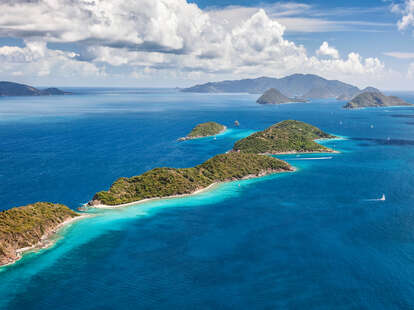 Your island awaits (the one on the far end).

| pics721/Shutterstock
Your island awaits (the one on the far end).

| pics721/Shutterstock
If you're planning a trip to the US Virgin Islands (as many might be, now that passport renewal times are skyrocketing), you're most likely choosing between three main hubs: touristy St. Thomas, with its nightlife and shopping, adventurous St. Croix, where you can soar above the ground ziplining or explore underwater by scuba. Or the nature-minded St. John, where over 60% of the island is devoted to the Virgin Islands National Park and its hiking, camping, and volunteering opportunities. None of those options sound appealing? Perhaps you might be interested in going private.
Just take a peek out of your airplane window before landing and you'll see that the big, populated guys mentioned above are not the only blobs of volcanic rock rising out of the ocean. In fact, there are multiple. Some are tufted with green growth. Most are uninhabited. One, Little St. James Island, is notorious (look it up). And another, just a short 15-minute ferry ride from St. Thomas or 10 minutes from St. John, is the blissful 118-acre private isle of Lovango, purchased—at least half of it, anyway—by hoteliers Mark and Gwenn Snider of New England's Little Gem Resorts in 2019. In addition to their Winnetu Oceanside Resort on Martha's Vineyard and The Nantucket Hotel, they now count the Lovango Resort + Beach Club among their fleet, the first private island resort in the USVI. But don't worry—you don't need a private island-sized bank account to visit.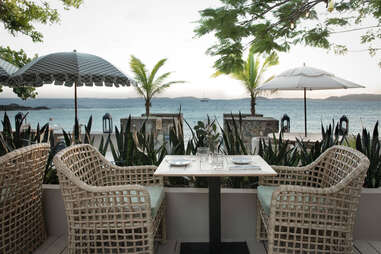 The resort took its name from its island home, Lovango Cay, a name local legend says was inspired by a brothel that once graced its shores—or, more precisely, what would happen inside that brothel. Pirates would sail up to the island, engage in a little love… and then, go. The truth isn't quite so clever. Pronounced and sometimes written as Lu'ongo or Loango, the island was most likely named after a pre-colonial African kingdom that occupied what is now western Congo, Southern Gabon, and Cabinda from the 16th to 19th centuries.
However, the island's salacious—and entertaining—fictional origin story first concocted by a charter captain to rile up tourists does contain a kernel of truth. Though the land, for the most part, has been devoid of Indigenous inhabitants for centuries, there is evidence of some form of occupation starting in 1728. At one point, in 1917, the population swelled to 49 Dutch residents spanning 19 households, including enough children to warrant the creation of a public school.
Some years later, after a failed HOA development, the island lay dormant. For a while a food truck would be parked out front of what would eventually become the Sniders' property, serving up cocktails to those sailing by (no word on if any were pirates… or if they were selling anything else besides food and booze).
Today, you can still get cocktails, though in a different iteration. The Lovango Resort + Beach Club offers 11 sustainably built treehouse rooms and glamping tents along with a beach club open to public use. There, those looking to live out their Swiss Family Robinson dreams can do so for around $1,500 a night. But for just a fraction of that price, anyone can enjoy a slice of the private island life. The beach club offers day passes, which start at $135 each and include ferry rides, snorkeling the island's coral reefs, and access to the island's secluded hiking trails. It's a perfect addition to tack on to your USVI getaway—you'll feel as though you've stumbled onto one of the last places on earth that still feels like a secret.
Wake up at the resort, and there's no mistaking you're in the tropics. Sun streams through the slats of your wooden treehouse or the creases of your glamping tent while birds—some visiting from the sanctuary island across the way, some who think you, too, live in the trees, because your home blends in so seamlessly—relentlessly pester you for some coffee talk. You give in, taking in some bird gossip with your morning cup while gazing out on the bluest strip of water in the USVI. Not a bad way to start the day.
Later, you can hike along one of three trails, each about thirty minutes long, before rewarding your efforts with snorkeling around one of two reefs. Pick the reef by the docks, where they've partnered with the University of the Virgin Island's Reef Response to support coral restoration, and you might find a surprise: parrot fish darting around coral planted on metal rebar, spelling out LOVANGO (it's in the early stages, but it's getting there).
Up until now, you've barely seen another soul—the private island life is private indeed. But this particular island has something of a split personality. After snorkeling, switch up your vibe from Gilligan to glam with lunch at the slick beach club next to the infinity pool looking out to St. John. Pair your meal with cocktails that utilize local breadfruit-infused vodka and other ingredients grown on the island, like tangy tamarind. And speaking of St. John, a day trip there is just a short ferry ride away, plenty of time to get back for moonlit dinner with your feet in the sand, soaking up a setting that feels worlds away from home. No passport required.
To say they're serious about their food around here would be quite understatement. The menus curated by chef Stephen Belie alone are worth the price of a day pass. And it's Belie's deep food world connections that inspired the Taste of Lovango, the resort's first food festival, held earlier this month with participating chefs including Tiffany Faison, Sam Choy, former Daniel Boulud and Thomas Keller chef Brian Arruda, and James Beard Rising Star semi-finalist Robbie Felice. There were roasted pigs and Thai coconut rice and foie gras drizzled with passion fruit sauce, plus blackened chicken wings and banana leaf-steamed fish and rich olive oil cake (oh my).
Fancy food festivals aside, you can't help but wonder what it was like to visit Lovango before the resort touched down and took over. Could you just… swim up and claim a spot on the beach? Miami-based chef Adrianne Calvo and her corporate executive chef Egg Siu indulge me. Their first visit was in 2018, and they were looking for an adventure. Back then, they would only have Mondays off from Chef Adrianne's Vineyard Restaurant and Bar, so anything they did had to be well worth it.
"Chef Egg would curate a place that we could fly to from Miami without a headache, spend a day there, and be back on the line on Tuesday morning," says Calvo. On the list was an epic journey to St. Thomas which included renting a private boat and hopping around the Caribbean Sea. At one point they landed on Lovango. "It just popped up," said Siu. "And I was like, 'This looks good.'"
"At that time, it was a dock, a beach bar, a couple of lunch menu items, and they were cooking out of a food truck," explains Calvo. "And we were actually blown away by how good it was." So good, in fact, that a few years later the pair returned to film an episode of their YouTube show, Searching for Maximum Flavor. And while at the time of production the food truck was gone, the cocktails and welcoming beach bar vibe was still there. Not to mention some killer views. The rice and peas dish she remembered might have been replaced by lobster guacamole and the rustic dock with waving staff members in tidy uniforms, but that exciting feeling of discovering something new remained.
As the first new build in the USVI in 30 years, all eyes are on the Lovango Resort + Beach Club. And though it continues to be a work in progress it's truly impressive what the Sniders have done with the place in just a short time. Sure, "private island resort" is overstating a tad: The resort takes up half of the island, with 97% of the other half owned by a native ancestral Virgin Islands family alongside six separate half-acre parcels sporting private homes. But the past four years have been a crash course in sustainability by necessity, as building off the grid tends to be. They've had to learn how to do things like purify their own water, use solar and wind power for energy, utilize an anaerobic septic system, and break down glass to redisperse as sand. Naturally, what began as an interest in eco-friendly practices soon grew into a core business philosophy.
"As we have had Lovango, it's made us question what we're doing in [the properties in] New England," says Matt Snider, project manager and the son of owners Gwen and Mark. "Here, it's more of our lifeline, and often we don't have other resources because we're an island. That synergy works for us: We need water, we need power, and we're gonna do it the right way."
The resort team's five-year plan includes adding more villas with pools, followed by a spa, and then a gym, prioritized according to customer feedback (in this heat, guests aren't always jonesing for a gym). "I moved down from Manhattan," says Snider. "This is quite the adventure—there's no overnight Chinese food delivery here. But we're finally at a stable point to be able to do wonderful things."
So if you're ready to mix your Gilligan with a little glam, now's the time to grab that day pass. Or heck, spring for the overnight. Because in this world, everyone deserves a taste of the private island life. After all, it's always a good time to love… and go.
Vanita Salisbury is Thrillist's Senior Travel Writer. It took her a sec to figure out what the coral spelled.