Berlin Is a Magnet for Artistic Expats. Here's How to Make It Your New Home.
A bastion of tolerance, techno, and free spirits
Berlin drew me in with its techno scene, graffitied facades, and freewheeling, eccentric souls. Clandestine nightclubs thrived in empty pools, crematoriums, and squatters' houses. Opera singers filled subways with music. My first room was rented from a tattoo artist who collected taxidermy. I tried out cuddle parties and beer yoga. The moment I saw a blue-mohawked man carrying a pizza box, leashed pet rat on top, I knew I was in love with the kooky spontaneity of this city.
Years later, my priorities have changed (goodbye my 20s, hello debilitating hangovers), but Berlin—with its liberal, anything-goes attitude and affordability—is a city that continues to grow with me. Here you can bask in nonconformity, flourish in shadowed subcultures, and widen your horizons. No one cares as long as no one's in harm's way (unless you're at one of Berlin's infamous fetish parties, and that's consensual).
Berlin's freedom offers a haven for creative types, queer communities, free spirits, and independent thinkers. And if you're artistically inclined—artistic is very broadly defined—Berlin is all but calling out for you to pack a bag and live here. Once the COVID-era immigration and border restrictions ease, here's how to make it happen.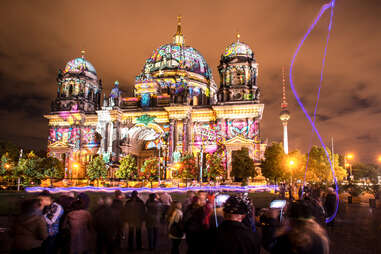 The artist visa makes moving to Berlin shockingly easy
Citizens within Europe's Schengen area are allowed to live and work within Germany, but a non-EU citizen from Canada, such as myself, needs a residence permit. Germany offers such permits for employees, self-employed workers, and students, as well as working holiday visas to citizens of Australia, Israel, Japan, Canada, and New Zealand. However, like many newcomers to Berlin, I applied for a freelance artist visa.
Berlin is the only German city with a freelance visa specifically geared towards artists. Anyone in a creative field—writers, musicians, photographers, designers—can apply. The visa is typically good for one to three years, and you apply for extensions at the immigration office. Unlike most other visas, which can take a few months to be approved, you may be lucky enough to walk out with one on your very first appointment.
Still, there are hoops to jump through. As part of his visa process, American comedian Tyrone Stallone needed to collect 15 letters from comedy clubs and bars saying he could gig there. That hard work paid off, and he's pioneering the city's fledgling standup scene with sold-out shows.
Stallone says the freedom he feels in Berlin spans professional but also personal, particularly as a Black man from Los Angeles where he often felt like a "second-class citizen."
"Berlin isn't like other places where after a bad show, you might be screwed (financially) for a few months," he says. "You can still be creative and fall flat on your face, get up, and try again."
Artists Calla Henkel and Max Pitegoff from Minneapolis and Buffalo, respectively, are "still rolling on artist visas" for nine years. In Berlin, they explore performance art, theater, photography, and particularly large-scale works that wouldn't have been possible as broke, fledgling artists in New York. Last year, the duo opened TV Bar, an underground hangout, performance space, and film studio all rolled into one.
"Here in Berlin, there are all these kinds of semi-institutions alternative spaces in people's apartments, bars in basements," says Henkel. "All these sort of in-between spaces wouldn't normally be possible (elsewhere)."
Berlin has built-in support systems and communities
Self-employed creatives can also take advantage of subsidized healthcare exclusively for artists, as well as plentiful grants and programs. This is very much a city with a built-in support system for creatives. And that support system extends to communities.
Joseph Hutchinson, 35, was a corporate lawyer in New York and London. Facing burnout and Brexit, he moved to Berlin in 2017. He is now a self-employed writer and co-publishes an independent magazine.
"I was working 120 hours a week always trying to prove myself," he says. "I realized everything is such a struggle because no matter how much education or status I had, I was still a Black gay guy in America."
He calls Berlin "Disneyland for a gay man"—a paradise of what he calls "sexualized social spaces" like gay saunas and parties focused on inclusivity. "Berlin has really helped me with my self-esteem and accept being gay, and become my own person," he says.
Immigrants are evolving the food scene
Long ago, I came to terms with primitive longings for Canadian comforts absent here: pancakes, crispy bacon, and sweets made with baking powder. The trade-off was a wealth of world cuisine, including all the Turkish and Middle Eastern food in my neighborhood of Neukölln, the "Little Asia" on Kantstrasse, and events like Street Food Thursday, where dishes from Pakistan to Peru and Vietnam are up for snacking. But today's influx of enterprising immigrants means the food landscape is becoming even more global... and focused on creature comforts.
The latest is Magic John's, a New York-style pizza joint from Yoni Margulies, a New Yorker who also runs the inclusive queer party Horse Meat. Homesick Americans fawn over slices are upgraded with locally made pepperoni and truffle.
Meanwhile, Nashville native Sarah Durante runs Humble Pie, a food truck selling pies and biscuits with hot chicken. She operated Humble Pie on the side while working in marketing, and eventually built the business into a full-time endeavor.
"There's so much pressure for a business to succeed in a place like New York, or other places in the US," she says. "I thought that if it doesn't work here, it doesn't matter."
Running a business under German bureaucracy isn't easy, but Durante says there's a great network of other gastro-preneurs to turn to, including the Americans behind businesses like Fräulein Kimchi, making Korean twists on tacos and burgers, and the craft brewery Two Fellas.
Finding an apartment and other nightmares
It's not all street food and free expression. Now that the secret is out about Berlin, everyone and their bestie from Brooklyn wants to move here—and it's survival of the fittest. You need to do the work.
Navigating the complexities and convolution of German bureaucracy is the plight of every foreigner. For example, an astonishing amount of paperwork and official communication does not happen electronically. At one point I couldn't renew my visa without new health insurance, but couldn't get health insurance without a renewed visa. Navigating situations like this takes a lot of letter-writing, calling around, and trawling message boards. As such, the system is backlogged, and getting set up in Berlin can seem like a Tolkein saga. Seven years later, I'm still figuring it all out.
But really, in the last circle of Berlin hell, the Devil himself is controlling the rental market. Everyone's heard horror stories of apartment viewings with hours-long queues, and hundreds of prospective tenants groveling with their income slips and credit scores. And if this sounds like an exaggeration, just ask the 1,800 people who showed up to view a single flat last year.
"A lot of people told me you can navigate everything here without speaking German. I will confirm that is not true."
All things compounded, it can be enough to make any newbie go crawling back to where they came from, but miracles are possible. Michelle No, a former Thrillist writer from New York, moved to Berlin in 2018. Miraculously, she found an apartment. But it was nonetheless a nightmare that she calls "the most stressful thing ever." Done again, she'd have saved more cash and budgeted in an Airbnb for more time to apartment-hunt.
With the influx of newcomers, gentrification is also an issue: cafes with avocado toasts and laptop zombies are irking people. Low-income locals are getting displaced. As such, frustration can turn onto foreigners.
While you can get by with English, you'll get a lot of side-eye for not speaking to German. No says a few German classes would have helped her.
"A lot of people told me you can navigate everything here without speaking German. I will confirm that is not true," she says.
No, who is Korean-American, loves Berlin's diversity, but also feels the conversation on race in Germany is far behind that in America. "I'm having a lot of difficult conversations that I thought I was done having 15 years ago. Although I do know a lot more about the world in general now living outside the US bubble."
Luckily, those conversations, like most expressions in this German bohemia, are open and continuing to evolve.
Sign up here for our daily Thrillist email and subscribe here for our YouTube channel to get your fix of the best in food/drink/fun.