This City Has America's Worst Rush Hour Traffic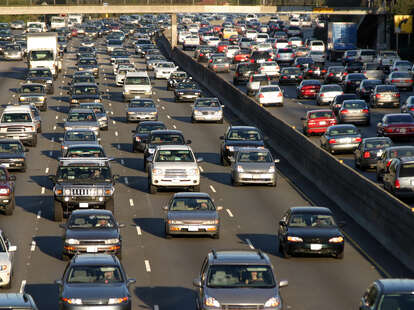 Shutterstock
Shutterstock
If there's one thing Angelenos brag about, it's their Mexican food. They have a point, though. On the flip side, they'll also assuredly whine about the traffic on the way to get said Mexican food. But it turns out, they have every right to complain. According to new data from TomTom, LA has the worst rush hour traffic in America.
That still doesn't mean anyone wants to hear about it, however.
The GPS giant's Traffic Index measured the average amount of time rush hour drivers sat in standstill congestion compared to free-flowing traffic in 218 cities around the world in 2014, finding the City of Angels spends a ridiculous 39% of its commute in traffic jams.
While it takes LA drivers an average of 54 minutes to complete a 30-minute drive (yep, they're not exaggerating), San Francisco's the next most congested city; drivers there wasted 34% of their time behind the wheel in seemingly never-ending queues. Honolulu -- land of sand, sea, and apparently stressful traffic -- claims third place with 32% idle time, proving that warmer climes don't ensure calmer lives.
And though colder metropoles like NYC (no. 4) and Chicago (no. 8) saw big jumps in congestion last year, with rush hour traffic up 5% from 2013 in each city, California ultimately wins (or loses) with three cities in the top 10. But it's bad news all round; on average, Americans spent 46% of rush hour backed up in traffic. That's nearly HALF of the average driver's commute spent not going anywhere. Sigh...
Still, it could be worse. Everyone could be in Istanbul, the world's most congested city, where drivers spent 58% of their rush hour drive in traffic last year -- nearly 20% longer than a couple of amigos grabbing carnitas in Echo Park.
Check out the 10 US cities with the worst traffic below.
10. Portland, OR - 26%
9. Washington, DC - 27%
8. Chicago, IL - 27%
7. Miami, FL - 27%
6. San Jose, CA - 30%
4. Seattle, WA - 31%
4. NYC, NY - 31%
3. Honolulu, HI - 32%
2. San Francisco, CA - 34%
1. Los Angeles, CA - 39%
And the 10 cities with the worst traffic in the world:
10. Los Angeles, CA - 39%
9. Warsaw, Poland - 40%
8. Bucharest, Romania - 41%
7. St. Petersburg, Russia - 44%
6. Recife, Brazil - 45%
5. Salvador, Brazil - 46%
4. Moscow, Russia - 50%
3. Rio de Janeiro, Brazil - 46%
2. Mexico City, Mexico - 55%
1. Istanbul, Turkey - 58%