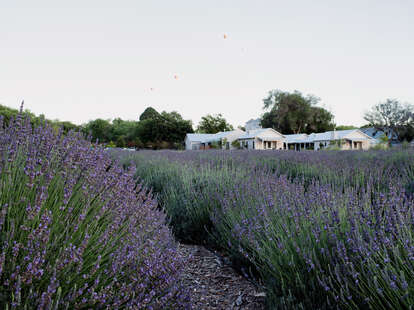 Spot the famous Albuquerque hot air balloons.

| Photo by Sergio Salvador
Spot the famous Albuquerque hot air balloons.

| Photo by Sergio Salvador
Think of lavender and your mind may wander to pungent fields in hills off the Mediterranean, the Middle East, or India, vast swaths of land flush annually with purple blooms perfuming not just the air but everyone who comes in contact.
But there's no need to travel overseas to immerse yourself in this multifunctional blossom, used for everything from scented body products to medicinal purposes as an antiseptic, anti-inflammatory, sleep aid, and plague-repellant—or the fleas that carried the plague, anyway. (It might even help you in love. Lore says it was the secret weapon used by Cleopatra to seduce both Julius Caesar and Mark Antony.)
No, a similar scent sensation could be experienced much closer to home. Like, say, in the fields of Sequim, Washington—the "lavender capital of the US," with its Lavender Trail of farms and gift shops and an annual festival (July 15-17). Or Sage Creations Organic Farms in Palisade, Colorado, where every summer you can pick your own fresh bundles, impressing your friends (or more likely, your mom). At Lavender Hill Farm in Boyne City, Michigan you can take a guided tour and practice yoga in the fields. And at the eminent Los Poblanos Historic Inn & Organic Farm in Albuquerque, New Mexico you can actually sleep amongst the purple buds, in one of their luxury agriculturally-inspired Field Rooms. We would guess very, very soundly.
Turns out that while it's not native to the region, the drought-tolerant lavender plant thrives in a desert landscape, not needing much in the way of hydration. One good watering of the farm can last a month. Los Poblanos plants Grosso lavender, a French hybrid with dark blue spikes and gray green foliage that makes honey bees weak in the knees and yields the highest percentage of essential oil.
It's used to make multiple products, all sold in the farm shop, including soaps, candles, hair oil, and lavender salt (both the bath kind and the edible kind). Book a treatment at Hacienda Spa, opened in July of 2021, and be spoiled with products using farm-grown botanicals. And definitely pick up their famous salve, the first product and still their best-selling, originally made by founder and owner Penny Rembe on her stovetop to soothe rough farm-working hands. It's still hand-poured today. "It's really been one of those products that's phenomenal for everything," says Brandilyn Fagan, director of sales. "The kitchen team uses it for burns. You can put it on bug bites. There's just a million things it can be used for."
A hotel rooted in Southwest history—and animals
Ancestral Pueblo Indians—those of the historic revolt of 1680 that overthrew Spanish rule for 12 years—once inhabited the land where Los Poblanos now sits. It's named as an homage: Original settlers were thought to be from the Puebla, Mexico, its citizens, "Poblanos."
In the 1930s the property was purchased by politician power-couple Albert Simms and his wife, Ruth Hanna McCormick Simms. While developing the land, the couple implemented and preserved much of what we see on the property today: the looming grain silos, now stenciled "Los Poblanos 1934" and the barn that would eventually become the restaurant Campo, and the farm shop. In a previous life, the property was a dairy farm that would become Creamland Dairies, supplying Albuquerque with much of its milk and laying the foundation for the dairy industry in New Mexico. The land to the Sandia mountains was dotted with purebred Guernsey and Holstein cows—the finest in the Southwest, they say.
Today, you'll see a few four-legged friends roaming the property, in a nod to its livestock past: a couple of sheep, and alpacas used to practice regenerative agriculture. "By walking around on the soil, their feet and their hooves stir up the soil, they loosen up the top, when it rains and it snows it allows the water to sink in at a better rate than it would have than if the soil were hard-packed," explains Wes Brittenham, director of horticulture. The sheep's wool has been given to local fiber artists, with plans to create their own textiles on the Los Poblanos property. The alpacas also act as roaming fertilizers, and occasionally, weed wackers. "Originally they were brought in because they eat bindweed, a weed that grows out in the fields, but not lavender," says Brittenham. "They don't eat enough to make a difference, but they're sweet."
There are chickens and free range guinea hens that provide natural pest control. And two picky peacocks that do as they please. "They stroll around and they're kind of friendly," says Brittenham. "This is breeding and display season so they march around and just look beautiful. They like to eat our bread and pastry. But it has to be fresh, not stale."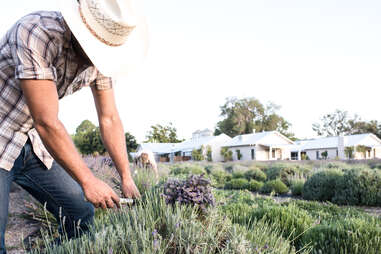 A conscientious crop that you can help harvest
Today's historic inn—now the property's Meem Rooms & Suites—was envisioned in 1932, when Ruth Simms commissioned noted New Mexican architect John Gaw Meem to renovate the dairy farm's ranch house to use as their home, in the Territorial Revival Style: an earthy, more formal take on the Spanish Pueblo Revival style. Meem also designed the La Quinta Cultural Center on the property, with a ballroom, parquet walnut floors, decorative Spanish tile and massive fireplaces. The now-rentable space was used for political and community events and art shows and was also home to the first swimming pool in Albuquerque—still there today—and elegant rose gardens designed by pioneering female landscape architect Rose Greely.
One thing about those rose gardens though—they practically guzzled water. So when the next owners, Armin and Penny Rembe, bought the place in 1976, they sought to plant a crop that did the opposite, conserving water while preserving soil structure. Today, the camel-like lavender is harvested annually by hand, typically in the early morning hours of June through August. And the work isn't limited to those getting paid to do it. Guests of Los Poblanos can chip in as much or as little time as they'd like. And on Fridays during the harvest season, the public can volunteer as well.
There are a few things you should know though. "You're gonna be out there all day so you need to dress accordingly with comfortable shoes, maybe pants and a long-sleeve shirt. We tell people, just imagine you're going hiking for a day," says Brittenham. Pack a hat for the sun, and a bottle of water to drink. And, oh, there's bees. "We have lots and lots of beehives, and when the lavender's blooming it's full of bees. So if you're allergic to or afraid of bees, maybe helping us harvest is not a great idea."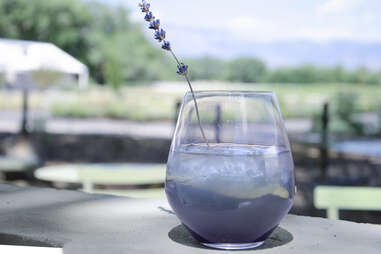 An opportunity to taste the rainbow
Want to sample the lavender? No problem. Sip a milky lavender latte at Campo, the on-property restaurant, or try cocktails like a lavender margarita, a lavender grapefruit spritz, or the Lavender '99, made with sparkling wine.
Besides lavender, the farm works in tandem with the kitchen at Campo, growing crops that both would be useful for hungry stomachs and that also pay homage to the land's ancestral roots.
"The farm has always been there—since the Native Americans were farming that and over a thousand years ago," says Brittenham. "We even grow some of the indigenous crops that they were growing long before the Europeans came, and try to honor that history as well." That includes a Native American three sisters garden of corn, squash, and beans, that work intricately in unison. "The corn grows up tall and uses up a lot of nitrogen from the soil, so you plant beans at the bottom which are nitrogen fixers. The squash planted around the base spreads out with the big leaves and helps shade the soil, so it saves water by preventing evaporation."
Herbs grown—like thyme and sage—are used in Campo's cocktails, but they'll also grow things like African blue basil, and shiso, and experiment with bitters and whatever else they think of. "We're always looking on the property at things growing: is it low water use, is it edible, is it distillable, is it food for native pollinators?" says Brittenham. "How many multiple uses can we get out of a plant? Water is precious in the desert, so if we're going to be planting something and giving it more water it has to be multifunctional."
Two tasting rooms are projected to open in July of 2023: one attached to a new Los Poblanos farm shop in Santa Fe and another attached to the existing shop in downtown Albuquerque. There they'll be featuring New Mexican spirits, wines, and beers. And most importantly, what will be their newest product: gin, made with botanicals from the farm, both lavender and otherwise. Lead botanical distiller Jamie Lord recently attended Moonshine University in Kentucky (note to self: research Moonshine University in Kentucky) to learn the ins and outs of gin distillation for the new endeavor. So soon, you may be able to spray your room with lavender mist, light a lavender candle, slather yourself in lavender salve, or lotion, or oil, while sipping a lavender gin martini. Kind of like James Bond, if he were into self-care.
Vanita Salisbury is Thrillist's Senior Travel Writer. She wonders if Cleopatra was onto something.