Forget sneaking to the bathroom when the fasten seatbelt sign goes off -- new airline Love Cloud is now offering amorous fliers the chance to join the Mile High Club without the possibility of getting nabbed by the flight attendant. Or arrested. Or having to do it really quickly 'cause, like, other passengers are waiting.
Fresh on the heels of Flamingo Air's similar sex-in-the-sky debut last year over scenic Cincinnati, Love Cloud launched in February and takes passengers to an altitude of exactly 5,280ft on flights over the Red Rock Canyon, Hoover Dam, and the casinos of the Vegas Strip -- or, the last place they probably got screwed.
There they'll spend 40min enjoying the comforts of a Cessna 421 Golden Eagle decked out with a sex pillow/crimson throw-covered double bed and a wireless lighting and sound system to set the mood. To further minimize the sound of doing it, there's a (specially designed) curtain between the cabin and cockpit, and the pilot is (probably) wearing noise-canceling headphones.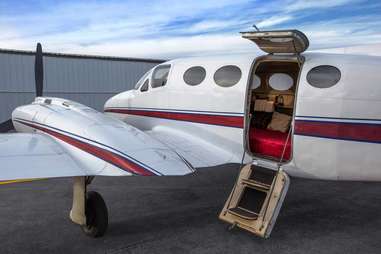 Bookings start at $799, but you can add on romantic extras like roses, chocolates, a limo service to/from the airport, and extra time for a bit more -- condoms and lube, though, are totally included. And, in addition to accepting a Mile High Club VIP card for repeat customers, they even do weddings.
Chloe Pantazi is an editorial assistant on Thrillist's travel team, and is reassessing her obsession with throw pillows. Follow her on Twitter at @ChloePantazi.