Lufthansa's serving a duckload of awesome new food. Here's all of it.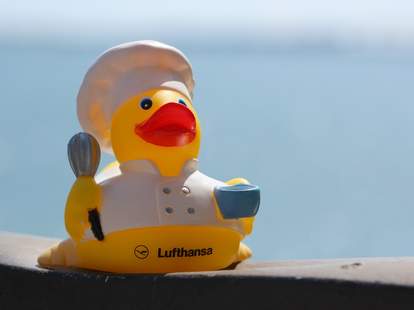 Germans are known for being world leaders in a great many things. Like punctuality. And poorly singing Baywatch stars. What they're not typically known for, however, is their airline food. But then again, unless your country is host to one of these six airlines, who is?
Well, Lufthansa, the ever-dependable and efficient German airline, has decided to take a cue from a country that IS known for its airline food (at least if you use stand up comedy routines as your barometer) -- the good ole' US of A -- and created a whole new menu for flights originating in the States based on the cuisines of US destinations called "Taste of America".
 
This past October the airline took a food truck from New York to LA, stopping in Charlotte, Atlanta, Miami, and Dallas along the way, so even people who DON'T do trans-Atlantic flights could test the new menu. In case you missed the trial run, come along with Lufthansa's new mascot -- Chef Duck -- on a tour of the new offerings.
LUFTHANSA
Screw a warm towlette or pre-departure glass of chardonnay. How about firecracker shrimp with tomato salpicon and gazpacho vinaigrette as your takeoff amuse bouche?
Yes, amuse bouche is now a term used on airplanes. It's come to that.
To represent the folks coming out of Miami, Lufthansá's serving up this Florida conch ceviche with avocado, orange segments, and a heaping side of voter fraud. OK, so maybe not the voter fraud.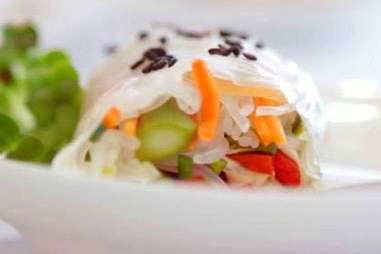 LUFTHANSA
For that light California cuisine that won't have you worrying about the 7 hours worth of recirculated air, there's this chicken spring roll with peanut dressing.
LUFTHANSA
In true southern style, the airline's taken a pork chop and covered it in apple lacquer, then scooped apple calvados sauce, roasted carrots and parsnips on top, and placed the whole thing on horseradish mashed potatoes. You wouldn't cook this complex of a dish for yourself.
Since carbonated beverages have different names all over America, Lufthansa combined them when naming the soda pop braised short ribs, served with garlic and tomato cannellini beans, collared greens with tasso ham, and pappardalle. Though even they think it'd be weird to call it "coke-braise short ribs" when Coca-Cola isn't involved.
In a tribute to that great American (and even greater chain restaurant) Bubba, Lufthansa's created this lemon and garlic seared shrimp with cheesy grits, and collared greens with corn and lima beans.
And what American menu would be complete without the words "seasonally inspired"? It's practically required on any menu. So here's the oh-so-fallish pumpkin ravioli with baby zucchini, tomatoes and toasted hazelnuts.
Your tray table may not fit your laptop, but it very nicely fits the cheese course, made up of cave-aged cheddar, la cocina caciotta, hoja santa, manchego, and coulommier. Unsurprisingly, American cheese does not make an appearance.
LUFTHANSA
Even though Lufthansa's not running any flights out of Louisville, the airline still knows Americans love Kentucky bourbon. So, for dessert you're getting a Kentucky bourbon pot de crème with fresh raspberry, strawberry, and chocolate sauce -- something Germans actually are known for.