The Most Over-the-Top Luxurious Cruise Ships in the World
Cruises get a bad rap. But if you're envisioning a bunch of septuagenarians piling in for an all-inclusive buffet after a few sexy rounds of bingo, then retiring to a room the size of a cupboard, you'd be incorrect. Cruise lines are constantly trying to outdo each other, debuting outrageously lavish and high-tech ships that pack every conceivable form of entertainment onboard -- in fact, they might be making things up at this point (what the heck is slideboarding?).
For those of us living and working in the real world, there are certainly cruises to be had for under $500, but for a glimpse at the good life -- as in, the extreme, extravagant, holy shit life -- read on to see some of the most luxurious cruise ships at sea.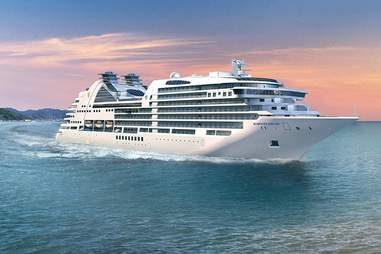 The Seabourn Ovation

| Seabourn
Price: $5,499
Itinerary: Northern Europe, the United Kingdom, and the Mediterranean
Europe's newest ultra-luxury ship is so ballistic, Seabourn is already taking reservations and the boat doesn't even set sail until next spring. Now steel yourself for some egregious name-dropping: One of the top interior designers in the world, Adam Tihany, designed the ship from bow to stern (really, he's kind of a big deal). Seabourn also partnered with Thomas Keller (the Thomas Keller, renowned chef of three Michelin-starred restaurants) to helm the ship's restaurant menu. Award-winning lyricist Tim Rice, who wrote your favorite Disney jams from Aladdin and The Lion King, is providing the entertainment, so guests are basically getting Broadway-caliber shows every night. All suites come with a balcony and the staff knows your name and favorite cocktail before you step onboard. Impressed yet?
The Seven Seas Explorer restaurant

| Courtesy of Regent Seven Seas Cruises
Price: Starting at $6,000
Itinerary: Africa/India, Caribbean/Panama Canal, Grand Crossings, Mediterranean, northern Europe, South America
The Explorer has a Canyon Ranch Spa on board. Never heard of Canyon Ranch? It's a hyper-luxury spa and wellness resort in Arizona where the rich and famous go to detox and sober up. The fact that those fine folks can now experience it on a luxury cruise line is big news in the wellness industry. (Don't panic, there's still booze on board.) The ship boasts 375 suites, the biggest of which is described as a "top-of-the-ship residence" with 3,000+ square feet, two balconies, its own private spa and solarium, and three walk-in closets. That's right, I said PRIVATE SOLARIUM. 
Le Laperouse

| Ponant Cruise
Price: Starting at $12,460
Itinerary: Iceland, India, Asia, Seychelles, Maldives, Sri Lanka, Greece, Egypt, Italy, Spain, Portugal, the Mediterranean, Scandinavia
The first of Ponant's four expedition ships, the Le Laperouse is small enough to access ports that mega-ships can't, and with only 92 cabins and suites, there's a lot of privacy included in that hefty price tag. In addition to a counter-current infinity pool, a marina platform lets you swim right off the back of the ship or take off in a kayak without having to dock. Craziest of all is the Blue Eye, the first-ever multi-sensory underwater space on a cruise ship. Portholes let you view the sea below, but even better, projection screens allow you to watch and hear what the outside cameras are capturing in front of, behind, and below the ship. Nursing a glass of Scotch while watching dolphins swim by is my idea of a nightcap.
Harmony of the Seas

| Royal Caribbean
Price: Starting at $699
Itinerary: Florida, Haiti, Jamaica, Mexico, Bahamas, St. Thomas, St. Kitts, Puerto Rico, and St. Maarten
Harmony of the Seas earns its stripes just by being the largest ship in the world. But then it's got the "Ultimate Abyss Dry Slide," a terrifying-looking, 10-story-high tunnel slide that's pitch black inside -- and two surfing simulators, so you can practice before you get to the Bahamas. When you're sick of looking at all that turquoise water, take a stroll through the tree-lined Central Park. Yes, it's an actual park on a cruise ship, just one of seven distinct "neighborhoods" onboard.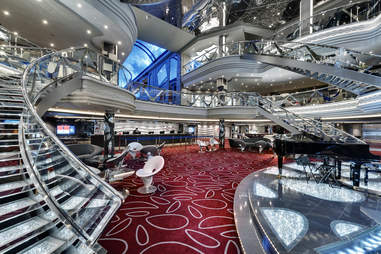 MSC Seaside

| MSC
Price: Starting at $449
Itinerary: Bahamas, St. Maarten, Puerto Rico, Mexico, Cayman Islands, Jamaica, and Ocean Cay (which MSC Cruises' new private island, opening Fall 2018)
The MSC Seaside will make her US debut in late December, with fancy new tech, a full-size bowling alley, the longest zip lines at sea, and an AquaPark with slideboarding technology (sort of a slide and a video game in one). That's all well and good, but the ship's balls-to-the-wall elegant interiors are the big selling point here. Condo-esque rooms afford guests extra outdoor space with revamped cabin terraces. Larger parties can group multiple rooms together to create a fancy mega-suite.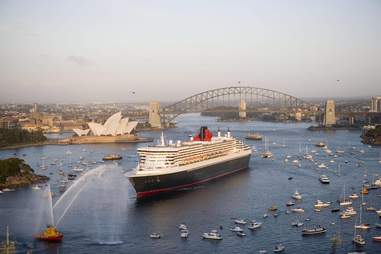 Queen Mary 2

| Cunard
Price: Starting at $1,579
Itinerary: New York to Southampton (trans-Atlantic crossing). Additional ports on alternate routes: New York, Hamburg, Stavanger, Alesund, Innvikfjorden, Nordfjord, Olden, Aurlandsfjorden, Flam, Sognefjord, Bergen, Southampton, Boston, Le Havre, Newport, Sydney Ns, Quebec, Saguenay, Gaspe, Halifax
The most expensive cabin on the RMS Queen Mary 2 will run you about $1,600 a night ($183,000 for a round-the-world trip). This "cabin" has two floors, his and hers bathrooms, a private gym, a deck, and comes in at about 2,500 square feet. The rest of the ship isn't exactly shabby -- there's a full-scale planetarium/3-D cinema and one of the largest wine cellars at sea. Need to bring your pooch across the Atlantic in style? This is the only ship with kennels for dogs and cats and a kennel master that pampers them to the nines while you're off, well, doing the same.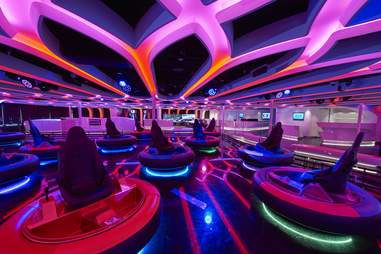 Bumper hover cars on the Norwegian Joy

| Norwegian Cruise Line
Price: Starting at $569
Itinerary: Shanghai (China), China Hakata (Japan), Nagasaki (Japan), Miyazaki (Japan), Kobe (Japan), Kochi (Japan), Hiroshima (Japan), Beijing (China)
Norwegian will launch its latest ship, Joy, this summer, sailing from Shanghai, China, and around Japan with one of the fastest Wi-Fi networks in the fleet (but for real you can't get much more luxurious than a decent Wi-Fi signal at sea). The cruise line has also partnered with Ferrari to create a two-level race track on board. A bumper hovercraft arena, multi-story water park, open-air laser tag, and open park on the top deck round out the ship's more appealing attributes.
Price: $775 - $1,525
Itinerary: Port Canaveral (Florida), Great Stirrup Cay (Bahamas), Nassau (Bahamas)
Ready to hit the wildest electronica dance party on the high seas? Get in line -- the waitlist for Holy Ship is a real thing. As you'll glean from the above video, Holy Ship is an outrageous costume-filled, potentially seizure-inducing binge fest where no one appears to be over the age of 30. Past performers include Fatboy Slim, Griz, Marshmello, Maya Jane Coles, Boys Noize, and DJ Snake. The action takes place on the Norwegian Epic, which boasts a sports complex, multi-slide Aqua Park, spa, beach club, and bowling alley.
Sign up here for our daily Thrillist email and subscribe here for our YouTube channel to get your fix of the best in food/drink/fun.
Keryn Means is an exhausted mother and travel writer who often uses her job to escape her children. Catch her if you can on Instagram.