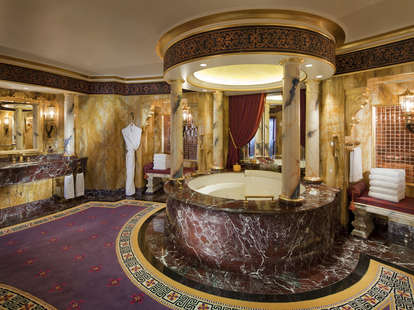 Courtesy of Burj Al Arab Jumeirah
Courtesy of Burj Al Arab Jumeirah
Because not everybody refers to the toilet as a throne euphemistically, here are 12 ridiculous hotel bathrooms fit (and priced) for royalty.
Four Seasons Seychelles
Mahé Island, Seychelles
Room/rate: Serenity Villa, around $1,500 per night
Craziest amenity: Sunken marble bath with panoramic view of a private, wrap-around infinity pool -- or is that the Indian Ocean? Oh, it's both. That's fine.

Raining during your big vacation on the island of Mahé? Not a problem if you're in the Four Seasons' Serenity Villa, where your soaking tub is enclosed in glass and basically part of your outdoor pool. Oh, and your villa is also pretty much a luxury treehouse, so there's that.
Le Royal Monceau Raffles Paris
Paris, France
Room/rate: Royal Monceau Suite, around $16,400 per night
Craziest amenity: Floor-to-ceiling mirrors on every wall and fixture

In this bathroom, you can watch yourself soak in a claw-foot bathtub, scrub in a walk-in shower, and, well, you know what to do on the Japanese Toto toilet. Or, just make a Vine of you strumming your acoustic guitar. You know, the one that's provided in the room. What did you think we were talking about?
Southern Ocean Lodge
Kangaroo Island, Australia
Room/rate: Osprey Pavilion, from $3,000 per night
Craziest amenity: Hand-sculpted granite bathtub

From said bathtub, you can soak in views of the sprawling bushland of South Australia's Kangaroo Island, which provides a habitat for kangaroos, koalas, and other crazy animals that will absolutely kill you Down Under. No worries, though, mate -- when your bath water grows cold, step out onto the heated limestone floors and rinse off in the rain shower.
Mandarin Oriental Paris
Paris, France
Room/rate: Royale Mandarin Suite, from $22,600 per night
Craziest amenity: Oversized bath with views of the Eiffel Tower

It's one of the world's most iconic structures, and you can nod approvingly at it right from your tub. The master bathroom in the Royale Mandarin Suite is all about the details -- luxurious Frette bathrobes, silk kimonos, a steam room, a high-tech Japanese toilet, and Diptyque amenities almost draw attention away from the gold cabochons casually scattered around the floor.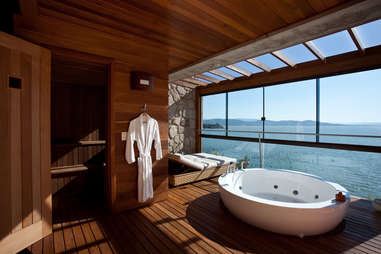 Ponta dos Ganchos Resort
Santa Catarina, Brazil
Room/rate: Emerald Villa, around $1,200 per night
Craziest amenity: Dry sauna room

That's right -- there's a private sauna in this villa, which means you don't have to worry about awkward advances and uncomfortable small talk with naked strangers -- only from your travel companion. When things get too hot (either in the sauna or with said companion), simmer down in the two-person whirlpool bathtub with rainbow lighting and floor-to-ceiling windows that offer picturesque views of local fishing boats.
Tropicana Las Vegas
Nevada, USA
Room/rate: Sky Villa Suite, from $950 per night
Craziest amenity: Two walk-in steam showers with temperature-indicating LED shower heads

Aside from those high-tech shower heads, this Vegas stunner has a two-person whirlpool complete with a massage function and waterfall faucet that fills the tub from the ceiling. The tub is the pretty much only thing you have to share though, since the Tropicana provides his and her toilets and sinks.
Ritz-Carlton Hong Kong
Hong Kong
Room/rate: The Ritz-Carlton Suite, around $18,000 per night
Craziest amenity: Jacuzzi bathtub with views of the Hong Kong skyline

That tub also has a built-in 32-inch flat-screen LCD TV, just in case staring at Victoria Harbour and Hong Kong Island grows weary. The marble bathroom comes stocked with Acqua Di Parma amenities and a massage bed, on which you'll receive complimentary daily massages for two.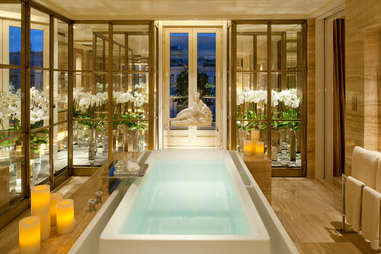 Four Seasons George V
Paris, France
Room/rate: Penthouse Suite, around $25,450 per night
Craziest amenity: Infinity bath with jets and chromotherapy system

This opulent beige marble "salle de bain," as the French would say it, is centered around a glowing infinity bathtub with a chromotherapy system -- that's fancy, energy-balancing alternative medicine to you and me. And the room's separate walk-in shower is no doubt bigger than some (most?) apartment bedrooms. Think white orchids in glass cases, Baccarat light fixtures, and a mirror wall with a built-in plasma TV.
Shangri-La Hotel at The Shard
London, England
Room/rate: Iconic City View Room, from $850 per night
Craziest amenity: Washlet toilet with heated seat

The Japanese "shower toilet" at the Shard is almost worth the price of admission on its own; seriously, you have no idea what kinda freshness you've been missing out on. Suite bathrooms in Western Europe's tallest building also boast heated floors, in-mirror televisions, soaking tubs with views of the Tower Bridge, and retail-sized Acqua di Parma amenities.
The Chedi Andermatt
Andermatt, Switzerland
Room/rate: Furka Suite, around $8,400 per night
Craziest amenity: Private spa

The master suite in the Chedi Andermatt's one-of-a-kind contemporary Swiss chalet pretty much rocks the private spa of all private spas. Its trifecta of features -- steam bath, glass sauna, and Jacuzzi -- are all surrounded by dark wood, natural stone, and a classic Swiss pitched ceiling. Forget the bar: this is the ultimate in après-ski.
Burj Al Arab Jumeirah
Dubai, United Arab Emirates
Room/rate: Royal Two-Bedroom Suite, around $10,000 per night
Craziest amenity: Five-head rain shower
Two bedrooms means two master baths, of course, each with a full-size Jacuzzi, his and her Hermes amenities, and a super-soaker shower that'll probably ambush you as soon as you walk in the bathroom. Just don't drop your borrowed 24-karat gold iPad when you get drenched. The bathroom is decked in only the rarest marble -- the same type used by sculptor Michelangelo -- and yes, that's gold leaf detail. Also, if your pals happen to swing by, they need not soil your master bath; there are two guest restrooms "discreetly" located elsewhere in the suite.
Eden Rock St. Barths
St. Jean Bay, St. Barthélemy
Room/rate: Villa Rockstar, $20,400 per night
Craziest amenity: 24-karat white gold-tiled walls

The walls and ceiling of this perfectly circular bathroom are shrouded in tiny white gold mosaic tiles. Need we say more? Yes? Okay then, there's also a black Boffi stone bathtub with an accompanying leather lounger, both perfect spots to sip on one of over 40 whiskeys from the villa's brown booze bar.
Elspeth Velten is a food and travel writer who uses that title as an excuse to incite jealousy on Instagram. And to eat endless Asian food. Follow her at @elspethvelten for live tweets of daytime TV. #freelanceproblems