The world's most baller hotel bathrooms
Sad but true fact: Americans spend more time per year on the can than they do on vacation. So, if you do happen to get away from the office for a week or two, check out the hotel bathrooms at your disposal that are so impressive, they're destinations in and of themselves. Grab the Sports section and your dop-kit; we're gonna be in here awhile…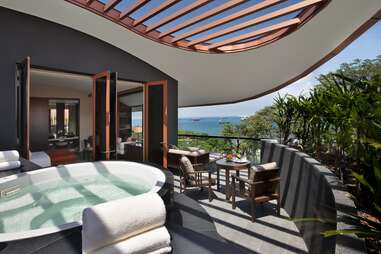 One- and Two-bedroom Villas, Capella Resort
Singapore
The staff at this property are uncomfortably nice; once the kindly personal butler's wheeled your bag and brought you to the door of your villa, you won't be able to shoo him away fast enough so you can drop trou and enjoy the john. Choose whether to soak in the private plunge pool, re-enact an Herbal Essences moment in the outdoor rainforest shower, bubble-up the bathtub, or test out the abnormally roomy toilet. Thankfully, there's a telephone next to the head so you can dial the concierge to say you won't be making your tee-time at the Sentosa Golf Club.
Ballerest feature: Selection of outdoor water activities.
Infinity Pool Sanctuaries, Jade Mountain
St. Lucia
Pray for no rainstorms while you're holed away in this secluded oasis -- your "sanctuary" only has three walls. The space where the fourth wall should be is filled with the rising Piton Mountains and sparkling Caribbean Sea. Note: No one else has a fourth wall, so if you hear distant applause after belting Marvin Gaye from the Jacuzzi, you may want to dial it back a bit. Venture to the shower and get ready for six different body sprays (all at adjustable heights) in addition to a hand shower. Expect pruney fingers.
Ballerest feature: The view that even Instagram's Lo-Fi filter can't ruin.
The Huguenot Suite, La Residence
Franschhoek Valley, South Africa
La Residence is set on a 30-acre private estate surrounded by vineyards, but let's get into the real reason you're here -- the ornate bathroom is elaborate and shiny, adorned with a chandelier, an antique chair, a freestanding tub, and a sleek open shower. It's a potty playground tricked-out for a prince. To really get into it, we suggest ordering a half-case of a local drop on the drive in from Cape Town exclusively to be used for lavatory enjoyment. And bring a scepter.
Ballerest feature: The instant ambience of royalty.
Presidential Suite, Mandarin Oriental
New York, NY
You know that feeling you get at a sports bar with 360° of screens, each showing a game you've got money on… and are winning? Yeah, neither do we, but we assume the view from this bathroom inspires similar euphoria. Gander at a wall-mounted flat-screen TV, or the unobstructed panoramic views of Central Park from the floor-to-ceiling windows more than fifty levels above the street. The walls are made of honey onyx (some rare, imported marble) and the glass-enclosed steam shower is big enough for two. We'll let you take it from there.
Ballerest feature: The titillating view when your nose's pressed to the glass.
Beach Villa Suite, Soneva Kiri
Koh Kood, Thailand
Soneva Kiri's motto, The Slow Life (short for Sustainable, Local, Organic, Wellness, Learning, Inspiring, Fun, Experiences -- of course), is proudly exuded on its website and, upon arrival, it'll take but a New York minute to readjust your clock. The property's seclusion is uncanny -- the island of Koh Kood is non-touristy and relatively unknown (see ya, Samui), and these 27 vast villas are situated on a hidden bay. Your bathtub? Just like the resort, it's not easy to find -- it's camouflaged and surrounded by lush greenery.
Ballerest feature: The bathroom is larger than your apartment, and has enough day beds within it to accommodate a half-dozen friends.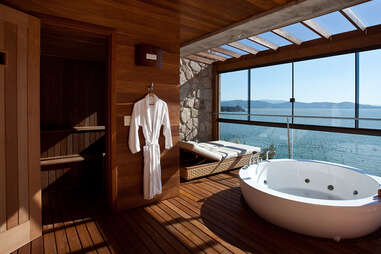 Especial Vila Esmeralda, Ponta Dos Ganchos
Governador Celso Ramo, Brazil
Yell. Go on, scream. No one can hear you -- apart from your personal butler, who will likely arrive at the door looking frantic in less than a minute. These stone and hardwood bungalows are set on a private peninsula, surrounded by the Emerald Coast. Daybeds beside the whirlpool tub -- with a built-in stereo system -- are there for your added mental and physical comfort. Should you feel the need to roll out of the water without standing up, and then continue to roll onto a bed, that's certainly an option.
Ballerest feature: Convenience, man.