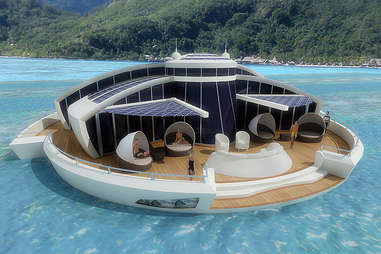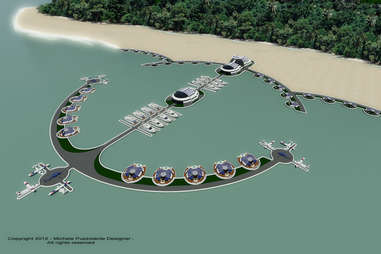 The vision of Italian designer Michele Puzzolante of MPD Designs, SFI's a five-star hotel comprised of 36 floating pod-like villas, each with two single and two double rooms to sleep a total of six people.
Because the lego-like DIY resort is made of floating pontoons that can be tethered together, it can mix-and-match conference rooms, bars, restaurants, a spa, a boutique, staff quarters, a private marina, and even a helipad.
If you were building this hotel, each pod would run you an estimated $145 million. Who knows how much they'll charge per night?! That said, it's totally solar powered and energy self-sufficient; so, no electric bills.

Let's raise the roof to see what the inside looks like. Individual pods will feature teak decks, an open-plan kitchen, a living room, dining room, bar area, and even a Jacuzzi.

Welcome to your future honeymoon suite. As expected from a luxury resort in the Maldives (it is the getaway of choice for the Duke and Duchess of Cambridge, after all), everything is top of the line.
You could say the décor is classically minimalist. That's a thing, right?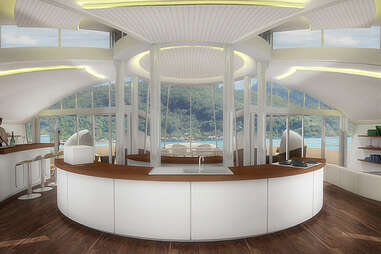 Poached eggs, anyone? Yes, this is the kitchen.
Hands down, the coolest part of these rooms -- underwater sitting areas. Perhaps you'll even spy one of the world's weirdest looking sea creatures while enjoying your morning coffee.

While construction has yet to begin, the Solar Floating Hotel is reportedly being built by the Kuwaiti-owned Al Bader Trading Group, which envisions developing it into a worldwide SFI Hotel brand.
Sophie-Claire Hoeller is Thrillist's über-efficient German associate travel editor, who's had frequent flyer status since her mother gave birth to her in a Lufthansa terminal. Follow her @Sohostyle