Descend upon the rock.

| Photo courtesy of Saba Rock
Descend upon the rock.

| Photo courtesy of Saba Rock
Blink and you might miss it. From afar, the acre or so of rock popping out of the British Virgin Islands' North Sound Inlet is a mere blip—about half a soccer field—seemingly barren. But keep those eyes open, and the details emerge.
First, a two-story half-circle structure. Then, the red telephone booths: one in the back, one on the dock out front, both imported from England and refurbished into actual working order. Then a crop of spindly palm trees, a small beach with hammocks and chairs, and a dive shop. You might also see the fish tank as you approach, but if it's 5 p.m., you're more likely to spot the massive tarpon converging near the dock for mealtime. (They have no teeth, but sometimes, in their excitement, they gum all the way up the arm of the chef who feeds them.)
But regardless of when you come upon this tiny cay, it'll be party time—and not just for the tarpon. That half-circle structure is Saba Rock Resort, a luxury hotel with two bustling bars, a dive shop, and a restaurant, usually filled to the brim with those who've floated up looking for a good time. They've taken a ferry or their boats are moored in the marina, dinghies tethered along the front. The main way to arrive is by water, but if you need a helipad, that's available too.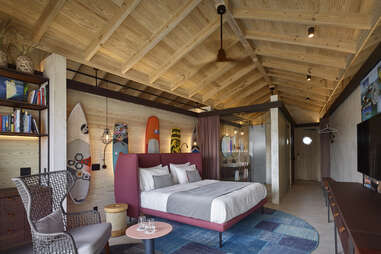 There would be no Saba Rock as we know it today without Bert Kilbride: untamed adventurer, diver, and wreck hunter affectionately nicknamed "The Last Pirate of the Caribbean." And it fit him. "He was definitely the stereotypical grouchy, bearded pirate who loved his rum," says Alain Prion, the resort's manager. He also sported chunky jewelry, some no doubt scavenged.
Kilbride had so much enthusiasm for underwater exploration he created the standards for what would eventually become the PADI Introductory SCUBA Course, taught worldwide. He originally owned nearby Moskito Island, which turned into a diver hangout—it's in close proximity to hundreds of wrecks and treacherous reefs. (Moskito Island is now owned by Richard Branson and has a very different vibe.)
In 1967, Kilbride was also named "Receiver of Wrecks" by Queen Elizabeth II. "That gave him a kind of carte blanche to go over all the wrecks that he found, to document them, and to bring some of the things that he found up to the surface to be used as exhibitions," says Prion. He cataloged 138 wrecks in his lifetime, including the famous Royal Mail Steamship (RMS) Rhone wreck, which came to its demise in 1867 thanks to a late-season hurricane. He once said he "recovered enough artifacts [from the Rhone] to fill a museum, including the skull of the ship's carpenter.'' Now, thanks to the efforts of Kilbride, the wreck is a national marine sanctuary (that's also been featured in the movie The Deep).
After selling Moskito Island in 1970, Kilbride bought nearby Saba Rock for a modest $25,000, intending for it to be his home and the headquarters of his dive company. But the curious had other plans. "People began to hear about him and hear about the legend," says Prion, explaining how visitors would swim over and make themselves at home, wandering around uninvited. "I think at that point, he was the gentleman who said, 'well, have a drink!'" He erected a modest thatched-roof bar and restaurant—signs on top simply said "FOOD" and "BAR"—and called it Pirates' Pub. "It was a hopping place," says Prion. "When I was [in the area] in May of 1994 there was a pirate's ship anchored nearby. It looked like a pirate ship, anyway, with a flag and all that. I don't know where he got it from."
Kilbride sold Saba Rock in 1997. Under its new owners, a hotel was added to the property, and it thrived until 2017, when Hurricane Irma had other plans.
It was a double whammy: first, Category 5 Hurricane Irma tore through the islands in September, the most powerful storm on record across the Atlantic Ocean. Then just two weeks later, Hurricane Maria blasted through, yet another Category 5. The country saw a whopping $3.6 billion in destruction, but by the beginning of 2020, many hotel properties were finally getting back on their feet. And then the pandemic hit, once again delaying the Caribbean comeback. Until now.
For BVI regulars who visited pre-Irma, the islands today will be both familiar and excitingly new. The storied 1969 Bitter End Yacht Club, once leveled, reopens this winter reimagined, with the first over-the-water bungalows in the Virgin Islands and a new beach bar salvaged from a vessel that sank in Irma. A resort of private villas, Oil Nut Bay recovered relatively quickly by 2018, but recently added four new villa rentals. Mainstay Guana Island Resort reopened in late 2019 with three new greenhouses and 100 chickens(!); Rosewood Little Dix Bay, on Virgin Gorda, followed in January of 2020 with a complete rebuild, still rustic-yet-luxe in keeping with its Rockefeller-owned legacy. A new all-inclusive private island wellness destination, the cliffside Aerial BVI, was on its way to opening when Irma thrashed its progress, finally able to welcome guests in April 2021. Another new property, the Malibu-style Long Bay Beach Resort on Tortola opened right before the pandemic only to close soon thereafter. Now back open, future big plans include a high-end rum bar.
The dollop that is Saba Rock Resort also underwent a full rebuild after being flattened, opening under new owners this past October. Working with European architecture firm ADR, the structure was entirely rebuilt, this time with stringent hurricane-proofing in mind.
Call it Saba Rock 3.0. Seven terraced rooms and two suites lean into a modern and nautical theme: surfboards and seaside paraphernalia line the walls, with sweeping ocean views everywhere you turn. Starting at $700 a night, it's definitely not cheap, but in keeping with Kilbride's original vision, there's no pretension to be found. "The owners wanted a barefoot elegance," says Prion, "where people would feel comfortable coming in shorts, swimwear, whatever, just to relax and have a cocktail, or come for a meal and feel relaxed."
There's no need to book a room to enjoy the property: a second-floor sunset bar welcomes anyone until about 9 p.m. (later if no one is staying in the hotel); there's another bar downstairs; and reservations are recommended for the restaurant, which specializes in sophisticated iterations of local staples (try the favorite, "lobster bits," served like escargot). Visitors can stop by to lounge on the small beach in hammocks and chairs, book an excursion with the dive shop, or utilize paddleboards and kayaks. There's also kitesurfing "for those that are fairly proficient," says Prion, and the hotel provides a regular shuttle to Gun Creek in nearby Virgin Gorda.
Despite the upgrades, the adventuring legacy of Bert Kilbride can be felt—and seen—throughout, from his photograph incorporated into the wallpaper to the artifacts submerged in the showpiece fish tank: cannons, cannonballs, and an anchor from the RMS Rhone. There's also a new attraction of Kilbride's on display, a sixteenth-century anchor, which they're still investigating the provenance of. "That's going to stay out in the marina area," says Prion. "We're installing an underwater camera, so from the hotel you'll be able to see the anchor and the sea life swimming around it." But of course, if you want, you can dive to it too.
Vanita Salisbury is Thrillist's Senior Travel Writer. She likes to dive for treasure in her refrigerator.