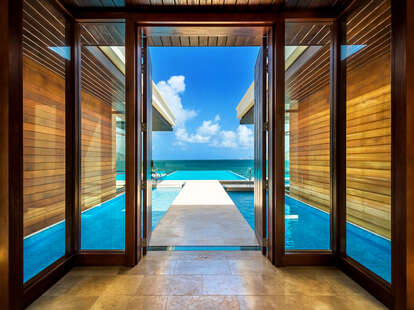 Photo courtesy of Park Hyatt St. Kitts
Photo courtesy of Park Hyatt St. Kitts
I knew I'd found the right luxury hotel when someone felt comfortable enough to ask the sommelier about bagged wine.
The sun had recently set, and I was parked on a high stool in the warm, dimly-lit lobby of the Park Hyatt on the Caribbean island of St. Kitts. A small group of us—just a half dozen, thanks to the island's slow summers—had gathered for an early evening wine tasting. Our sommelier, a Frenchman who'd abandoned the European mainland for a laid-back life in the Caribbean, had a slow, meandering way of speaking that punctuated the easygoing nature of his masterclass.
Unlike so many wine courses—the ones in which the instructor presumes you know words like "appellation" and "demi-sec," but you're too busy trying to prove you can do a perfect glass-swirl to pay attention, anyway—this Frenchman could not have given a damn about the way we held our stems.
He walked us through a brief but colorful history of wine. He explained in layman's speak many of viticulture's most vital terms. And, most importantly, he fostered an accessible, relaxed atmosphere that inspired the person seated next to me to ask: "Are there bagged wines that are any good?"
At last, the low-brow wine question the people have been waiting for! Reader, the question filled me with bliss.
No matter that the answer was, "Eh, not really" (although we beg to differ). I knew I'd found the ideal luxury vacation, the perfect blend of upscale and ease, especially for casual travelers who want a solid dose of opulence without absolutely none of the pressure.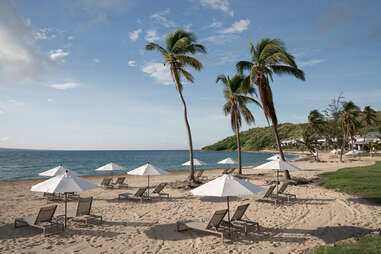 If you're anything like me—in love with high-end comforts, but utterly averse to pretension—the Park Hyatt St. Kitts will be your happy place. The total lack of stuffiness makes it stand out as a truly relaxing experience where you don't have to pretend you fit in.
There's no peacocking by the pool, or even at the beach or spa. There are no intricately-named, unnecessarily sculptural foods that'll have you spying on fellow diners to see how you're actually supposed to eat them. There are no Tanya McQuoids or murderous gays or operatic, greed-induced plotlines of any kind. Just vibes.
A warning: If you come here, you'll be deeply tempted to lounge around in your room all day. Not a soul will blame you. From the wall-to-wall windows, the views of the beach and of neighboring Nevis—a volcanic island whose highest point reaches some 3,200 feet—are almost too good to abandon for even a single minute. The en-suite infinity pool, open deck, and otherwise expansive rooms also make this hotel prime for intimate group trips that won't make you beef with all of your friends.
When you can drag yourself away, don your brightest tropical looks and enjoy the hotel's laid-back atmosphere, which will quickly draw you out to relax alongside other guests. Woven with easy-to-navigate paths that wind between swimming pools, a meditation mill and spa, and restaurants, the resort's relaxed mood and breezy buildings will make you feel like you're living in a small seaside village.
There's a kids' area for families, an adults-only pool for the grown and sexy, and romantic ocean-view cabanas for couples. There's also a dramatic shoreline lined with lounge chairs, prime for solo travelers looking to contemplate the meaning of life (or pen travel stories, in this writer's case) in full view of Nevis, whose emerald hills and equally-luxe resorts await just a five-minute ferry ride away.
All three restaurants on property—Great House, Fisherman's Village, and Stone Barn—are destinations in their own right, with stellar ocean views and fare for people who genuinely love to eat and drink for the downright joy of it rather than for the pageantry.
The indulgent menu items speak for themselves: Kittitian lobster caldoso rice with saffron and shrimp sofrito, pound cake soaked in rum with pineapple strawberry and white chocolate mousse with a scoop of breadfruit gelato, fried cracked conch (that's pronounced conk) with curry-lime aioli. All hearty, rich, packed with flavor—and always easy to pair with tall, rum-laden cocktails.
For travelers interested in mixing things up with some adventure (like yours truly), there's the option to embark on one of the hotel's "Journeys," whirlwind island tours hosted by local guides that give you a taste of Kittitian life and culture. Our guide shared with us fantastic stories both historic and personal, knew just about everyone we passed along the route, and helped us get acquainted with the island's flora and fauna on hikes through its lush rainforests. (Not to mention, he brought along snacks like rock cake and mango candies.)
If you crave more time off property, take a break from the hotel's own watering holes and visit nearby bars like Rock Lobster, Shipwreck Bar, and Monkey Bar, all worth a visit for those looking to chill alongside local Kittitians and other easygoing travelers. These bars are also a great place to quench any thirsts that may have emerged during island explorations; arguably the best part of my own trip was speeding along the island's winding mountainside roads in the midst of an afternoon storm and rewarding myself afterwards with rum punch on the black sand beach at Shipwreck Bar.
As a long-time frenemy of luxury hotels, I've seen how difficult it can be to find a stay that makes you feel expensive without also making you feel like you've walked straight into Triangle of Sadness. But life is too short to be stuffy. It's also too short not to indulge in an exceptional stay. Find the sweet spot here.
Tiana Attride is a contributor and former associate editor at Thrillist.