Forget the rusty Winnebago leaking oil and sadness onto your neighbor's driveway -- drop a few million bucks, and a truly luxe motor home can be all yours. Criss-cross the country like a celeb in these epic buses -- it's the American (who is insanely wealthy) way.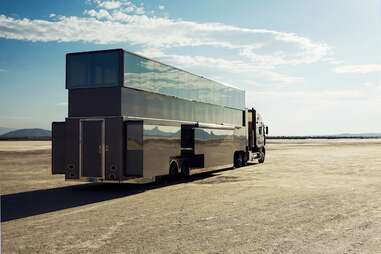 Stars like Ashton Kutcher, Will Smith, and Mariah Carey are happy to shell out $2 million (or around $8,750 per week) for one of Anderson Mobile Estate's palatial trailers. And why not? The two-story, 53ft-long trailers have a retractable second floor, giving them a total of 1,100sqft.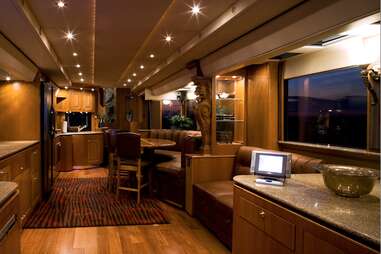 Anderson's have been making bespoke buses for celebs for a quarter century (the company's first big client was Sylvester Stallone), and can pimp them out with anything from a 100" drop-down theater screen to a full-size gym. No place like home, right?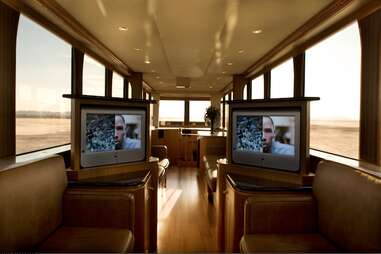 Seven 60" 3D plasma screens are exactly seven more than we have at (our stationary) home.
There's a conference area, as well as two bathrooms, and a full kitchen with granite countertops.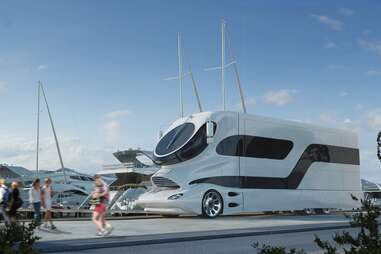 $3.1 million for a rocket from the future? What a steal. Designed by Austria-based Marchi Mobile, the eleMMent RV is a fave among so-rich-they-don't-even-know-how-to-spend-it-anymore sheikhs. They don't even care that it looks like a bionic anglerfish from the future sent to destroy humans.
Yup, sheiks dig this decadent, palace-like bedroom. There's lots of gold stuff, a 40" flat screen, a fireplace, and underfloor heating.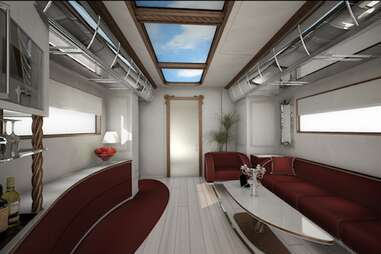 Enjoy a flute of bubbly in your mobile living room, while you ponder your bitcoin proliferation. Or take in some sun from your rooftop pop-up cocktail lounge.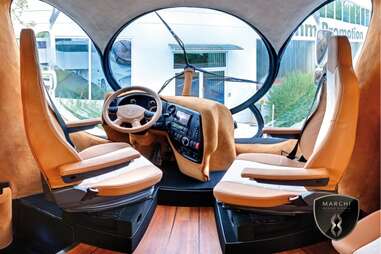 This mobile mansion consists of three parts: a 38ft-long, 10-ton tractor, a 323sqft custom-built coach, and a 215sqft "Sky Lounge". If you can dream (and afford) it, you can have it.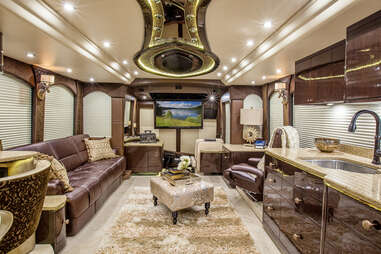 Welcome to (Trailer) Park Avenue. It's ostentatious, woody, golden, and sparkly, with granite countertops, a full kitchen, three Samsung Smart LED TVs, and Bose surround sound.
Go big or go home: your usual Bed, Bath & Beyond sheets won't do here, so custom bedding's a necessity.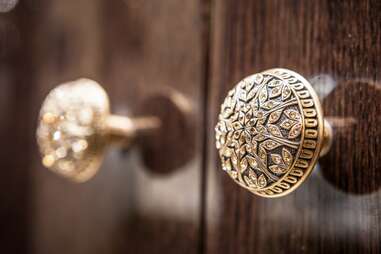 Nothing screams "I have too much money" like Swarovski crystal-encrusted doorknobs in your second mobile home.
Sophie-Claire Hoeller is Thrillist's über-efficient German travel writer. She's had frequent flyer status ever since her mother gave birth to her at a Lufthansa terminal. Follow her adventures via Twitter at @Sohostyle.