Welcome to Cliffside Camp: situated on top of a cliff (duh), it overlooks the river made famous by a dreamy coming-of-age Brad Pitt's extraordinary fly-fishing skills. Located in the middle of a former cattle ranch in Montana, it's the latest thing from The Resort at Paws Up, which encompasses a massive 37k acres of Big Sky Country (though a river does run through it).
Recommended Video
Get This Puerto Rican Villa With Private Beach All to Yourself
Over said river (the Blackfoot to be exact) and through the woods, you'll cross their famous covered bridge en-route to the camp.
Whether your breath's taken by the hike or the views, grab a comfortable Adirondack on the deck and relax while the camping butler (yes, camping butlers are a thing) unpacks your trunk.
One- and two-bedroom canvas tents boasts up to 900sqft of luxury and include king beds with tree-trunk frames, electricity (including A/C!), armoires, and even terry robes and slippers.
…And that's not to mention the ensuite bathrooms, w/ vanity double-sinks, heated floors, and slate showers in which to wash off the Deet before heading to dinner.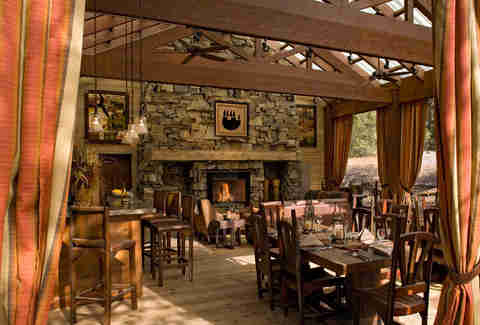 Sure, you could roast hot dogs over an open fire... but why do that when you can sit by the stone-and-timber fireplace in the rustic dining pavilion, and have a personal chef whip up something a little more, how should we say, sophisticated. Like frankfurters.
Because you are camping and it's nice to be outside, adjourn to the outdoor fire pit for some post-dinner gourmet s'mores and scary stories about the old days of pitching your own tent and, gasp, sleeping in a bag!