How One Tiny Town is Bracing for a Flood of 100,000 Eclipse Chasers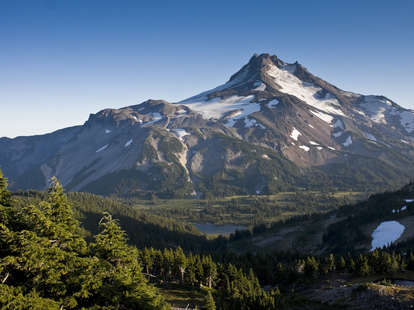 Mount Jefferson in the Cascade Range of Oregon

| Christopher Boswell/Shutterstock
Mount Jefferson in the Cascade Range of Oregon

| Christopher Boswell/Shutterstock
For four days this week, the population of Madras, Oregon will grow from 7,000 to 100,000 or more, as solar eclipse chasers in campers and trailers descend on the town. In proportional terms, that would be like New York City growing to a tent city with the population of Mexico for a long weekend.
So how does the 80th-largest town in Oregon prepare to be the state's fourth-biggest city for a few days? After all, they're expecting cell service to dribble out to nothing. The restaurants and grocery stores are bracing for shortages. The county is importing cops and helicopters. There are many, many toilet questions.
If any town in America is going to get deluged on account of two minutes of darkness, it's Madras -- named the absolute best place in the country to view the total solar eclipse. It's no coincidence that the weekend forecast says Madras has a big, fat 0% chance of rain on August 21. Here's why a town you've never heard of is about to get its day in, and out of, the sun.
Madras won the geographical lottery for this eclipse
Scientists are geeked to be in Madras. NASA and other astronomy organizations will be on the scene Monday morning to make observations previously impossible, like looking at Mercury's surface and taking otherwise impossible measurements of the sun's corona and its interaction with our atmosphere. Other scientists will be there to take observations about what plants and animals do during this interruption in their daily cycles.
So why Madras? This mayhem comes down to the totality -- the "total" in "total eclipse." Everywhere in the contiguous 48 states will see at least a partial eclipse. But there's a strip 73 miles wide, from Oregon to South Carolina, where the moon will blot out the sun entirely.
Total eclipses occur somewhere on Earth two to five times every year. But they're skinny, so a total eclipse lands on any particular point of the planet, on average, once every 375 years. The last total eclipse in North America crossed Mexico in 1991, and the last one visible from the USA was in 1979. That's a long time for eclipse fans to wait only to be stymied by, say, cloudy skies.
But lucky little Madras sits two mountain ranges away from the Pacific Ocean. As you might remember from earth science, mountain ranges stimulate rainfall by guiding clouds upwards to colder air, where they snow or rain themselves out. In Oregon, once the Pacific air crosses both the Coast Mountains and the Cascades, there's not much moisture left for cloud cover. (Check a map of Oregon -- it's a skinny green left margin against a tawny high desert interior.)
Madras gets about 210 sunny days every year. And in August, it's the most reliably clear-skied community anywhere along the path of the totality.
Thus, in 2015, an astronomer phoned the Madras Chamber of Commerce to tip them that big things were coming. Later that week, a tour group booked out an entire hotel for the weekend. Madras's Mayor Royce Embanks raised an eyebrow.
It took a little while for people to start taking the totality seriously, says Lysa Vattimo, who's coordinating the city's eclipse preparation. "But then the Chamber got a couple more calls," she says, "and found out we were the premier location for eclipse viewing."
So they got serious.
Turns out this is a huge pain in the ass
Remember that party you hosted some time in late high school or early college? Your family of three lived in the house but 60 people showed up? It was hectic. You ran out of beer way too early. The cops showed up twice. You never did get that stain out of the couch, or even figure out what it was.
It's a bit like that, only with a whole damn town.
Vattimo says it took two years of planning and coordination to get Madras as ready as it can be for the eclipse chasers. The biggest challenges, she says, are to the infrastructure: water, food, sanitation, electricity, communications, and internet. Here's just the top level of solutions the town has put in place:
Verizon, AT&T, T-Mobile and Sprint have brought in portable cell phone towers.
Restaurants changed their menus so all the prices are in whole dollars, to make calculations and cash transactions simpler.
State sanitation engineers tested to see if the sewers could handle every toilet in the city flushing at once. Turns out they can.
The county sheriff has brought in extra personnel from throughout the Pacific Northwest and set up substations for rapid response in crowded areas.
Madras encouraged residents to shop early last week so that grocery stores could restock before traffic got too heavy for trucking.
The local hospital brought in two extra helicopters for transporting patients during gridlock.
A bucket brigade system is in place to bring trash from small cans throughout the city to a perimeter of large dumpsters just outside of town.
A temporary food truck court, A Greener World, has been set up to help mitigate restaurant overflow.
Most poignantly, Middleton Septic has shipped in over 500 port-a-potties from as far away as Boise, Idaho. Says owner Misty Cox: "It's the most complicated thing we've done. Let's just say I'm using a lot of color-coded highlighters and Post-It notes." Her company has also had to double its full-time staff for the summer and is quintupling its temporary hires this weekend.
The tent city at Oregon SolarFest, Madras
What's the worst that could happen?
Vattimo was clear during our interview that two years of planning, coordination, and cooperation has Madras feeling pretty prepared. But she had two ready answers when asked what she thought would go wrong.
First, internet. The town will have only so much, even with spare cell towers offering some extra bandwidth. "We've advised residents, businesses, and visitors to be ready to do as much business in cash as possible," Vattimo says. "Card processing and ATMs use the internet, which will be slow and unreliable." During the totality, she anticipates extreme slowdowns while every one of the 100,000 visitors tries to tweet their experience at once. She adds, "Nobody's going to be successfully streaming Netflix that weekend."
More pressing is the traffic situation. Cell towers and port-a-potties are portable, and grocery stores can stock up on food, but Eastern Oregon doesn't have the roads to handle the number of vehicles likely to be on-site. Oregon overall is expecting a million extra cars on the road that weekend, with Jefferson County absorbing perhaps a quarter of them.
To help with that, the Oregon Department of Transportation (ODOT) has spent the better part of the past year preparing for traffic to effectively double on the highways approaching Madras and Bend, says ODOT spokesman Peter Murphy. Two-person response trucks will be every four or five miles along the highways, ready to respond immediately to fender-benders or an RV stuck trying to turn around.
ODOT will also station reader boards at highway junctures and update them with real-time traffic information. "When a motorist reaches a juncture, he can make an informed decision" to drive on the least congested highway, Murphy says.
Field space for visitor tents and RVs
And all of this for what, exactly?
The visitors to Madras are all there for one thing: to experience a rare astronomical event. But what's in it for Madras? Why go through the expense and effort of all this planning?
"For Madras, it's our future," Vattimo says. "This will bring in people and business. We're looking at the long term. Many local businesses are viewing the cash infusion as a way to get a facelift, or for seed money to start something that could last."
Middleton Septic is an example of this in action. "We've fixed every broken port-a-potty in our inventory, repaired and repainted our trucks, and expanded our fleet," Cox says. If the company can recoup all of that investment and cover payroll for this one huge weekend, it will be set to operate at a new level moving forward.
Will Madras weather the eclipse?
Probably. Besides the town and ODOT preparations, a Joint Information Center will operate through Tuesday to coordinate the efforts of six agencies tasked with keeping things smooth and safe.
"There's a lot of good planning in place here," Vattimo says. "If everybody will participate and collaborate, we'll be good."
Sign up here for our daily Thrillist email and subscribe here for our YouTube channel to get your fix of the best in food/drink/fun.

Jason Brick is a freelance journalist and writer who lives in Oregon. His YA novel
Wrestling Demons
came out this Spring to thunderous positive reviews.