Experience the Best of Maine With Quick and Easy 3-Day Road Trips
Portland, Maine's having quite a moment. Over the past decade, it's transitioned from dreamy Northeastern hamlet to a mainstay in the national conversation thanks to its stellar food scene, explosion of world-class breweries, and a distinct vibe that clashes small-town charm, maritime traditions, and an embrace of the new. It's a place that's managing to change without losing sight of what it is, and it's that combination of qualities that makes it one of our 20 places to visit on a big trip this year.
But my home state of Maine is so much more than Portland and Stephen King references. It's a state whose tranquil and alluring small towns, dense forests, towering mountains, and vast shorelines all but scream "road trip." Enjoy the city, but use it as a springboard to hop around the state.
No matter what direction you choose to travel from Portland, you'll find a state ready to awe you. Head south and you almost immediately find an abundance of picturesque beach towns straight out of an L.L. Bean catalog. Go north with sights set on the state's national park and explore the woodsy terrain and quaint villages along the way. Whichever direction you choose, here's the perfect three-day road trip to help you truly explore the state. Don't worry, you'll find plenty of lobster.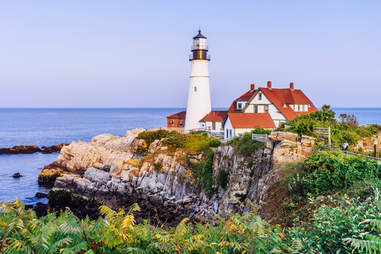 Portland Head Light

| FilippoBacci/Getty Images
Southbound from Portland
This three-day journey south doesn't cover much mileage, but you'll hit charming coastal towns and be thrust into the burgeoning food scenes popping up in Portland's orbit. Hitting on more popular tourist spots but avoiding some overpopulated locales, you'll get the beachside oases you're looking for without battling strangers for a spot to lay your towel in the hot sand.
Day 1: Lighthouses and waterfronts
You're kicking off your trip in Portland, a city practically dripping in nautical character. But if you've somehow avoided Maine's famed lobster, there's one place you have to stop before getting too far from the city. Drive about 15 minutes south to Cape Elizabeth and you'll run into the state's quintessential postcard picture: Portland Head Light. Outside of the oldest lighthouse in Maine is Bite Into Maine, a food truck that serves hearty lobster rolls piled high with huge chunks of crustacean. Grab one Maine-style with light mayo and chives, then park yourself in Fort Williams Park overlooking the lighthouse for a picnic soundtracked by crashing waves. 
You've had your fix of rocky coastal views by now, so it's time to hit the sand. You could go to Maine's most popular tourist beach town, Old Orchard Beach, but don't. Avoid the absolute zoo and sneak off to the tiny stretch of beach dubbed Biddeford Pool. Parking at Fortunes Rocks and Biddeford Pool Public Beach is limited and only a number of permits are available to locals and out-of-towners each season, but taking a short walk or bike ride will be worth it. Even better, if you book an Airbnb in the area, you'll feel like you have a private beach all to yourself for daily walks and evening bonfires (just get a permit!)
Much of Biddeford's rapidly growing beverage scene is housed in giant brick buildings that formerly served as paper and textile mills on the edge of the Saco River. The city is no exception to Maine's craft brewery craze, so visit Banded Brewing Co when you're in town. You can also opt for a different drink experience at the (mostly) natural wine bar, Lorne, where employees really know their stuff, or at Round Turn Distilling, where you can down their popular Bimini gin across the street. Until a new hotel opens in the old mill building, you'll want to grab an Airbnb downtown or a vacation rental by the beach.
Kennebunkport River

| Sura Ark/Getty Images
Day 2: Explore Kennebunkport
Before you head off to the next destination, grab one of 15 seats at Biddeford's Palace Diner. The spot became a national sweetheart thanks to its sky-high tuna melt and fried chicken sandwich, but don't leave without eating a stack of buttermilk flapjacks with a big scoop of whipped butter on top.
Drive 20 minutes through winding, wooded roads and you'll reach Kennebunkport. But first, you'll want to make a quick detour to drive by Walker's Point. No, it's not another one of Maine's 65 lighthouses -- it's the giant summer home (ahem, compound) of George H. W. Bush that is regularly visited by his family. After pulling over to ogle at the giant home jutting out into the water and all the security, drive into Dock Square, where you can pop into adorable shops selling plenty of Maine souvenirs, tourmaline jewelry, and tote bags made from used ship sails.
Kennebunkport's location tucked away in, well, a port makes it a calm place to get out on the water. Sailboats like the Pineapple Ketch and the Schooner Eleanor take two-hour trips during the day and at sunset. And the best part: both allow you to bring your own beer, wine, and snacks for the trip, so pack up your cooler and set sail. For overnight accommodations, go historic with the namesake Kennebunkport Inn or get swanky at White Barn Inn.
Ogunquit, Maine

| Walter Bibikow/Getty Images
Day 3: Small town vibes and lazy beach day in Ogunquit
Another day, another 20-minute drive. The next stop is Ogunquit, a beach town that has fewer than 1,000 year-round residents, but comes alive in the summertime. This three-mile beach has all the amenities, including a nearby parking lot, food stands and souvenir shops, and a trolley to take you downtown when you've had enough sun for the day. Plus, if you stake out a spot on the southern end of the beach, a natural lazy river will pull you around a jetty and into the ocean when the tide turns from high to low.
The beach town is surprisingly known for its nightlife, but the venues are somewhat unexpected. The Ogunquit Playhouse is one of the last remaining theaters from the "summer stock era" in the '20s when Broadway hopefuls would perform in coastal towns during the warmer months. You can secure a seat for less than $70, so it makes for affordable entertainment. If you're looking for something a little more lively, The Front Porch is the place to be. The bar is a well-known LGBTQ spot in town and hosts roaring piano singalongs at the bar upstairs throughout the week. From hundred-room resorts to tiny inns and cabins, there are dozens of beautiful accommodations to choose from when you're ready to turn in for the night.
Acadia National Park

| Michael Rickard/Moment/Getty Images
Northbound from Portland
Maine may be known for its jagged, rocky coast with tons of islands (more than 4,600, to be exact). But it's not called the pine tree state for nothing. As you head north, you'll snake through sleepy towns with historic homes from the 1800s and true mom-and-pop shops that don't even make the map, and when you reach your final destination you'll be greeted by untouched forest and dozens of scenic hiking trails.
Day 1: Cruise along Route 1
Whether you follow this itinerary word for word or scope out your own spots along the way, you'll find opportunities to hike, bike, kayak, camp, and just get outside. So before you get too far from Portland, pull over in Freeport and stock up on essentials at an iconic Maine store. You may think it's all bean boots, but L.L. Bean's flagship store has just about everything you could need while in the state, whether it's a sweatshirt to shield you from the ocean breeze or camping materials for the more daring -- plus it's open 24/7. Perfect packers should stop by too, because you'll find freshwater aquariums and taxidermied bears, deer, and other animals inside. Plus, a giant version of the store's popular boots -- an admittedly strange roadside attraction -- sits outside, where may even see the bootmobile drive by.
Mainers will aggressively defend their rights to the whoopie pie --  a dessert featuring dense chocolate cake rounds with frosting sandwiched between them -- from Pennsylvanians who naively think the dessert is theirs. So pick up whoopie pies for everyone in tow at Wicked Whoopies before embarking on a 45-minute drive to Wiscasset. The village is small, and when driving down Route 1 it may seem like every store you drive by is an antique shop. And that's not too far off because the town is home to more than 30 antique stores including Lilac Cottage Antiques and the Wiscasset Antiques Mall that you should take your time going through.
Wrap up your trip at the spot that really put this town on the map: Red's Eats. This place is a true lobster shack about the size of a minivan, and it's no secret that they serve the best roll in the state. You'll be glad you opted out of the pricey twin lobster dinner while you were in Maine's big city, but be ready to wait in a line that stretches down the street.
You've spent the day eating Maine's best food and prepping for the rest of your journey, so avoid falling into a food coma until you travel 45 minutes up the coast to Camden. There, you can spend the night in one of the many historic homes (think clawfoot tubs and sprawling gardens) that now house bed and breakfasts run by sweet locals, among them the Blackberry Inn.
Camden, Maine

| E.J.Johnson Photography/Shutterstock
Day 2: Vistas and nostalgia in Camden and Bar Harbor
Wake up in Camden. This small town (one of the best in the country!) is worth a stop to stroll along the idyllic harbor alone, but get your bearings of the town from the top of Mount Battie Trail first. It's an easy trek at just about a mile up and leaves you with unbeatable views of the harbor, so you can take on a more adventurous climb at Camden Hills State Park later in the day, too.
For the evening, head downtown for an experience that feels frozen in time. Old homes, classic candy shops like Uncle Willy's, and restaurants like 127-year-old Boynton-McKay Food Company set the scene for a traditional small town. If you want something more modern, check out lauded Long Grain or Natalie's before heading to your final stop in Bar Harbor. For nature-lovers there are many campgrounds in the area to snag a plot at or you can opt for a room at a seaside resort, like the Holiday Inn's Bar Harbor Regency Hotel, where the Obamas are said to have stayed during their 2010 visit.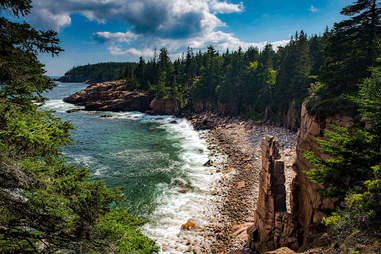 Acadia National Park

| Stan Dzugan/Moment/Getty Images
Day 3: Explore Acadia National Park
First thing's first, be the first in the country to see the sunrise. Head into Acadia National Parkbefore it's bright and early and you can do just that at Cadillac Mountain, the highest point on the eastern seaboard. Grab your flashlight and hike two miles up North Ridge Trail to the summit or just drive and save your physical activity for later in the day -- there will be plenty of opportunities for that.
After a breakfast picnic atop the mountain (maybe a blueberry muffin?), return to the car and drive Loop Road. The main thoroughfare is 27 miles around the entire park, so it's the perfect way to sample the area's natural beauty before choosing your adventure for the day. You'll see plenty of people scaling the park's major mountains if that's your thing, but you can also hike the wide, smooth Bubble Trail if something easier is more your speed. Continue to explore by car and go see Thunder Hole, a rocky cavern that booms like thunder when the waves roll in, before settling down for popovers and afternoon tea overlooking a glassy pond on the lawn at the Jordan Pond House.
No matter what your day in Acadia National Park brought, you'll deserve a break come late afternoon. So drive back to downtown Bar Harbor for dinner and dessert. This is your last day -- unless you do the southbound journey too, we're not stopping you -- so make sure you've gotten all your Maine foods in. Head to the grocery store to pick up W.A. Bean & Son signature red hot dogs for grilling, make sure you have had blueberry-something, and maybe even drink a Moxie -- actually scratch that, don't let the state leave a bad taste in your mouth from its weird soda. It's an acquired taste maybe not worth acquiring. 
Liz Provencher is an editorial assistant at Thrillist and a wicked proud Maine native. You can talk to her at lprovencher@thrillist.com, follow her on Twitter, or see what she eats on Instagram.