Baseball's Most Intolerable Fans, Ranked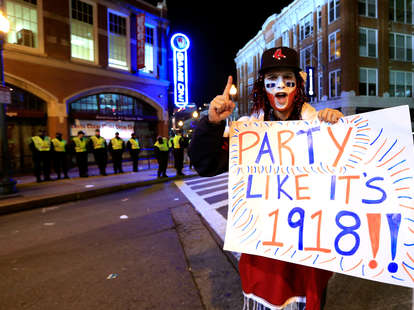 Jamie Squire/Getty Images
Jamie Squire/Getty Images
Until the NFL took over one concussion at a time, baseball reigned as America's national pastime. Or did it? If you take a look at the state of American culture, one might argue that the REAL pastime is pissing each other off, and MAN are baseball fans good at that!
However, some fanbases are stronger than others in terms of total insufferability. So here they are, the fans for all 30 franchises, ranked from least to most offensive.

30. Milwaukee Brewers
You'd be hard-pressed to find a more affable fanbase than Brewers fans. They just kind of roll with things. Ryan Braun's a cheating liar? All good. Oh we're switching from the AL to the NL? No biggie. Beer sales are cut off? YOU SHUT UP AND DIE RIGHT NOW! Honestly though, Wisconsinites are just pretty psyched to have another outlet for tailgating and mass Leinie consumption in the warmer months between Packers seasons, and if the Brewers ever actually manage to break through and win the damn thing, so much the better.
Also, since it's state law that every block needs a minimum two taverns, these people can DRINK, but said drinking manifests itself in asshattery at a far lower rate than in other cities. Being a Brewers fan means handling your booze -- which they'll need, because this is looking like a looooong rebuild.

29. Colorado Rockies
Do you like beer? And (legal!) pot? And home runs? And Dante Bichette references? Going to a game at Coors Field is like going to a game at a very large minor-league ballpark. The fans are there to kind of watch a game, I guess, but mostly to get some sun (stop being so infuriatingly sunny, Denver), drink some beers, smoke grass, and talk about Dante Bichette.
His likes. His dislikes. That 1995 season when he almost had the Triple Crown. Whether or not he thinks the Broncos will make the playoffs this year with no proven quarterback. His opinion on shredding the pow-pow at A-Basin vs. Breckenridge. If he could name anyone on the Rockies right now. And the smart bet, for him, and the average person sitting in the Rockpile, is hell no.

28. Toronto Blue Jays
As the sole Canadians in this thing, Blue Jays fans are too busy (*shuffles through Canadian stereotype handbook*) politely throwing loonies at suspected Quebecois to be outwardly obnoxious to opposing fans. It also likely helps that nice Canadian couples living north in Richmond Hill who celebrated the last time the Blue Jays made the playoffs (before last year) by doing sex now have a 21-year-old, fully grown adult child wearing a Joe Carter jersey to tell an awkward story to.

27. Houston Astros
It's hard to find fans obnoxious when they suffered through a rebuilding strategy that basically required losing all games between the years 2009-2014. But it worked! And now a lot of people have made the Astros the trendy pick to win the World Series this year, and not just because Rookie of the Year Carlos Correa wears Yeezys.
Despite being Texans, and thus genetically predisposed to boasting and scorning other people's brisket, the fanbase that supports the Astros evokes many of the same feelings as the -- gasp -- Brewers fans: long suffering, and non-threatening to opposing fans. The only difference is all of them are doing it while eating Nolan Ryan hand-dipped corn dogs, and Nolan Ryan 100% beef burgers.
26. San Diego Padres
An entire stadium filled with parents who grew up outside of Philadelphia but moved to El Cajon for work, looking to keep their elementary-aged sons occupied for three to four hours until they're legally allowed to make them sleep, plus 20-ish guys who've remained lifelong Padres fans because they personally met Tony Gwynn, and retirees who literally have nothing better to do.

25. Baltimore Orioles
Despite the fact that it might seem intimidating to be amongst legions of Bawlmer fans rooting for dem O's, drinking Natty Boh, and talking about Joe Orsulak, it's really not. Camden Yards is a great place to watch a game, the Orioles are kind of good, but not really so good that it sparks any sort of spike in confidence, and everyone is so focused on making sure their containers of Old Bay are still safely tucked away in their cargo short pockets filled with crabs that you can have a downright pleasant time at an O's game as a visiting fan. Especially if you bring Joe Orsulak.

24. Pittsburgh Pirates
Things were so dark for so long for Pirates fans, when conversations around a half-empty PNC Park included such riveting subjects as "at least we have Jason Bay, so that's... something?" and "this Aramis Ramirez trade won't come back to hurt us will it? Oh shit. It definitely will." But back-to-back (unfortunately heartbreaking) wild-card appearances and a legitimately fun, well-run team have brought things back to life, even if fans still have their guard up to the point where key regular-season series will still have tickets remaining (even with one of baseball's sneaky-great stadium experiences). But yeah, in most cases Pirates fans are a pretty alright bunch -- most of your more abrasive yinzer types save the bulk of their wrath for Steelers season.

23. Texas Rangers
The ballpark sits almost directly in the middle of Dallas and Fort Worth, next to a Six Flags. I spent my elementary years in Dallas during the glory days of Ruben Sierra and Juan Gonzalez and old Nolan Ryan punching young people in the face. I went to Six Flags twice a year. I went to one Rangers game, ever. Rangers fans must exist in those towns around Dallas, in Grapevine or Garland, Flower Mound or Frisco, but they don't really parade that fact, so we're just going to guess that they're tolerable. Potentially the only solution to fill those, on average, 20k empty seats a game would be to dress the Rangers up as the Dallas Cowboys and make them hit footballs.
22. Minnesota Twins
Twins fans are a model of the on-the-surface Midwestern affability mixed with deeply buried resentments that permeates so much of the local culture, except in this case, instead of a once-beautiful marriage now gone cold and loveless between two Swedish Lutherans, it's a cold and distant union with Joe Mauer and the $1.5 billion (estimated) left on his contract. At least with the Metrodome it felt like the fanbase had a little something to pin its collective identity to -- granted that "something" involved a cold and unfeeling dome replete with cheering for bad turf bounces and balls lost in the lights, but it was something! Now there's Target Field, which is generally pretty nice but ultimately uninteresting -- hey, another good metaphor for Twins fans!

21. Tampa Bay Rays
My uncle has lived in Tampa Bay for 30 years. He loves the Tampa Bay Lightning, has gross orange Bucs gear, weirdly tan arms, and that generally unpredictable disposition of a true Floridian. And yet he only goes to Rays games when the Red Sox are playing. Basically, after all these years and some pretty good teams, the few real Rays fans that exist have come to terms with the fact that they're still the best place to see your real favorite team after you retire, thanks to the lowest attendance in all of MLB.

20. Seattle Mariners
The highlight of Mariners fandom was winning a divisional playoff game in 1995. People born after that game will be able to legally drink soon. There are kids in Seattle high schools right now who don't even remember the team being relevant. So M's fans are now made up of older people with revisionist history about how "fun" the Kingdome was, and younger people who go to Safeco and talk about the Seahawks. Seattleites have shown they can be great fans when a team even tries to win, but despite spending the GNP of Fiji on free agents, the Mariners haven't made a playoff push in over a decade. And it's that kind of ineptitude that has created a city full of people who insist soccer is actually exciting.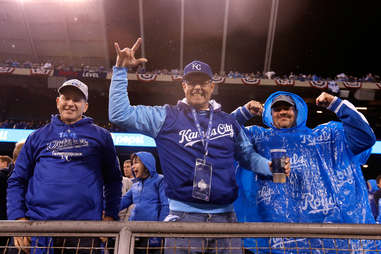 19. Kansas City Royals
It's hard not to be a little bit happy for the Royals, what with their interminably long stretch of bleakness followed by consecutive World Series appearances, including winning the damn thing last year. It finally worked! But be warned -- winning has a tendency to breed obnoxiousness, and they're already exhibiting some of those "aw shucks, aren't we just the best" symptoms trademarked by another Missouri team (more on that later).
Furthermore, because the projection systems made by all the stat nerds have tended to not like the Royals so much, especially this year, it's already placing a massive chip on everyone's shoulder even though they should just be basking in that sweet championship afterglow. "They don't appreciate our defense and bullpen" they'll scream while directing your eyes at the latest Joe Posnanski column with a BBQ sauce-stained chubby finger, burnt-end remnants still stuck between their teeth. Whining after a title isn't a good look. See: Red Sox fans. More on them later, too.

18. Oakland Athletics
A solid blend of hardcore old-school Oaklanders (plus ones who tell you they're from Oakland, but, when pressed, admit they mean Piedmont), people who grew up in the surrounding East Bay towns, and baseball hipsters who've decided that wearing an A's cap makes them a little more edgy than a Giants one. Thanks to the stadium being horrible, you can always get tickets to a game (it seats 35k, and averages about 21k a game). In conclusion, the fans are downright tolerable as long as no one brings up Moneyball (NOTE: Someone will bring up Moneyball).

17. Arizona Diamondbacks
D-Backs, more like D-Bags, amirite? Actually, Diamondbacks fans are hardly the worst. They're also hardly the best. Somewhere in the middle feels about right. You definitely have your segment of the fanbase that sees no cognitive dissonance whatsoever between saying horribly racist things about Latinos and cheering for Yasmany Tomas. They're also stuck in the oft-difficult position of trying to reconcile Dave Stewart's front-office moves, like mortgaging the entire future of the team to acquire world-beater and lockdown ace... Shelby Miller?

16. Los Angeles Angels of Anaheim
Forty-five thousand Sues from Swingers, who'll spend at least half of the game trying to convince you that living in any town named "Laguna" is actually fancier than LA proper. Wait, look, there's the Matterhorn!!! Deep down they all know "Los Angeles Angels of Anaheim" is the dumbest shit ever, but none of them will actually admit it.

15. Washington Nationals
Your average Nationals "fans'" order of priorities while attending a game:
1. Networking
2. Shake Shack
3. Ben's Chili Bowl because the Shake Shack line was too long
…
67. The fact that the team still employs the same red-assed closer who tried to choke out the team's best player in the dugout last season
On some level it isn't the Nats' fault -- DC is the most transient of towns and the team is still in its relative infancy, so it isn't fair to expect the generations-deep fandom some cities enjoy. Last season's literal choke job after being labeled a preseason favorite didn't help in terms of building momentum. But hey, they should be pretty good again this year. Maybe they'll get more people to look up from their smartphones on occasion. They should, because Bryce Harper is amazing.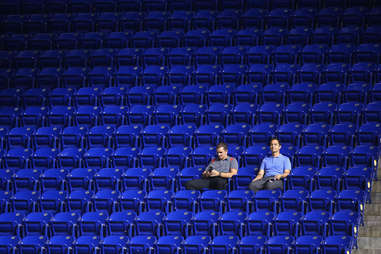 14. Miami Marlins
We'd say it's tough to be a Marlins fan, when your ownership puts you on the hook for half a billion dollars, promises you a shiny new team to play in that fancy ballpark, then immediately trades that entire team to Toronto. But it's not tough because you're a South Florida sports fan, which means you care about the Marlins about as much as you care about traffic laws. The only time anyone in Miami even realized you had a baseball team was around mid-September of 1997 and 2003, but even then by the next summer attendance had returned to its rightful spot at the bottom of baseball. We get it; Miami's an event town and until one of the Kardashians is sitting behind home plate the Marlins will still be about as relevant as middle-school softball. But, hey, all it'll take is one good playoff run for "lifelong" Marlins fans to come out of hiding like all those Heat "die-hards" did when you signed LeBron. They'll just all be back to wearing Dolphins jerseys by November.

13. Atlanta Braves
The fact that the Atlanta Braves are leaving, you know, ATLANTA, to set up shop in a glitzy new Northeast Triangle stadium nestled among C-level executives and are trying to attract people with gimmickry like a goddamn zip line tells you pretty much everything you need to know about Braves "fans." Even when Maddux was dealing in his prime they couldn't always sell out playoff games. Basically, if you aren't college football in Georgia, don't bother. Hell, even the Tomahawk Chop was ripped off from Florida State. This is the suburban strip mall of franchises, so it's all too appropriate that they'll soon be in the suburbs.

12. Detroit Tigers
On the one hand, Tigers fans have to feel pretty good about having an aging owner spending with reckless abandon, motivated (one assumes) by fear of his own mortality. On the other hand, they have to deal with living in Detroit. KIDDING! They're from the suburbs. The fellas are in their Cabrera jerseys (every penny towards that salary counts) and about 18 beers deep, while the ladies have their curled hair and temporary Tigers cheek tattoos (and ladies-fit Verlander jerseys) and are about nine Atwater Dirty Blondes deep. Some things are up in the air, like whether one of the guys will fight some meathead who rode the bus up from The Old Shillelagh for staring at his girlfriend (which he was), or some opposing fan who questioned Alan Trammell's hall-of-fame credentials. One thing is not up in the air: they'll be safely back in Wyandotte before the night is over.
11. Cincinnati Reds
Most fanbases will at least eventually come to grips with it when one of their heroes reveals himself to be objectively awful, but the average Reds fan will still staunchly defend Pete Rose to you in a lengthy rant replete with pungent cinnamon-scented chili breath and a random aside that makes you pause and say, "wait wasn't that kind of racist," followed by another one where you're like, "oh wow yes that was definitely super racist." Then while you're taken aback they'll switch gears and talk about how Joey Votto sucks because he's not "clutch" enough even though he's objectively their best player by like 15 orders of magnitude. If only Billy Hamilton didn't hit like the bad, pop-up-happy early version of Willie Mays Hayes.

10. Cleveland Indians
The collective misery of the Indians franchise was already immortalized in one of the finest baseball films ever -- in 1989. Since then, as expected, nothing but terrible things have happened to not just the Indians, but the city of Cleveland at large (note: don't bring up Jose Mesa). Although to be fair, the franchise only gets a pass for rocking the most offensive logo in sports because a certain football team in Washington is proudly defending a straight-up racial slur. You'd think a team that hasn't had anything good happen since Bob Feller was pitching might be down to pursue some good karma, but no, so much as suggest a change and they flip out. So on the one hand, you could feel bad for their sometimes petulant fanbase given all the suffering. On the other hand... naaah.

9. Chicago White Sox
It'd be a shame to paint White Sox fans with a broad brush as unruly hooligans who start game-canceling riots and occasionally rough up elderly first-base coaches -- even though, you know, both of those have 100% happened. But no, your average Sox fan is just some loudmouth from Beverly with a deep-seated Cubs hatred mocking the North Side team for its more robust attendance, arguing White Sox fans are more "informed" and "discerning," and as such hold ownership accountable by only showing up for a winner. Never mind the fact that they can't even fill the stadium when the team's winning.
Also, it's a known fact that a full season of listening to Hawk Harrelson broadcast games lowers your IQ one point, so you know that's taken its toll (though he'll only do half the games this year so there's that). Oh, and this batshit-crazy scandal involving bad and overpaid Adam LaRoche retiring because he couldn't have his adolescent son uniformed and by his side at all times isn't really an indictment of the fans, but it IS rather hilarious.

8. New York Mets
Mets fans are an interesting group. On the one hand, the team's staggering capacity for ineptitude spawned the LOLMets meme that continues to provide hilarity even when the team is relatively good, and they get to stake out the claim as the hardscrabble, die-hard outsider fans, just wallowing in the nether regions of Nassau County while the Yankees soak up all the attention. Mets fans would have you believe they have suffered in ways few fans can possibly understand.
But has it really been that bad? A pair of momentous World Series wins that remain well within the lifespan of plenty of fans, plus a couple of exciting near-misses in more recent years. However, because they cheer for a New York team, they believe what suffering they HAVE experienced gets more weight, more gravity, and therein lies the insufferability of the Mets fan.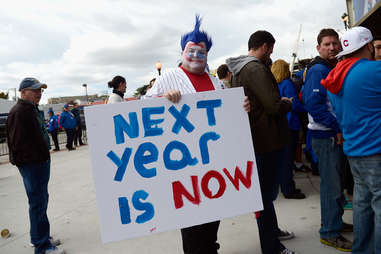 7. Chicago Cubs
The Cubs have been so awful. That statement works on so many levels, but it's been especially true in recent years. That is, until a surprise 97-win team last year brought Wrigleyville back to life, meaning all of its worst elements were back at it in full force:
Girl from Lincoln Park in the tight pink shirt (purchased that afternoon) in a shockingly good seat who hasn't looked up from her phone in three innings? Check. The "been through it all" fatalist who overreacts wildly to every pitch? Check. The recent Iowa grads who grew up on the Des Moines-based Triple A squad, all the while planning to one day move to an apartment on Sheffield and drink enough to ruin the lives of everyone they encounter? Check. But the thing is, last year kinda snuck up on everyone. This year expectations are through the roof, which means everyone has had a full offseason to gear up for peak horribleness.

6. San Francisco Giants
Did you guys know there was a tech boom in San Francisco? Or that people like fancy artisanal foods there? Did you know, at AT&T Park, you can get porcini donuts topped with raclette foam, or fried Brussels sprouts topped with lemon aioli, or gluten-free flatbreads and strawberry lavender spa water? Would it surprise you to know the majority of people who can actually afford the nice tickets for all of these varied amenities are tech dudes wearing VIP lanyards, fired up because their tech sales team is being taken out by another tech sales team?
It is an overused cliche at this point to talk about the proliferation of the tech industry into every aspect of SF life, but you can actually watch this play out with some intense tension at Giants games, because alongside those d-bags are lots of real, old-school, crusty-as-bread-bowl fans who have that eclectic SF weird-as-hell unpredictability in their eyes, and fondly talk about Candy Maldonado with you until you're forced to recoil from their garlic fry breath. Because everyone is cheering for the same team, the tension does not really boil over, but sits there simmering, like that overrated chowder you're about to pay $18 to eat out of a hollowed-out loaf of bread.

5. Philadelphia Phillies
It's Always Sunny in Philadelphia has given Philly fans the sense that their general awfulness has been rebranded with a fresh-faced comic identity, but the reality is your typical Phillies fans possesses all of the alcohol-riddled obliviousness and stupidity of a Charlie or a Mac with absolutely none of the charm (Dennis is far better groomed than your typical Citizens Bank denizen). The horrible Philly fan has become such a well-worn stereotype that one could understand a little bit of "they aren't actually that bad" contrarian sentiment. But no. Just no. They are 100% that bad and will remain that bad until at least the end of Ryan Howard's contract sometime in 2035.

4. New York Yankees
Remember that mirror scene in 25th Hour? Well, Yankees fans are basically the Bensonhurst Italian section of that scene, times a thousand. No fanbase on Earth is more arrogant, more entitled, more cocky, and more horrible than the Yankees. And the best/worst part of it? They're not that good anymore. All these shitty, long-term, bloated deals, paying $25 million to 35-year-old CC Sabathia this year; $23 million to 35-year-old Mark Teixeira; $21 million to both Jacoby Ellsbury and 40-year-old A-Rod; $15 million to 38-year-old Carlos Beltran. That's $105 million, which would be the 17th-highest payroll in MLB, to five players whose average age is 37. I mean, holy shit, that is honestly just horrendous management.
And the sad thing is it used to be that it didn't matter. The Yankees would cherry-pick the best players from the smaller clubs and ride them for two years to a couple of World Series wins and reload, and no one else could really do anything about it. But now, despite the literal entire Colorado Rockies payroll they're throwing away to old dudes who might not even start on the Colorado Rockies, they don't even get to claim they have the highest payroll in MLB. And after all that money spent, they're still losing wild-card games. You might think this would make Yankee fans a little bit more subdued, a little bit more modest. You would be wrong. Yankee fans view modesty as a weakness, and so they blow the trumpet harder and louder. Bensonhurst. BENSON-HURST.

3. Boston Red Sox
There has never been a fall from national grace quite like Red Sox fans' tumble over the last 12 years. Before that first World Series win, they were the lovable losers, a provincial town of hilariously accented n'er-do-wells crushing Fenway Franks, that spicy brown mustard lodged in the sides of their "Cowboy Up" Kevin Millar playoff beards. People appreciated the spectacle, and felt a little sorry for the chubby guys from Revere wearing Tom Brunansky jerseys who spent all their money on beers at the game, and ended up passing out in Kenmore station until the blue line picked back up.
And then they won. And as anyone who's ever been to Gillette Stadium can attest, there is nothing worse than Boston fans when a Boston team is winning. But unlike the unshakeable confidence of the Yankees fan, the Sox fan possesses a terrifyingly pessimistic view of the game. Boston sports talk radio is filled with conspiracy theorists and apologists in equal measure, as is Fenway. Luckily, unless you're in a Yankees jersey, the fans are more likely to pick fights based on local high school Thanksgiving Day football rivalries ("There go those kids from Catholic Memorial! Get 'em!"), but then again, in Boston it's usually best not to press your luck.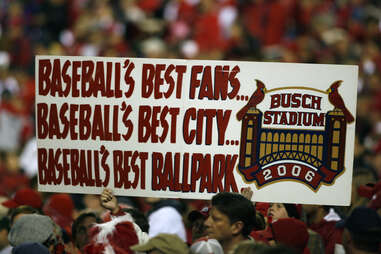 2. St. Louis Cardinals
We like to have fun around here, but we realize many of these sweeping generalizations we're making might apply to some elements of a fanbase but not necessarily the fanbase as a whole. But Cardinals fans? WOW. Fact: every last Cardinals fan believes right down to the marrow of their custard-fortified bones that, by golly, the Cards are just a special franchise blessed by whatever deity you believe in (oh, who are we kidding, it's the Christian one) with the capacity to just do things the right way.
They fancy themselves the best fans in baseball to such a degree that it's become a punchline within baseball circles and a dynamic blessed with its own must-read, hypocrisy-exposing Twitter account where you can read all the horribly racist things they continue to say about Jason Heyward for daring to, you know, choose his employer. Oh, and their front office broke federal laws hacking into the Houston Astros computer system, which has somehow received about 1% the attention that Tom Brady's taste for slightly more grippable balls did.

1. Los Angeles Dodgers
Unlike a Lakers game, which is really just an excuse for plastic narcissist actors and the power grubbers who fund their films to figure out a different way to be on camera, Dodgers stadium is less about the flash, and more about two very real, very different elements:
A) The people in the expensive seats really do get there late, take off their shirts to reveal smaller, tighter shirts, stay four innings, knock around six to eleventy thousand beach balls they mostly bring in themselves, eat a crappy Dodger Dog, tell a made-up Vin Scully story they heard from their uncle, leave early, and listen to the You Must Remember This podcast on the way home instead of the game. And yes, we get that this is because the traffic is horrible, and parking at the stadium is an exercise in self-flagellation, and the entire idea of LA was founded on the idea that it would be a majestic series of villages for no more than 35 people with cars to travel around, but still, maybe just don't go?
B) The people in the cheap seats really do beat up opposing fans. Or call them horrible things until they leave. Every single person we talked to who is either a Dodgers fan, or has been to the game as a visitor, recalled some of the most uncomfortable, unprintable stories of fights, or things being poured on women, children, and the like, just to provoke a fight. Cool, guys. Way to show your passion.
Oh also: your beloved Dodger Dogs are basically limp, under-salted, un-snappy Slim Jims that no one would ever consider eating were they not trapped in an enclosed space four miles from their car surrounded by people hitting beach balls and trying to fight their children.
Sign up here for our daily Thrillist email, and get your fix of the best in food/drink/fun.
Kevin Alexander is Thrillist's national writer-at-large and owns a real Doug Mientkiewicz Red Sox T-shirt. Send him links to 25th Hour clips: @KAlexander03.
Matt Lynch is executive editor, and often dresses up as Steve Bartman, though weirdly NOT on Halloween. Follow him to a Jeff Blauser memorabilia-signing event: @MLynchChi.