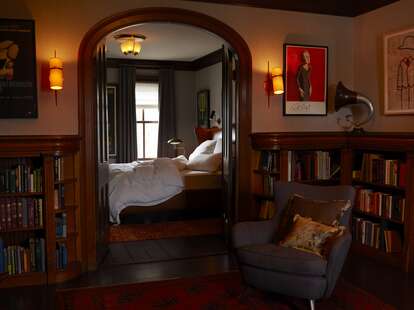 The façade of The Maker in Hudson, New York, exhibits all the signifiers of luxe sophistication. Three historic buildings—an 1890s brick Georgian mansion and carriage house, plus a 1940s Greek Revival—fuse together into 14,000 square feet of ultra-curated hospitality. Once inside, you're encouraged to get a little fanciful: tap into faraway places, different time periods, even new personalities.
You know those fantasy Imaginariums for kids, designed to help them reach their creative potential? The four suites in the eleven-room boutique hotel are basically that, except for adults with hefty bank accounts (a night runs around $1,100). Each space is whimsically dedicated to a different creative archetype, or "Maker" as the hoteliers call them: the Gardener, the Artist, the Architect, and the Writer. "It's about going into [the Maker's] world through our imagination," says co-owner Lev Glazman.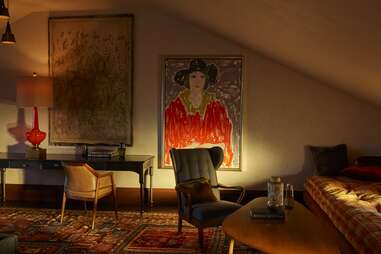 The Gardener brings the outside in, with plants, floral paintings, and horticulture books scattered throughout (not included: a green thumb). A wrought-iron gate, repurposed and restored from the 1898 Singer building in Manhattan, acts as a screen to the deep soaking bathtub. In the Architect, a rare structured midcentury couch by Edward Wormley for Dunbar is mimicked by its own brown rectangular tub. The eclectic and jewel-toned elements of the Artist spans all time periods, curated for the bohemian who both lives and works in their space: a grid of drawings adorn the wall, an easel is propped next to the bed. And then, there's the Writer.
"For me, writers are like nomads," says Glazman. "They travel, they're full of curiosity, they collect things to capture certain memories." The Writer's suite is wrapped in oak shelves holding books from alluring destinations, and a desk under a window offers up pens and pencils. When inspiration hits, the vintage typewriter actually works.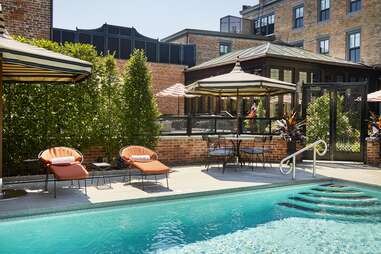 Co-owners Glazman, his wife Alina Roytberg, and their partner Damien Janowicz, are creatives in their own right. The globe-trotting couple are the founders of Fresh, a beauty brand that pioneered the use of natural ingredients in skincare.
The trio is also responsible for Bartlett House, a bakery and café located in a 19th century landmarked building in Ghent, New York, about 20 minutes away in the Hudson Valley. Bartlett House provides the pastries served each morning at the hotel's bustling, European-style café. By night, you can get your Parisian brasserie fix with hangar steak and frites (but really, you should try the crispy duck leg confit). You may even see a New Yorker writer.
But the greatest inspiration for the Maker is the town of Hudson itself, whose charming historic streets draw artists of all stripes. There's the annual Basilica Soundscape, an experimental music festival co-founded by Melissa Auf der Maur of the band Hole, who happens to be a local. There are 60 antique shops and 30 or so art galleries, some with interactive installations to play with as you stroll down the main drag of Warren Street.
"We loved the location and the diversity of this town, and the connection to the creative," says Glazman. "That includes the ability to reach out to a lot of different makers. Collaboration is part of our DNA."
To decorate their first hotel, Glazman and Roytberg scoured auctions and antique houses. Some sixty percent of the furniture at the Maker was purchased locally (for your own Hudson shopping itinerary, Glazman recommends Finch, Regan & Smith Antiques, and Arenskjold). The couple's aesthetic imprint is everywhere, from the textured wallpaper—all designed by Roytberg—to the overabundance of lamps and light fixtures, all hand-picked by Glazman.
"I'm literally obsessed with lighting," he says. "Lamps are a very functional art—you get lighting out of it, but it also creates an ambiance in the room. And they are like jewelry."
When I visit I'm particularly enamored with a large lamp that stands out in the greenery-filled, glasshouse-like interior restaurant. It is gold and winged like a bird, with multiple perforations for light to stream through. Glazman explains that it's from Morocco, all made by hand, and has a name: the Falcon. "It's magnificent because it pulls the whole space together," he says. "If you remove it from the space it feels like something is out of balance."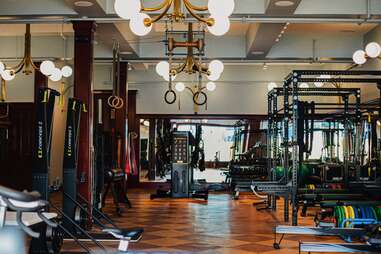 Glazman's devotion to good lighting extends to areas you wouldn't expect—like the Maker Gymnasium, an amenity for hotel guests that's also open to the public through memberships. Vintage sconces, repurposed from a 1970s-era Polish bank, resemble curled biceps. They illuminate equipment both ultra-modern and retro: a 1910 pommel horse, 1940s gymnastic rings, a 1930s speed ball for boxing. The room feels like a cross between the Moulin Rouge and the Ringling brothers (if you want to try your hand at the circus arts, there are silk ropes for that too).
And for extra play Roytberg and Glazman have included their own Maker room hidden in the hotel. The Fragrance Library, tucked away and open only to guests, showcases 120 of the over 500 perfumes they've collected over the years, including some from their own brand. "Every fragrance has a story," says Glazman. "I create all the fragrances and products for Fresh—so it was very important for me to have a space dedicated to that, so the guests can explore it and experience it in the similar ways that I do."
Drop in and sniff around, and pick a fragrance before a night out on the town. Maybe even try on a whole new personality. "That was the idea," says Glazman. "To explore something different."
Vanita Salisbury is Thrillist's Senior Travel Writer. She recommends not getting too overzealous when playing in the Fragrance Library. It'll backfire.