Dude Passes Out on Luggage Carousel, and Obviously No One Claims Him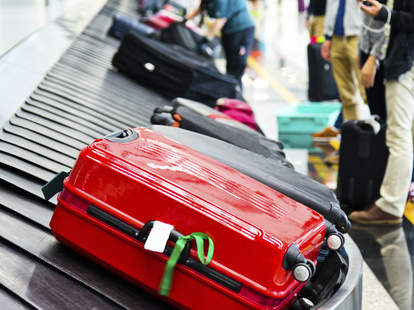 Sleeping on planes is bad enough, and collecting luggage after a long flight always feels like some anxiety-addled game of roulette. But one guy found a way to kill two birds with one stone: he just slept on the luggage carousel instead. And of course, this happened in Russia.
A video of the deep sleeper, which recently surfaced on YouTube, shows the narcoleptic passenger curled up alongside suitcases on the conveyer belt at Domodedovo Airport near Moscow, with an audience of bewildered passengers hesitant to pick up their luggage and wake the weirdo. At least nobody was gonna accidentally confuse him with their own bag?
It's not clear whether this guy was jet lagged, intoxicated, or taking part in an elaborate prank (in which case, he pulled off a convincing performance), but in any case, no one was in a rush to claim him. Thankfully, he kept his clothes on, too, unlike some people in Russian airports.
Watch this guy sleep like a log as he circles baggage claim in the video below, and just remind yourself: no matter how tired you feel on a Monday, you still aren't this guy.
Chloe Pantazi is an editorial assistant on Thrillist's travel team. Yes, that's a British accent. No, she doesn't watch Doctor Who. Follow her on Twitter at @ChloePantazi.