The Upper Dance Hall cave is one of the 13 magnificent caves you'll encounter in Maquoketa Caves State Park.

| Flickr/Phil Roeder
The Upper Dance Hall cave is one of the 13 magnificent caves you'll encounter in Maquoketa Caves State Park.

| Flickr/Phil Roeder
Over 150 years ago, Maquoketa Caves State Park attracted dancers, not hikers and spelunkers. Earthen soirees were once held in Iowa's 1,100-foot-long Dancehall Cave—the park's largest underground masterpiece—with attendance requiring a quick jaunt toward the center of the Earth.
Today, you're better off with hiking boots and headlamps than your boogie shoes and a drum set, navigating wooden staircases and slippery walkways. After descending, you can pop in and out of the park's 13 designated caves—some large enough for waltzing, others so small you'll be crawling, crouching, ducking, and squeezing between muddy nooks, crannies, and crevices. There's no wrong way to do it: Safely gawk from a distance, seriously spelunk on your hands and knees, or opt for a more in-between, upright walking option. However you prefer your caving, once you put this magnificent Iowa state park on your to-do map, here's what's in store.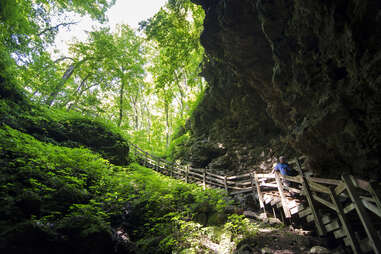 From shallow sea to spelunking wonderland
The Maquoketa caves are millions of years in the making—some 435 million years, to be exact. "The bedrock on display at the park is dolomite," explains Ryan Clark, geologist with the Iowa Geological Survey, "which is similar to limestone." We can thank dolomite for some of our favorite places, from Wisconsin's Door County to the crashing waters at Niagara Falls. Despite being pretty tough, the rock can be dissolved by acidic groundwater, creating pores and cracks that gradually widen, drop by drop. Toss in millions of years of erosion, et voila: exposed caves.
But the park's dolomite walls tell far more than just an erosion story, and you don't have to be a geologist to interpret the clues. "Look closely," says Clark, "and you'll find small impressions of fossils." Marine critters like crinoids (sea lilies), corals, brachiopods, and trilobites became fossilized when ocean-floor mud turned to limestone, and they were subsequently dissolved when the rock morphed into dolomite. "Coincidentally," Clark adds, "it's the fossil molds that make the dolomite so porous, encouraging the dissolution of the bedrock that created the caves."
In other words, way back in the Silurian Period, this rocky underworld was a warm, shallow sea teeming with life. "There are caves from the Silurian elsewhere in Iowa," says Clark, adding that dolomite underlies about half the state, "but they're currently underground waiting for erosion to expose their beauty." For now, you can wander this ancient seafloor, wondering what future caves lie beneath and around your feet.
Secrets are great, when you're in on them. Luckily, it doesn't take an inside connection to get a great rate on insurance. State Farm® helps you keep more of your hard-earned dollars with surprisingly great rates. Getting the right coverage for your budget — with no secrets required — means more to spend on your preferred adventure. Like a good neighbor, State Farm is there.®
What to see and do in Maquoketa Caves State Park
If you and your crew can handle those winding staircases, the aforementioned Dancehall Cave will blow away all your farmland stereotypes. Three entrances at various elevations give visitors multiple, incredible vantage points on the largest, longest cave in the state. Be prepared with a flashlight or have your phone at the ready—though the cave has modern LED lighting, Dancehall can still be dark and slippery in places. There's a concrete path for easy navigation, but the cave's offshoot cracks and crevices are "open" to a little gnarly off-roading for those willing to get a little (or very) muddy.
Six miles of looping, well-marked trails link the park's other 12 caves, numbered for easy ticking off one by one through the park's eastern valley. Hernando's Hideaway, Rainy Day, Ice, and Barbell caves are other highlights; so too are the 17-ton Balanced Rock and the 50-foot Natural Bridge. And don't just keep an eye out for fossils and rock formations: Indigenous artifacts—likely of Fox or Sauk origin—from pottery and tools to 3,000-year-old arrowheads have been found in these caves and valleys. (Of course, if you find one, let a park ranger know!)
If you've got a flashlight or headlamp and the will to squeeze into little spaces, the park's smaller caves (like Wye Cave) can make for the most memorable experiences. And for serious spelunkers, Maquoketa Caves has far more than 13 spots to shuffle and scooch. Just be sure you're wearing proper hiking footwear and a hard hat, as scrunching along cave walls and surfaces can come with moment-by-moment surprises. It's best to spelunk with a friend or in a small group, too.
Adventures below—and above the surface
When you can, pull your eyes off those flowstone formations to take a quick, above ground break on the .3-mile Valley Overlook Trail. The jaunt provides a staggering switch from the park's geologic underworld to Iowa's colorful prairies, meadows, and beautiful hardwood forests. The adjoining Upland Prairie Foot Trail wanders for another mile or so up top, crossing the pretty Raccoon Creek and marking prairie restoration efforts from the past 40+ years.
Thirty campsites (hookups available) mean you can stick around for even more darkness, with a few primitive hike-in sites available. For a trio of adventures, rent tubes in nearby Maquoketa to float down the Maquoketa River, just a mile from the park. Like the caves it winds around, it too will zoom you along dolomite walls and verdant valleys, millions of years in the making.