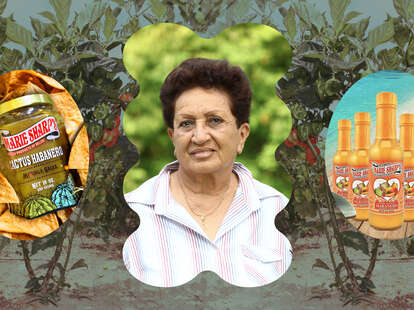 Image by Maitane Romagosa for Thrillist
Image by Maitane Romagosa for Thrillist
For many tourists, the Central American nation of Belize might be known for its verdant rainforests, ultramarine sinkhole, and gorgeous coastline. But anyone who visits will quickly find out that to get to know the country is to get to know its penchant for sweat-inducing cuisine.
In Belizean Kriol, the habanero pepper, rated 100,000 to 350,000 on the Scoville scale, is popularly described by the phrase, "Ih bun, but ih nice." (Translation: It burns, but it's nice.) Whether you're enjoying a traditional coconut fish stew or everyday rice and beans, no meal is complete without a good dousing of a hot sauce loaded with the fruity yet fiery native pepper. And, you'll find that more often than not, that sauce goes by the name of Marie Sharp's.
Bottles of Marie Sharp's Habanero Pepper Sauce sit on restaurant tables across the nation, line grocery store shelves, and pile up inside forbidden item bins at Philip S.W. Goldson International Airport. It's a symbol of pride and joy for Belizeans everywhere, and the one souvenir foreigners go out of their way to bring back (ideally safely stowed in their checked luggage).
Named after its 83-year-old founder, Marie Sharp, the uniquely carrot-based condiment represents all that's beautiful about Belizean agriculture. The country's lush, tropical farms are bursting with fragrant crops, from yellow globules called craboo to giant pods of cacao. And of course, clusters of ruby-red and tangerine-orange Belizean habanero peppers, which Sharp believes is far superior to those of any other country. "I think it has something to do with our soil and the time of the year that we plant, which is mostly the dry season," she says. "We get a concentrated heat."
While the original Habanero Pepper Sauce is the company's flagship, Sharp also offers a variety of sauces in varying degrees of heat, from "Mild" to "Beware," as well as a comprehensive line of other specialties, from Caribbean barbecue sauces and achiote pastes to green mango chutneys and cactus moringa salsas. The flavor profiles are as diverse as the country itself, a cultural melting pot of Kriol, Garifuna, Mestizo, Spanish, Maya, English, Mennonite, Lebanese, Chinese, and Eastern Indian ethnic groups.
Belizean chef Sean Kuylen, a devoted Marie Sharp fan, spent childhood summers visiting his grandparents on a farm adjacent to Melinda Estate. "The smell of citrus blossoms, parrots in the trees, and now the world famous Marie Sharp's factory gives me immense nostalgia," he says. The connection transcends the kitchen, as Kulyen's 78-year-old mother even belongs to the same church and tea party circle as Sharp.
When sourcing his ingredients, Kuylen adopts a no-barcode approach and champions local Belizean produce. Not only do Marie Sharp's sauces fit the bill, but they also rival their well-known counterparts. When it comes to his braised pork, he believes the nopal cactus sauce beats any Mexican- or Colorado-born green chile recipe, while the tamarind-based steak sauce makes A-1 pale in comparison.
"Can you imagine a world without salt? This is the same for a Belize without Marie Sharp's Habanero Sauce," Kuylen says. "When added to rice and beans, hudut, tacari, panades, cowfoot soup, escabeche, relleno negro, stewed pigtail, boil up, and other delicacies, it immediately enhances the flavor."
From pepper surplus to national treasure
As integral to Belizean cuisine and identity as it's become, the iconic condiment was actually created by chance. Sharp's agricultural career began in 1967, when she married her late husband, Gerry Sharp, a citrus pioneer. His family owned Melinda Estate in Belize's southeastern Stann Creek District, a 400-acre tract that would eventually become the Marie Sharp factory. When the couple wasn't working at the Citrus Company of Belize, they tended to the family acreage, planting all kinds of grapefruits and tangelos to sell at area supermarkets.
Fast-forward to the 1980s, when Sharp's sister came to her with a request from a doctor based in Belize City. He was trying to develop his own small-batch pepper sauce, but couldn't find any habaneros nearby. Sharp was happy to help. "But I was so foolish—I didn't consult the good doctor," she says. "I just went ahead and planted habanero peppers, and I planted quite a bit."
When the ambitious Sharp showed up with a pickup truck packed with fresh peppers, the doctor, to her dismay, said he only needed a few. So Sharp went home with her surplus and, in order to prevent the peppers from spoiling, tossed them in a blender to create a mash. "I was asking the little home blenders to do what they weren't made to do," Sharp says. "After a while, my husband goes, 'What are you going to do with all that mash you have in the garage?' I said, 'I don't know, but just leave it there. It's not bothering anybody.'"
Some time later, after returning from her day job as a secretary at the Citrus Company, Sharp grabbed the mash and started experimenting with sauces, incorporating ingredients like bananas, papayas, and cabbage. When she eventually gave samples away to friends, it was the carrot-based variety that won everyone over. A friend suggested taking it to the market, and Sharp felt she had nothing to lose.
The budding pepper sauce matriarch then got to work. She purchased bottles by the dozen from friends, who would bring them over from Guatemala. "Soon my husband goes, 'Well, the garage is full, now we are filling the veranda. What are you going to do with those?,'" Sharp recalls. Taking the hint, she packed up her sauce along with some refried beans and tortillas and went door to door offering samples to neighboring shop owners.
If you can't take the heat...
"Believe it or not, Belize was one of my most difficult markets because Belizeans on the whole believe that nothing made here is good—it has to come from the US, it has to come from the outside," Sharp explains. "Now, I'm talking about 1981. The first year I pushed my pepper sauce, my total sales was BZ$17,000. Anybody would've thrown in the towel and given up, but I didn't."
Undeterred, Sharp took the next few years to slowly grow her business. Then, in 1985, Sharp began to export her products to friends in the US who volunteered to buy a few pallets and spread the hot sauce gospel in Los Angeles and Chicago. "I blew it up on the Belize market, saying, 'Marie Sharp's now in the US!' And you could almost see the Belizeans go, 'The Americans like it, maybe it's good,'" Sharp explains. "When I saw my local market starting to lift its head, I told my husband, 'You know what? You all find yourselves another secretary, because I'm gone.'" It was then that Gerry Sharp built his wife a little 30-by-45-foot factory right there on the estate.
"The tourists are my ambassadors—there is not one tourist that comes here and doesn't take back some of my products to give to friends and relatives."
A decade and change later, and Marie Sharp's found itself immersed in a veritable hot sauce boom. "I think it was in the late '90s to maybe 2000 when I started covering the entire country of Belize," remembers Sharp. One of her most surprising fanbases is in Japan, brought on by a happenstance tourist discovery back in 1997. "They came to Belize, went out to San Pedro to dive, had the pepper sauce out there, and then came down here to look for me," she says. "The tourists are my ambassadors—there is not one tourist that comes here and doesn't take back some of my products to give to friends and relatives."
Today, Sharp's products can be found in more than 36 countries. Hillary Clinton raves about the habanero sauce, and it was even featured on First We Feast's Hot Ones. Unlike your typical Tabasco, which is fermented to the point of liquid consistency, Sharp's sauce is made with fresh ingredients like garlic and onions and is blended into a thicker, puree-like state.
Despite the sauce's international availability and cult-like following, there's a reason why Americans might only learn about Marie Sharp's on a visit to Belize: marketing. Like many family-run Belizean businesses, the team at Marie Sharp's struggled to afford the promotional funds necessary to get the attention of major US supermarkets. It's only been within the last five years that chains like Walmart and Kroger have started to reach out to the company due to—you guessed it—customer demand.
A labor of love
All of the brand's ingredients—with the occasional exception of carrots and onions, depending on the production season—are grown in Belize. Sharp personally tends to the more exotic pepper varieties, such as scorpion peppers, but entrusts about 70 local employees to do the rest. "I prefer to give the people a chance of making something for themselves and becoming their own income earners," she says. And throughout every stage of the process, there's very little intervention by way of fertilizers or heavy machinery. "We have people that hand-peel the garlic for us," Sharp adds.
"[It] starts from the freshest ingredients from no more than a 25-mile radius, from farmers that she knows by name," confirms Kuylen. "The products are responsible for employment, economic stability, and most importantly, a strong sense of Belizean Pride."
The business is truly a family endeavor: Sharp's niece serves as the general manager, while her grandson handles marketing. She's particularly proud of the way the company has empowered women, which make up the majority of the 68-person operation. "There was never anything for women to do in this area—it was always just the citrus industry for men, while the ladies stayed at home to be mothers," Sharp says, going so far as to personally pay for one of her female employees to finish her education. "My aim was to give women jobs, and she's now my number one in the lab."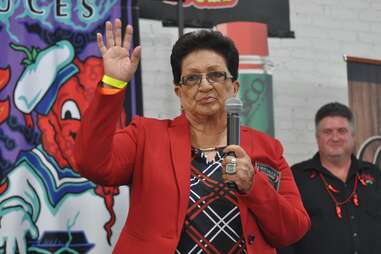 The Habanero Queen's lasting legacy
In 2016, Sharp was inducted into the New York City Hot Sauce Hall of Fame—the only female entrepreneur and foreign candidate to accept the award that year. "I was received like a queen," she says. "There were so many pepper people there, and several of them came up to me and shared that it was because of me that they started their business."
If you're curious about where the magic happens, you can book a factory tour to explore the original facility in Stann Creek. "Tourists walk through the entire line—where it's processed, where it's milled, where it's filled, where it's capped," Sharp explains, saving the best part for last. "And after that, they go into the gift shop where they're given tasters of all the different pepper sauces and jams."
With 25 different types of pepper sauce under her belt, the only variety Sharp has left to conquer is the ghost pepper. Aside from the heat, she's also excited about a new jam made from huckleberry, an ingredient introduced to her by a Mennonite friend. It's that creative drive toward the future that motivates Sharp to keep on keeping on, despite being at an age where most people have long since cashed in and retired.
"I think it was maybe in 2005, my auditors were here, and I told them I was thinking of selling," she says with an uptick in her voice. "There was one woman among the group who straightened up in her chair and said, 'Miss Marie, you can't sell this company. This is Belize's pride and joy.' The way she said it, I had to take it back. And, well, I'm still here today."
Editor's Note: A previous version of this article contained factual inaccuracies about Marie Sharp's entrance to the US market. It has been updated to reflect those changes.