Places you should never, ever propose: the world's 10 most cliched spots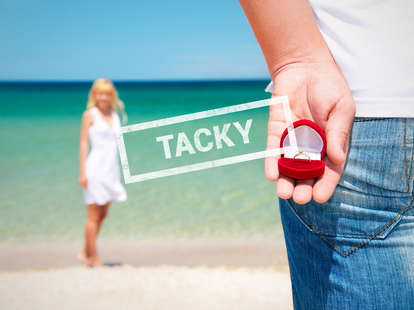 Each year, 2.2 million Americans decide to quit the single life and get married; if you're planning on being one of them, odds are you'll be dropping to one knee and proposing first. Your significant other's likely put a lot of thought into what the experience should be like, so it's on you not to mess this up -- get started the right way, by crossing these played-out locales off your list.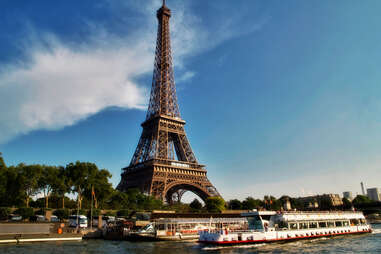 10. The Eiffel Tower
Paris itself is a super-cliche "romantic place where people go to be romantic", and the Eiffel Tower sits squarely in the epicenter of all that nonsense. It's estimated that more than 100 people get married there every year, and countless more make the pilgrimage to Paris for the sole purpose of popping the question at this icon of romantic unoriginality. Don't be one of them.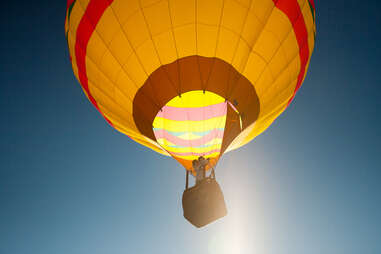 9. In a hot air balloon
Sure, hopping in a hot air balloon to ask for her hand at altitude might seem like a wholly original idea at first, but consider this: Vegas Balloon Rides averages one wedding proposal every week, depending on the time of year, and they're far from the only game in town (figuratively speaking). Your unique proposal's starting to look more tired by the minute.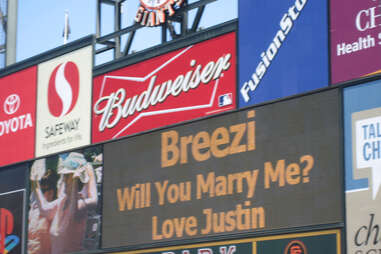 8. On the Jumbotron
It's a scientific fact that sporting events are about as romantic as a wet cough. Even if your woman's a fan, this ceased being an option the moment Kanye wrote "PLEEEASE MARRY MEEE!!!" on the AT&T Park Jumbotron. Best to skip it, unless you've got the means to rent out an entire stadium. Which you don't.
7. In front of the fountains at the Bellagio
"But Thrillist, what could be more romantic than the Las Vegas strip?" Literally anything would be more romantic than a Vegas strip betrothal; proposing atop a mound of used dental floss, for instance. Seriously, this town is famous for two things: ruined lives, and shotgun weddings. OK, maybe that's only one thing. Skip it.

6. The London Eye
Unless your significant other's a ferris wheel enthusiast, there's really no upside to being shoulder-to-shoulder with 20 tourists during your big moment. Also, the Eye's seen more than 5,000 engagements, 512 weddings, and 22 civil partnerships already, so it's possible you won't be the only one in the car with a ring in your back pocket. Lastly, it's a giant ferris wheel.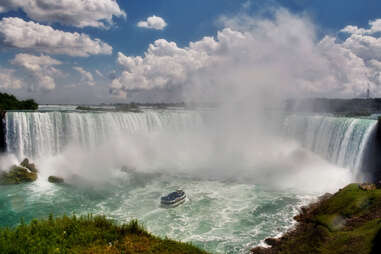 5. Niagara Falls
It's marketed as the "Honeymoon Capital of the World", so don't be surprised if you're surrounded by newlyweds when you drop to one knee on the Maid of the Mist. Sure, Niagara Falls is a big place, and maybe you'll find one corner of fall that nobody's proposed at yet, but is it really worth it?
4. On a gondola
Ahh, Venice... surely there's nothing better than proposing on a lovely ride down the city's canals, right? Wrong -- gondola rides are the absolute hackiest form of transportation you can propose on, with hot air balloons a distant second. Not to mention the fact that Venice's canals are so choked with gondoliers, they've had to enact a 26-point plan to keep people from dying.
3. The 86th floor of the Empire State Building
A well-worn symbol of the city that never sleeps, the ESB's also been the well-worn site of many a proposal on its Observation Deck. How well-worn, you ask? The place has its own saxophonist on staff, and recommends that you propose during the hours he's on duty so you can request a song. If you're lucky, there might not be a line!
2. In a hansom cab in Central Park
Yep, NYC made the list twice. If you honestly need an explanation as to why a carriage ride through Central Park is a cornball place to propose, you're probably the kind of person who thinks matching tattoos are a really sweet idea. Nothing like the smell of manure in motion to set that romantic fire burnin'.
1. The beach
Think about it: the tide gently lapping against the sand, the sun setting in the distance... There's a reason why every awful personal ad includes the phrase "long walks on the beach" in some capacity. The image of two lovers tumbling madly on the shore's been done to death, so do yourself a solid and head back to the drawing board.
Gianni Jaccoma is an editorial assistant for Thrillist Travel, and believes that there is only one truly unique proposal left out there: it involves fireworks, and some kind of bird-man. Follow him on the Tweeter at @gjaccoma.