Marriott Will Now Try to Beat Airbnb at Its Own Game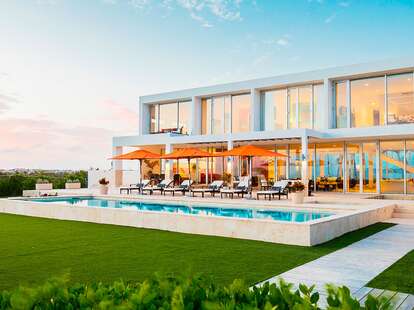 After years of hotels growing increasingly nervous as Airbnb came for their gig, the largest hotel chain in the world just flipped the script. On Monday, Marriott International announced it would be unveiling its own home-rental service called Homes & Villas. The new initiative will utilize 2,000 homes around the US, Caribbean islands, Latin America, and Europe. Travelers are expected to be able to start booking the rental properties in May.
Unlike Airbnb, which once allowed me to stay in a New Zealand college apartment ($22 USD) where large quantities of crack were being smoked in the hall, all of Marriott's home rentals will have a "luxury" vibe. Some of the properties Marriott has teased so far include a private cottage in California wine country; an Italian villa complete with infinity pool and wood-fire pizza oven; a beach villa in Anguilla; a very large Irish castle with a private lake; and a London townhouse with a built-in climbing wall.
Homes & Villas has its own website, but you'll also see home rentals pop up on Marriott's site if you're searching for trips lasting at least three nights in locations where properties are available. Reward points will apply to stays at the Homes & Villas properties just like they would standard Marriott hotel rooms.
"The launch of Homes & Villas by Marriott International reflects our ongoing commitment to innovation as consumer travel needs evolve," Stephanie Linnartz, Global Chief Commercial Officer of Marriott International, said in a statement. "What started out as a pilot a year ago is now a global offering, providing our guests with the space and amenities of a home backed by a trusted travel company, and the very best in loyalty benefits."
Home-sharing pioneer and prodigal rent-inflater Airbnb recently partnered with HotelTonight to offer last-minute bookings, and is also basically getting into the business of renting out traditional hotel rooms. The boundaries between hotels and home-sharing are likely to only get more and more fluid from here. Don't be surprised if other hotel chains try to beat Airbnb at its own game, too.
Sign up here for our daily Thrillist email, and subscribe here for our YouTube channel to get your fix of the best in food/drink/fun.