North Korea, tired of being known internationally as the belligerent uncle-country that has no qualms with bellicose rhetoric until they are rendered laughable and incoherent, has opted to do something pretty uncharacteristic: open a multimillion-dollar ski resort to service the country's "elite" and visiting tourists. Let's break down what obviously happened here... Kim Jong-un, tired of watching Top Gun and Point Break on Korean TNT, turned his attention to the ski-party genre and fell in love with the '80s American classic: Hot Dog…The Movie.
Recommended Video
The Most Overlooked Mediterranean Paradise in Europe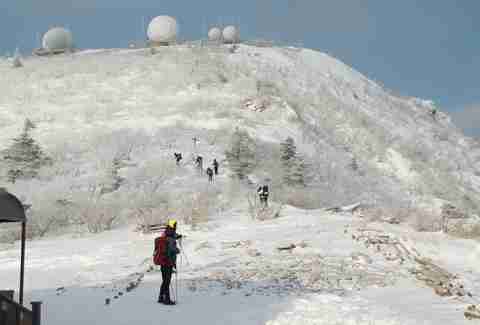 The resort'll open in Masik Pass, a secluded, rural section of North Korea's east coast that's teeming with mountainous terrain and lush farmlands. The grand unveil will come October 10th, which is coincidentally the 68th anniversary of the Korean Workers Party... something N. Korean Workers haven't done since... ever. Why a ski resort? Why now? There's a large amount of speculation that the North needed to do something grandiose after South Korea got the bid to host the Winter Olympics in 2018, as basically yelling at them wasn't getting them very far.

Another poignant theory is that the North needs to up their economic game, as being the subject of countless UN Security Council resolutions and restricted trade agreements can... kinda suck. What doesn't make sense is that this resort is going to be mad nice, and thus, mad unaffordable for the majority of the population. Although when you actually hear the articulate logic of Kim Jong it pretty much falls together: "We can make nuclear weapons and rockets. We can build a ski lift." C'mon Kim, didn't you learn anything from Hot Dog... The Movie? Maybe build some hot tubs first.
And from a purely speculative standpoint, check out this video of what the park will most likely look like in February 2014...