The Gas Station Chain with a Surprisingly Massive Food Fan Base
The road to adventure is paved with incredible Maverik burritos.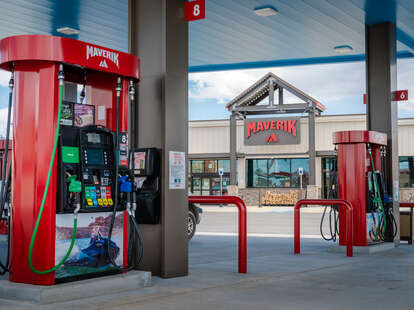 Photo courtesy of Maverik
Photo courtesy of Maverik
To drive the fiery expanses, crag-flanked freeways, and bison-filled plains of the American Intermountain West means passing one Maverik gas station after another. The motorway mainstays teem with devotees seduced by its signature arched signage and familiar timber frame. But what is it about Adventure's First Stop that makes Maverik enthusiasts declare it the "happiest place on Earth"? The only way to find out is by sinking your teeth into one of Chef Kyle's famous creations.
If you're picturing sad, shriveled hot dogs rotating on a rack, you've got the wrong idea. We're talking made-to-order street tacos and burritos, cookies baked in-house with whole ingredients, loaded nachos, and steaming bowls of chili mac. This is the result of Maverik's decision to enlist the help of gourmet chef Kyle Lore almost 10 years ago, relying on his expertise to develop a menu so tasty that peckish motorists would be compelled to pass up the usual burgers and fries for gas station cuisine. A decade later, the franchise doles out some 24,000 burritos a day across almost 400 locations in 12 states, from Nebraska to California.
The Utah-based brand is about to double its footprint, too, announcing in April that it has acquired all 400 locations of the popular Midwestern chain Kum & Go. So, what better time than now to get to know the chorizo-slinging roadside stop that seems to be sweeping half the nation?
Lore's love affair with Maverik began before his business relationship with the chain. After long days spent preparing award-winning dishes for affluent vacationers at a high-end resort in Moab, Lore would decompress with a humble Bahama Mama fresh off the roller grill under the florescent lights of the gas station. "I'd end up getting a hot dog at, like, 11 o'clock at night just because it was there," he says. "It was like I could breathe. It was just a relaxing space."
The gas station also happened to be his first stop after moving to Utah from the Los Angeles area with his family, and soon after settling in he found himself sporting a Maverik apron. Under Lore's leadership as the company's corporate research and development chef, the menu has grown from standard-issue corn dogs and Tornados to full-on fast casual, featuring breakfast nachos piled with steak and eggs, bacon-egg-and-cheese tacos, Mexican salads, and more.
Much of the spread is inspired by Tex-Mex: Fresh cilantro, Maverik-made guac, burnt ends and smoked meats, beans cooked from scratch, chipotle mayo, pepper jack cheese. "We have a long leash in terms of strong flavors—spicy flavors—because of our demographic and our footprint geographically," Lore says. "Green chili, red chili, hot sauce... those are widely accepted, so we can do bold flavors, and that's one of the things that's been fun."
Lore describes burritos as "the core" of Maverik's menu, and his customers would no doubt agree. However, fans are hard-pressed to come to a consensus on which filling is best; choices include barbecue steak and tots, carnitas, tomatillo chicken, "chorcheezo" (Chef Kyle's favorite, loaded with pepper jack, eggs, and chorizo), bacon and egg, and the M.O.A.B. (aka the "mother of all burritos," stuffed with eggs, hash browns, and practically every kind of breakfast meat). This decision is a source of continuous commentary on social media, but breakfast burritos are specifically the top-selling items in nine of the 12 states where there are Maverik locations.
And then, of course, there are the fountain drinks. Ever tried a White Rim? A Cherry Berry Cream? How about a Surf Cola? If you haven't, it's because Maverik customers (and, sure, sometimes marketers) made them up.
Another way the chain lures people in is with endless possibilities for customization—with food but possibly even more so with fountain drinks. An expansive mixology counter equipped with fresh limes, two kinds of ice—pebbly nuggets and traditional cubes—sweet cream, and a range of self-serve syrups (pineapple, coconut, raspberry, vanilla, peach) invites people to get weird with their drink innovations.
Some combinations people have come up with: The Square Root of Orange featuring half root beer, half Sunkist, vanilla syrup, and cream; Smooth Coconilla made with cherry cola, vanilla and coconut syrups, and cream; and the Twisted Arnie, which is Sprite spiked with lemonade and mango, coconut, and pineapple syrups.
But there's more to Maverik's identity as Adventure's First Stop than bold flavor combinations. The 12 states with Maverik locations are home to more than half of the US's national parks and its total percentage of public land. Inside a Maverik, the walls are often plastered with aspirational imagery of landscapes across the brand's home region, from the terracotta-colored hoodoos of Bryce Canyon, to alpine scenes from the Cascade Range, to Yosemite's Tunnel View. And every aspect of Maverik's branding, down to its "Trail Points" rewards program, is rooted in the spirit of adventure.
The fact that the gas stations are conveniently positioned on the very roads that lead to wide-open spaces primed for exploration—along US 191 leading to Grand Teton National Park, a few miles from the entrance to Utah's Arches, and at every corner of Arizona's red rock-dotted Coconino National Forest, for example—is proof that "adventure" is more than just a tagline.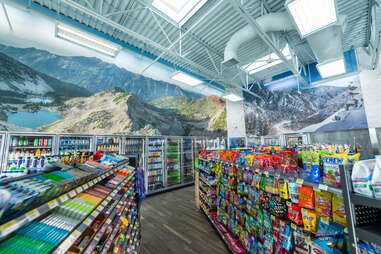 "The majority of people living here have some kind of a thing that is their adventure," says Chef Kyle, who's actually a native Coloradan with hobbies that include snowboarding, surfing, and mountain biking. Being an outdoorsperson, he says, helps him craft food fit for road trippers, nature admirers, and thrill seekers alike—"individuals across all ages," he says, who are "out having fun."