While there is no shortage of great beach towns here in the good ol' US of A, there's something special about kicking back on a European beach (topless or otherwise) and enjoying the waters of the Mediterranean Sea. Of course, a lot of Americans know this. As do all Europeans. And pretty much everyone else in the world, as they all seem to flock to the same dozen or so spots for their annual summer holiday.
So where can you go to get that same deep Med tan without having to deal with the entire planet's vacation plans? Well, nowhere in August -- when EVERY place is packed -- but any other time, to one of these six underrated Mediterranean destinations.
Recommended Video
Check out Meow Wolf's Mind-Bending Thrill Ride, Kaleidoscape
Tarifa, Spain
While you might be tempted to call this Europe's Key West -- since it's the southernmost point on the continent -- that's about where the similarities stop. This coastal town on the Strait of Gibraltar is rich in history, ancient city walls, and ruins from the Roman town Baelo Claudia. Influenced by its proximity to nearby Morocco, the old city is more reminiscent of an Arab bazaar than of anything on the continent, and the North African cuisine you'll find in Tarifa is as good as any in Europe. Along with boasting some of the widest beaches on the Med, Tarifa is also a hotspot for windsurfers thanks to its gusty breezes.
Ajaccio, Corsica, France
Though the novelty of visiting Napoleon's birthplace might wear off soon after you visit Maison Bonaparte, there are still plenty of reasons to hang around this brightly painted French town. The largest city of the Isle of Corsica, its large bay is stocked with boats (and captains) eager to cruise you around the surrounding islands. The quaint cafes and palm tree-lined streets give this European island paradise an almost Caribbean feel. And, if you get tired of sitting outside enjoying the perfect weather, the Fesch Museum maintains one of the best collections of Italian artwork in all of France.
Chania, Crete, Greece
While the architecture in places like Venice and Florence is definitely something to behold, beholding it from behind 400 other people taking selfies with their iPad is really no way to spend your holiday. So hit this town -- the second-largest on the Greek island of Crete -- and appreciate its buildings (which are reminiscent of those in historic Italian cities), but with a fraction of the crowds. You'll also want to check out the old city, which combines classical Turkish and Venetian architecture, as well as the Archaeological Museum of Chania.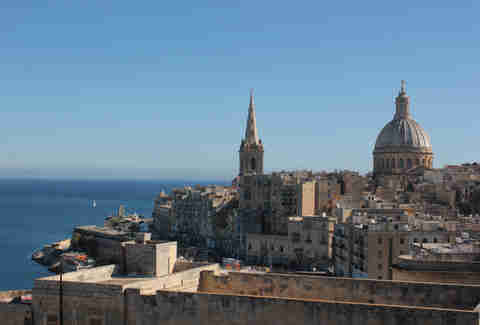 Valletta, Malta
You know a city has some impressive history when its "new" city was constructed in the 1500s. Valletta, which dates back more than 7,000 years and sits on one of the most picturesque peninsulas in the Med, has remained more or less unchanged architecturally since 1798, when it was abandoned by the Order of St. John of Jerusalem. The National Museum of Fine Arts and the Manoel Theatre are must-hits -- their architecture are as much a draw as what's inside -- and if the bright blue waters of the sea are calling, you'll find some of the best diving in Europe in the caves and war-era wrecks.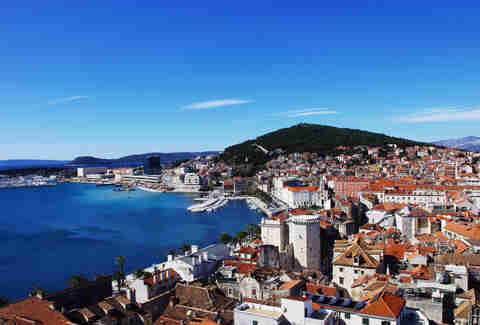 Split, Croatia
While most of the party people headed to Croatia -- Europe's favorite new holiday destination -- opt for Dubrovnik, the cool kids know what's up. And by cool kids, we mean whoever organizes Ultra Europe and puts it squarely in this majestic coastal town. The newly renovated walkway along the Riva offers a relaxing way to take in the city while the epic Diocletian's Palace, a former military fortress/walled city, has become home to most of the city's bars, restaurants, and nightlife; be sure to hit it after a day of tanning yourself on the beach at Bacvice.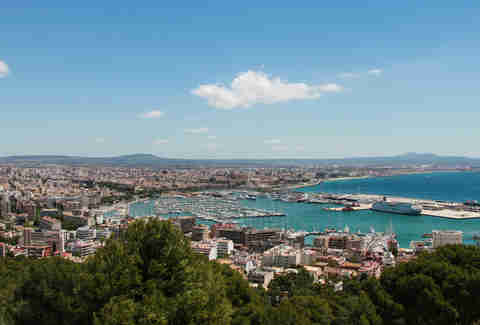 Majorca, Spain
If Steve Aoki says this is one of the most underrated party destinations in the world, well, at the risk of having cake thrown in our face, we're not going to argue. But in addition to the world-class nightlife that gets overshadowed by nearby Ibiza, Majorca's also got some of the most impressive cliffs in the Med, ripe for diving if you can score a boat. Marineland is kinda like Spain's version of SeaWorld, and hitting the beaches on the southern part of the island ensures you're away from the tourist traffic. And for outdoorsy types, Majorca is a favorite training ground for Europe's top endurance cyclists.