Meet Moniqua Lane, the Mastermind Behind The Downtown Clifton in Arizona
The real estate mogul discusses her hotels, community, and offers advice for women looking to start their own businesses.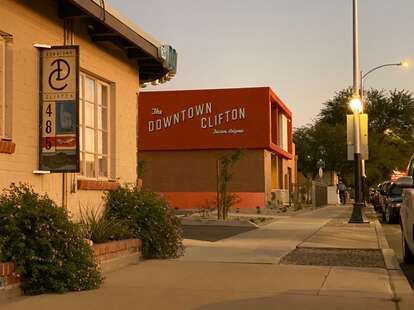 Photo courtesy of The Downtown Clifton
From an early age, Tucson, Arizona native Moniqua Lane understood the real promise of real estate in her town. In the past decade, she's taken full advantage, opening The Citizen Hotel just last month, and, in 2015, The Downtown Clifton, a boutique hotel that has become quickly beloved for its Southwest charm and vintage flair. For the latter, Lane credits the original property's impeccable shape for helping the team to complete its overhaul within a mere matter of months (before they eventually expanded its 10 rooms to 30 and added on-site restaurant Red Light Lounge). Though that opening happened nearly overnight, the road toward it took a little while longer.
Lane had been practicing law on and off for about 10 years before she found her way into real estate—and a small part of that large commitment came down to her daily commute. "I was working my last job practicing law and walking every day across the lot that would eventually become The Clifton," she recalls. On the day Lane informed her mentor she was leaving the vocation for good, he responded to her with an offer she couldn't refuse. "He had some land on probate and asked me if I wanted to take a look at it," she says. "I did, and that land became The Clifton. I felt a connection to the dirt I'd been walking on for a long time—I knew I wanted to purchase it."
That purchase helped set into motion a chain of events for Lane and her community, from the expansion of The Clifton to the opening of The Citizen Hotel to the reveal of Tanzillo Construction, her own construction company. Here, the real estate mogul shares with us the original vision for her first property, why community is paramount, and the advice she offers to women everywhere looking to start businesses of their own.
Thrillist: What was your original vision for The Clifton?
Moniqua Lane: We now operate with 30 rooms, but we operated for the first year or so with just 10. I used to like to say, "I just opened a little hotel for the neighborhood." It sounds funny to open a hotel for the people who live right next door to it, but that's really the approach we took—and people liked it. On social media, people loved it.
To what do you attribute that social media success?
The former owners left everything vintage, in place, and undisturbed. The ceilings of the older part of the hotel are pine lumber that was brought down from Mount Lemmon in 1948. We have these beautiful, terracotta-stained concrete floors—floors you just don't see anymore. And that was what we felt was special about this place—you couldn't recreate this building if you wanted to.
How has your team contributed to that aesthetic over time?
We've added details like handmade, Southwestern blankets and custom-made furniture and curtains, and we've restored tile in the bathrooms from the original 1940s tile. We purposefully left some chips in them. One of the rooms was jungle green, and all of the tile in the bathroom was, too—we left all of that. We shopped at thrift stores, and some of our artists actually purchased out of Tucson museum collections. Figuring out what to leave charmingly derelict and what to really polish up was a fun exercise.

As one of the only female master blenders in the world, Zacapa Rum's Lorena Vásquez has been perfecting her craft for nearly four decades. Her background in chemistry led to the creation of Vásquez's interpretation of the Sistema Solera, Zacapa's high-altitude aging process that results in an unbelievably smooth, award-winning rum perfect for lovers of dark spirits. Her expertise and stewardship are more examples of how strong women are rightfully taking charge in male-dominated industries.
What was the experience of the first opening as compared to that of the second?
For The Clifton, it was a quick turnaround—within about four months we really learned how to operate a hotel, appropriately price rooms, and so forth. It was a lot of fun jumping into that and learning as I went, and I got lucky, because it was an easy project. I'm like one of those people whose first baby was easy, so they're like, "Great, let's have two or three more," and then say "What did I do?" That's where I'm at—that first baby was just a peach, a real gem—slept through the night great. Now I've got a bunch of teenagers on my hand.
What was one of your biggest goals in opening The Clifton?
If you want to change the physical appearance of your community or elevate the profile of your community, it can be easy to do that through an iconic place—through placemaking. Each place does have a story to tell; there are buildings that just feel right. There are businesses that feel right in a place, that feel natural. I try to do that in my real estate and hospitality development—I'm always trying to seek that out. It's all about making a place that feels right, that feels comfortable, that feels appropriate to the people who live, work, and play in that place.
Can you recall a meaningful moment with one of your patrons?
We had a regular come into the Red Light Lounge to have a drink, and I sat down with him at the bar. He looked at me and said, "You know, I'm really grateful that you did this for us. This space is like the Barrio's living room—we all come here to see each other, watch TV, grab a bite, and then scurry back to our homes—thank you for giving us a living room." Those words have always stayed with me. It's a real honor to have a community embrace your place that you created in that way—for them to take it in as if it were part of a family—the way a home can be.
What advice would you give to women looking to start their own businesses?
I did corporate law for a long time, and practicing law at the time required a suit. When I left law and entered into real estate, I struggled with how I should look, how I should act. I remember looking around with every chance I got at people in real estate development. And what did I see? First of all, they almost always looked like men, they almost always looked older, and they almost always looked white. It was an interesting challenge for me—I was like, "Well, how am I going to pull this off? How am I going to look like these people?"
The more I looked around and tried to find the common thread, the more I realized that, as much as I was seeing these older white men as looking the same, they didn't—they looked however the heck they wanted to look. Some of them wore suits. Some of them wore gym clothes. Some of them wore shorts and flip-flops. Some of them drove fancy cars. Some of them were on foot all the time. Some of them rode bikes all the time. The point is, they looked however they wanted to look.
At the time, I was doing three things: I was letting my hair go from being straightened to natural, I stopped shaving my armpits, and I started working out seven days a week. So if I was going to be in meetings—if I was going to meet with people—I was going to have an Afro, I was probably going to have hairy, sweaty armpits, and I was going to be in my gym clothes. And I decided to lean into it—I did not change at all who I was. And it was scary. But that's what earned me the most respect—that I was me. To every woman, I would say, just be you. If you are a hundred percent a feminine, girly woman, lean into it and be your authentic self. If you are like me and you don't give a darn that you're smelly and hairy, go do that. If you change from day to day what you look like, do that. Just lean into who you are as a woman, and let that be powerful to you.