Meet the Bars Giving Ireland's Traditional Pubs a Run for Their Money
When you think Ireland, you think impossibly green countrysides, friendly locals, and pubs that opened before the US was even a country. And while visiting a 1,000-year-old bar should be on your itinerary, Ireland's having a real cocktail resurgence -- one that you'd be remiss not to experience. From newly established cocktail bars with an expertise in Latin American spirits, to places with drink menus that change with the seasons, these are the spots changing Ireland's drink scene.
Dublin
Since opening in 2012, VCC has been at the helm of Ireland's cocktail culture, but if you walk too quickly down Crown Alley in Dublin's Temple Bar neighborhood, you just might miss it. In true speakeasy style, this cocktail bar is hidden behind a discreet black door that simply says "VCC." Those '20s-era vibes continue inside, too, with antique furniture, vintage trinkets, and a fireplace inside the three-floor (plus rooftop deck) bar. The cocktail menu features a history lesson in drinking culture through the centuries, categorizing drinks by the era in which they reached popularity. The bar's punches, which were a favorite in the early 1600s, for example, come before "Golden Age of the Cocktail" drinks, like the classic whiskey smash. VCC offers its own takes on these classics, too, making for one of the most extensive bar menus this side of the city center. Take, for example, the Manhattan section of the menu, where you can find the Fernet It, made with tequila and Fernet Branca, and rounded out with sweet vermouth, Green Chartreuse, VCC porter, gomme syrup, Orinoco Bitters, and lemon oils.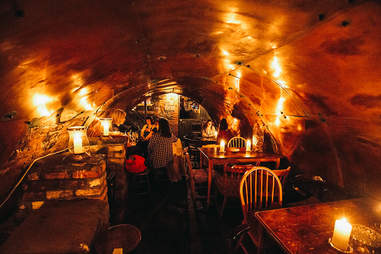 Keith Wiseman | The Copper Room
Limerick
If you want to visit one of Ireland's most romantic bars, you need to head underground. The Copper Room is set inside caverns that once formed part of Roche's Hanging Gardens, a historic structure in Limerick that once housed storefronts underneath 25-foot arches with elaborate gardens on top. The Copper Room, which specializes in wine and port, sits partially underneath those historic structures, in a cavernous, dimly lit space. The wine list features red wine and sparkling options from Italy, France, Argentina, and more -- plus some beer options, but why would you bother? -- served alongside ideal wine accompaniments (think lots of cheese and charcuterie). Throw in lots of candles and old brick walls and it's the ideal spot to bring a date -- or to start planning your return trip to the Emerald Isle over a glass of red.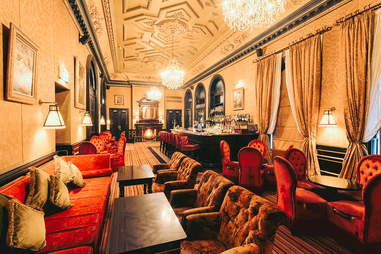 The Merchant Hotel
Belfast
The Merchant Hotel is something of a kingmaker. It's where the owners of New York's
The Dead Rabbit
, unanimously considered one of the best bars in the world, ran the show before making the move to the states. The Merchant Hotel boasts not one, but four worthy hangout spots inside, including one solely dedicated to the cocktail. Located just off the hotel's Great Room (where you'll see the island's largest chandelier), you'll find the appropriately named "Cocktail Bar." The menu boasts 112 (!) pages of cocktails, plus vintage champagnes and rare spirits. To make your decision slightly easier, though, there is a page with their 12 top-selling options, which includes the Blushing Lady, a vodka cocktail with fresh pomegranate, white grapefruit, and lemon juice, plus house-made orgeat syrup and rosewater. If live music while you sip is more up your alley, Berts Bar hosts live jazz every night of the week, while the Champagne Bar is designed to look like a bottle of Veuve Clicquot. Both are also located inside the massive, historic hotel. Finally, though, if all you're looking for is a simple pint, head down to the Cloth Ear. It's the hotel's own little in-house pub, with an entrance on Waring Street.
Electric Galway
Galway
Located in an actual glass house on top of Galway's Electric nightclub, this bar feels like part speakeasy, part Bohemian living room. And while the nightclub downstairs is the spot to check out if you are looking to see anything from cabaret to international dance acts, Glasshouse has a quieter, more intimate vibe, especially thanks to boho-style rattan furniture and lots of candles. The drinks, though, are even more unique than the setup. The bar aims to bring "farm to table" ideology into Ireland's cocktail scene -- so if your drink calls for herbs, they were probably grown on the bar's rooftop garden.
Belfast
If you walk up to Love and Death Inc and immediately get divey biker bar or sketchy tattoo parlor vibes, don't worry -- that's part of the appeal. This Belfast bar is known for its punk rock quirks, but with a chef-backed food menu and craft cocktails. You'll find some oddball decor inside, like creepy skull candles and an antique piano, but you'll also find a bustling dance floor on Saturday nights. Whether you plan to dance or not, we recommend a "Blood Reviver": tequila and mezcal, plus a beetroot hollandaise, lime juice, chili tincture, orange bitters, and a balsamic reduction.
Belfast
While Ireland's most well-known liquor may be whiskey, that doesn't mean the Emerald Isle doesn't know a thing or two about other spirits, especially at this Belfast bar. Liquor XXX opened just last year and has since become the go-to spot for Latin American drinks. That means tequila, rum, and piscos are the feature here, with a menu broken down geographically with selections from the Caribbean, Mexico, Peru, and more. Take, for example, "The 51st State," made with Bacardi Carta Blanca, strawberry vermouth & strawberry balsamic, with a touch of lime, salt, and sugar. Don't think for a second that means you'll find an island vibe inside Liquor XXX, though. Instead, you'll find a dark space for only 70 people, so be prepared to get a little close.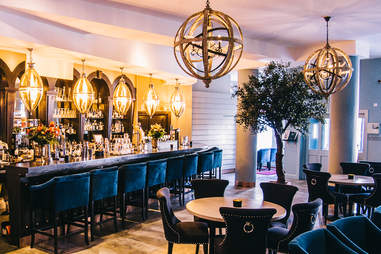 Astrid | SALT
Galway
Salt is located in Salthill, a harborside town in Galway, and an area that's becoming something of a culinary hotspot in Ireland. But even with a lot of competition, this cocktail lounge and upscale restaurant is the standout after opening just last year. Salt's craft cocktail menu features drinks like an amaretto sour with muddled black currants and black walnut bitters, as well as old fashioneds "whatever way you want," with the caveat that at Salt, they are always stirred. Pair your drink with French-inspired Irish bites, like their "fish and chips," served with pomme croquette and a tartare sauce beurre blanc. If that doesn't say "vacation," we're not sure what does.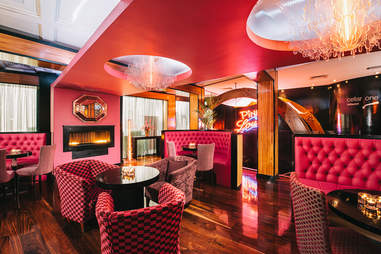 Pink Lounge
Killarney
This place may be decorated like Elle Woods' sorority dorm, but just like the world's most beloved blonde attorney, that doesn't mean it isn't to be taken seriously. Especially when it comes to gin. Located inside The Ross Hotel in Killarney, the Pink Lounge has more than 60 gins from all over the world behind the bar, and the menu details each with its origins, tasting notes, and even serving suggestions. The bartenders are also known to be gin fanatics, and can guide you through a tasting. Once you settle on an option, tonics and mixers like Fever Tree Elderflower and Sicilian Lemonade are also available, plus speciality cocktails. The Brockmans Old Fashioned, for example, is a gin version of the classic libation, but made with both grapefruit and peach bitters. Just remember, the Pink Lounge is only open on Friday and Saturday nights, so if you want to imbibe among all the hot pink accents, shoot for a weekend visit.
Cork Heritage Pubs
Cork
This is Ireland's best-stocked whiskey bar -- as in 600 different bottles from all over the world. It's located in what was once St. Peter's Market, in Cork's Old Town, in a spacious, cathedral-like space that's considered one of Ireland's most beautiful buildings. Anyone looking for a good cocktail should try the Black Raspberry, which is Jameson served with raspberry liqueur, espresso, and agave. But if you're going to make a whiskey pilgrimage to Cork, you ought to arrange a whiskey tasting, with a guided tour through a few of the bar's bottles. Finally, if spirits aren't in the cards on your visit, the Rising Sons Brewery is directly across the street, so Old Town Whiskey Bar has five of their gold-medal-winning beers behind the bar, and if you get hungry, never fear: Old Town Whiskey Bar's kitchen won "Best Regional Food Pub" in 2017 from the Irish Pub Awards.
Dublin
It wouldn't be far off to say the Liquor Rooms feels like running away to the circus, but with handcrafted cocktails. In what looks like the interior of a vintage Big Top, the Liquor Rooms serves specialty drinks as well as unique punch bowls out of four distinctly themed rooms. There's The Boom Room with a bandstand and dance floor, the Black Rabbit burlesque club, a conservatory, and the main gathering space, called the Blind Tiger. As for those cocktails, they are all named for badass Irish women in history, like the "Queen Wolf," for third-century Queen Meadhbh, who allegedly murdered her own sister to take the crown. Her drink is made with Jameson Caskmates, whiskey, fennel & ginger liqueurs, lemon, walnut bitters, and a red wine float.
Tadhg Nathan
Cork
Cask opened just last year in a former antiques shop in Cork's Victorian quarter, returning it to its stone-walled, tile-floored original bones. The only thing cooler than the bar's interior, though, is its menu. Based completely on seasonal, forageable items, there are zero classics on this cocktail list that changes every eight weeks. There are, however, plenty of "Cork stories" in the concoctions they create, like when they paid homage to Cork's footballer
Roy Keane
. If you needed more proof the drinks are on point, though, try this: Cask practically swept the 2017 Irish Craft Cocktail Awards, winning "Best New Cocktail Bar," "Outstanding Cocktail Menu," and "Overall Best Cocktail Bar" for the year. Cask complements its drinks with an affordable small-bite menu created by Cork chef Bryan McCarthy, so you won't even have to decide between making your wallet or your belly happy.
Dublin
Sometimes, you just want to enjoy the peace and quiet with a pint, and for that, you head to the Library Bar. True to its name, this place is essentially a living room tucked inside Dublin's Central Hotel, in a historic spot between Dublin Castle and Trinity College. It's full of comfy armchairs and two roaring fireplaces, making it the perfect place to curl up with a book, and, of course, a cocktail -- or, if you're there in the afternoon, a proper cup of tea. As for the drink menu, stick to simple here: Classic Guinness by the pint or Jameson on the rocks are the go-to options if you aren't in the mood for the healthy wine list. Essentially, this is the place James Joyce would have wanted to hang in while he wrote if he were still around -- especially because the Wi-Fi is free.