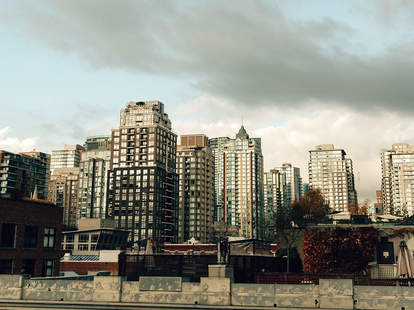 Today, Yaletown is known as a trendy destination for eating, drinking, and shopping, but the former Vancouver warehouse district has humble, historical roots.
Located north of False Creek, and bounded by Homer and Robson Streets, the area is named after Yale, British Columbia, which moved its settlement from Fraser Canyon to Vancouver along with the Canadian Pacific Railway in 1887. It was home to industrial-use buildings for nearly a century, until the 1970s and '80s, when young professionals began arriving, drawn by affordable housing. The neighborhood's cache further accelerated after it hosted the 1986 World's Fair.
During the dot-com boom of the late '90s, start-ups and small web development companies flocked to Yaletown, making it a local technology center (Slack, which was founded in Vancouver in 2014, still has a 21,000-foot office here.) In the years since, the neighborhood has emerged as a thriving residential, business, and cultural district with a knack for reinventing itself. Here are the businesses and owners at the forefront of growing and evolving Yaletown.
Andy J. Scott
Brix & Mortar
David Hannay and Patrick Mercer, owners of Yaletown dining house Brix & Mortar, started their careers as waiters with big dreams. The pair, who had worked in restaurants since their teens, met while waiting tables at the (now closed) Coal Harbor Boathouse, and went on to serve together at Vancouver seafood and steakhouse staple, Joe Fortes. In those years, "we sort of waxed poetic about the possibility of opening our own restaurant," Hannay says.
In 1999, their dream became a reality when the friends visited a space for sale in a 1912 heritage brick building. At the time, Yaletown was in the midst of the dot-com boom and had just a handful of restaurants and bars -- a sharp contrast to the plethora of eateries (The Keg, Cactus Club) that have invaded the neighborhood in the years since.
"We were enthralled by the physical location of the space," Hannay says of Yaletown, which thanks to its history as a warehouse neighborhood, is filled with industrial-feeling brick buildings. The friends scraped together their savings, and with guidance from family accountants, came up with the money to buy it in a week.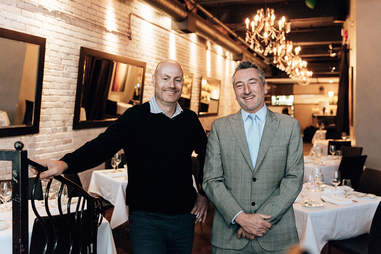 Andy J. Scott
"During the two-plus months we were paying rent and not open, we would come down to the new space at 8 in the morning and work on the new business until we went off to work as servers at 5pm," Hannay says. "We had a very meager renovation budget, so there was a ton of elbow grease involved and some much-needed free labor from friends."
Thankfully, when they opened the restaurant (then named simply Brix), serving modern Canadian cuisine, it proved a hit. "A lot of people were watching us because we were a couple of waiters trying to make good and it wasn't something that was seen much in the city," Hannay says. Since, though, other former front-of-house staff have seen similar success, such as Robbie Kane, one-time Chambar server turned owner of popular Vancouver brunch spot Café Medina.
In 2005, in the wake of Brix's success, Hannay and Mercer opened a nearby cocktail lounge called George. With the help of a London mixologist, they offered the first artisanal, hand-muddled drinks seen in Vancouver. But by 2015, as events and wedding bookings grew, they decided to close George, and renovate and rebrand Brix as the new Brix & Mortar.
The current spot combines a menu of Canadian fare with French, Italian, and Asian influences alongside fine wine and creative cocktails. Though the design has changed (the space now features two floors and two patios), they still retain regular customers from Brix's early days. "They're coming along on the ride with us," Hannay says of their loyal local clientele.
Perhaps that's because over 18 years, Brix's owners have truly become part of the neighborhood. Mercer, who also lives in Yaletown with his two young sons, credits the restaurant's longevity to their early support for the area and their long-term commitment to the business.
"We were lucky enough to be here at the point when this community grew and I think we're very much a grassroots part of it," he says. "To this day, there isn't a day when there isn't an owner in the building; I think we're probably one of the few restaurants in this area that can say that."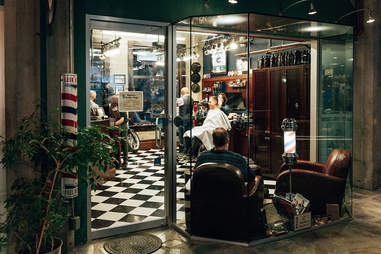 Andy J. Scott
Farzad's Barber Shop
Farzad Salehi has worked as a barber for 31 years, and for about the first 20 of those, dreamed of opening his own shop. In 2006, 11 years after he moved to Canada from Iran, he and his wife and business partner Shelley finally opened the doors to Farzad's Barber Shop in Yaletown.
"We really built our lives from scratch, and the business the same way," recalls Shelley, an Ontario native who met her husband the night he arrived in Vancouver.
Already trained and experienced as a barber, Farzad worked at other shops in town for years before the couple found a space in Yaletown, located near the already-established restaurant Simply Thai. They decked it out in retro décor (black-and-white checkered floor, swirling barber pole outside), combining nostalgic design and modern-day services.
"It was just an empty shell, but… he had the vision of the shop as soon as he saw it," Shelley says. "It was drywall and [a] rough concrete floor and he stripped heavy coats of white paint from the window panes. There was no plumbing, absolutely nothing."
Andy J. Scott
Since its opening, Farzad's has built a loyal following of clients -- the two-chair barber shop is booked solid, six days a week, from 7am to 7pm. Some come for Farzad's skill at straight razor shaves -- he's regularly asked to lead training sessions all over the world, including in Japan, the Netherlands, Rome, and Mexico City (and that's this year alone). Manning the second chair is Japanese barber Noriko Matsuguchi, who has been with the shop for 10 years.
"People feel that when they come in, it's a neighborhood barber shop and a little family-run business," Shelley says. "You know everybody by name. It's a really nice feeling."
It's grown to become Yaletown's go-to barber shop, and Farzad's now has a strong social media following, run by Shelley. Clients are locals from the neighborhood, commuters from surrounding suburbs, and even tourists from overseas who call ahead to make appointments for when they're in town. While expanding the business is tempting, given their success, Shelley says she and her husband try to live by one of Farzad's favorite sayings: "Keep it simple; life is good."
"We always talk about how lucky we are. Good people seem to be attracted to our shop," Shelly says. "We were always confident it would do well because Farzad has always been true to his roots. He always was a barber, and he still is a barber. People see that in the shop. They see an authenticity."
Andy J. Scott
Cha Le Tea
In a neighborhood (and city) full of coffee shops, Cha Le Tea, which opened in February, caters to the somewhat overlooked customer: Tea lovers. The Yaletown cafe, whose name translates to "happy tea" in Mandarin, is the brainchild of husband-and-wife team Charlie Zhang and Sue Wang, who set out to build a modern-day tea house that merges Chinese tradition with 21st century technology and design.
"I want to give people a quick tea experience, so instead of traditional Chinese tea style, where you have to sit there for one or two hours to get a good cup of tea, we invested in a brewer to make the best cup of tea to go," Wang says. (Customers can also enjoy their quick-brewed tea in-house.)
Andy J. Scott
Both Cha Le's owners were raised in the tea traditions of their home country, China; Zhang in Tianjin and Wang in Chongqing. "I grew up with tea and I got my [tea] education from my parents and grandparents," she says. Before moving to Canada in the 2000s, the couple got their first taste running a business by owning a German brewery in China. As Wang puts it: "We were brewing beer, now we're brewing tea!"
In a return to their roots, Wang and Zhang visited all of China's 15 tea-growing provinces before launching Cha Le, searching for the perfect varietals to import to Vancouver. "We deal with smaller farmers, so we're their exclusive carrier," Wang says.
Smaller farms translates to smaller quantities, which means the shop's offerings change by the season. Currently, the selection includes 24 single-origin Chinese teas (white, green, oolong, black, pu'er, and herbal), as well as drinks like matcha lattes and kombucha. Each loose-leaf tea is steeped to-order using Steampunk craft brewing machines, bought from Salt Lake City-based manufacturer Alpha Dominche, that allow for custom temperatures and brewing times (as well as give the shop a photogenic aesthetic).
Savory and sweet toasts are also available on the food menu, which was created by local chef Darren Brown, who's worked for nearby Hendricks Resto-Lounge and designed the Revel Juice sold at Yaletown's Living Produce Aisle. But tea is clearly the star here -- a beverage that for Wang is both a business, and constant part of life.
"Tea is always my drink that I drink every day, for me to calm down, or to think. It's just a drink that's always there," she says. And now, it's there for Yaletown, too.
Andy J. Scott
Mister Artisan Ice Cream
On any given night of the week, there's a steady flow of customers streaming into Mister, an artisan ice cream shop on Mainland Street, to order flavors like double Oreo, crème brûlée (finished by blowtorch), and avocado from a rotating menu. They flock here for the shop's Instagram-friendly creations (last summer's black-colored Coconut Ash, complete with black ice cream cone, was a crowd hit) and its unique process: Ice cream made to order and frozen with liquid nitrogen.
Owners Michael Lai and Tommy Choi, who opened Mister in 2016, discovered the technique in LA and were immediately enthralled, confident that it would set their new business apart from Yaletown's myriad dessert offerings, mostly bakeries and gelato shops. As Choi explains, using liquid nitrogen injects less air into the ice cream, resulting in a mixture that has no ice crystals and is denser, smoother, and richer than a traditional scoop.
Andy J. Scott
"The texture was totally different, the experience was good, so we wanted to bring it to Vancouver," he says. "What we do is quite different from anyone else in the city."
Choi and Lai met while studying business at the University of Toronto; after graduating, Choi moved to Hong Kong, but soon returned to Canada. He found a landlord willing to take a risk on a new business in Yaletown, in a storefront located on the same block as Yaletown Brewing Company (the neighborhood's first brewpub), and an outpost of the popular local chain restaurant, Flying Pig.
The friends had little culinary experience, but driven by their passion for ice cream, they embarked on a tasting tour -- including a full week in LA that saw them hitting up seven ice cream parlors daily. They've since studied and practiced the art of ice-cream making, which in Mister's case involves creating the ice cream base in-house every morning, then mixing it with liquid nitrogen to create a frozen confection to-order in just 3 minutes.
Mister's ice cream uses all-natural ingredients sourced from local farms, with the partners constantly innovating to come up with new, unique flavors. "We go out and taste, do a lot of research, and if we like something, we see if we can make it into ice cream," Choi says.
Beyond a commitment to keeping the menu fresh, Choi adds that the key to their success has been working hard to keep customers engaged on social media with discounts, promotions, and updates, and by giving locals a place to meet and form a community. (Adele even gave the shop a shout-out after visiting during her 2016 tour.)
"Once people know your product is good," Choi says, "they'll spread the word."