How a Florida Spiritualist Started Talking to Ghosts
Or as he would say: channels the other side.
Photo by Joleen Zubek for Thrillist
Cassadaga curious? You're not the only one. The quirky country town about an hour north of Orlando's theme parks occupies just a few oak-lined lanes, but is home to the largest Spiritualist community in the Southern US: the
Southern Cassadaga Spiritual Camp
. The religion is comprised of believers who see mediumship as a way to channel those who have crossed to "the other side" as spirits.
We sat down with one of them,
Richard Russell
—a clairvoyant, clairsentient medium, and spiritual healer. He is one of the camp's 37 official mediums and operates out of the historic home where he lives on Cassadaga's main drag, Stevens Street.
Wondering how to get into the business of professionally communicating with the other side? Let's just say it's a journey. Read on for Richard's. As told to Terry Ward.
I was always very intuitive, very creative. But I never called it a spiritual gift in my younger years; I couldn't tell you where it was coming from. When I came to Cassadaga in 1997 from Rochester, New York, my life had turned upside down. I lost a 30-year marriage and all my companies. It was a wakeup call that something had to change.
I'd been in the real estate industry and worked as a New York mortgage banker. I had 150 employees and 100 real estate agents working for me. I did that for 30 years and I was burnt out. I had the monkey brain, I couldn't concentrate. I was always answering life's questions through my ego brain and analytical side. I thought I had control of life, but I learned we aren't really in control of anything.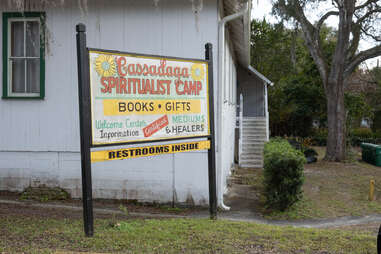 In 1996, I went to a mystical church in New Jersey and heard a reference to Cassadaga. That's how I first learned about this shabby town in Florida. So I came down to Florida for vacation the next year and arrived in Cassadaga on a Sunday morning, thinking I would get fixed and leave. It's 25 years later, and I'm still here.
We don't talk about dead people here. We think some of the spirits are more alive than we are.
I came as a Reiki master, thinking I would be a great healer. But they told me it's spiritual healing they do here. I was interested. So I started taking classes at the Spiritualist Camp and studied for six years. I met a lot of great people who directed me. They were healers and teachers and mediums. By August of 2006, I was certified to be a spiritual healer; and by December, I was certified to be a spiritual medium.
Spiritual healing is very different. It's not part of the energy modalities, like reiki. I don't take anything away from energy modalities—I've seen a lot of good things happen. The difference with spiritual healing is that, the more you can shut down your ego brain, the more you can be a conduit for Spirit to work through you.
We don't talk about dead people here. We think some of the spirits are more alive than we are. The spiritual energy put into a baby when it's born doesn't just dissolve into nothing. It goes into what we call the other side of life. And those on the other side of life are who we channel as mediums.
Being a medium is almost like getting a set of spiritual eyes and ears that are different from your physical ears and eyes.
Mediums are different from psychics. They smell, taste, sense, and feel loved ones on the other side of life, whereas a psychic is picking up information from your energy aura. There's a connection between those left in spirit and those left behind. And that's what a medium taps into when doing a spiritual contact with someone sitting in front of us.
When we come into this world we are like a piece of the puzzle of life, and our walk through life is to answer that direction. And being a medium is almost like getting a set of spiritual eyes and ears that are different from your physical ears and eyes—you begin to see the signs in life, and you begin to connect the dots.
These days, I usually see around 200 people each year. I used to see a lot more, but I'm 77 now and I have other things I am doing. Some days I don't do readings at all, and some days I'll read three or four people. I've met people from all over the world here looking for healing—from all 50 states, Central and South America, Eastern Europe, and beyond. Most people who come to me are looking for spiritual life guidance.
About 20 percent of those who come to me are looking for closure for lost loved ones. And the majority of the remaining 80 percent are looking for relationship answers about not only significant others, but also parents, children, work associates, and the like. What I tell them is not coming from me, it's coming from Spirit. It's coming through me from Spirit, whether that's the Holy Spirit, loved ones on the other side of life, or a spirit guide.
I know I'm providing a service, because I get people returning. Some have almost become like friends. And I offer anyone who's been in my home a 15-minute, free consultation at any time after the session, in case they want to talk things over or ask for advice.
A lot of people would like to turn us here in Cassadaga into a spiritual Disneyland.
I used to be a better spirit communicator 10 years ago. But thousands of readings have turned me more toward spiritual intuitive counseling these days. I've had people come back to me after 10 or 15 years thinking I remember our last conversation. But you have to switch things off in order to lead a normal life, you can't have all that going on.
I lead a fairly normal life outside of my home where I do my readings. And as I've gotten older, I've developed other interests. I like to go camping in my camper van. I'm writing a book, too, about normal people doing extraordinary things for the planet. I do pick things up sometimes when I'm just standing in a store or somewhere—it's part of being a medium; but I try not to interfere in peoples' lives, so I don't say anything.
The point is: we don't want to have to go through those brickwall experiences in life if we adjust to the path. That, to me, is spiritual enlightenment. And the single biggest reason I'm still here in Cassadaga is that I've found a peace here I haven't found anywhere else. And peace, you see, is different from being happy. You can be happy when you get a new car. But peace is being in the middle of a tornado, and you just have a feeling that everything is fine and everything is okay.
A lot of people would like to turn us here in Cassadaga into a spiritual Disneyland. But we're just practicing a religion that's been here for over 100 years. And the community has survived all these years because it does provide a specific purpose that's valued by the public.
Love lives here, there's no room for hate.
Terry Ward is a freelance travel writer in Tampa, Florida, who has lived in France, New Zealand, and Australia. Follow her on Instagram and find more of her work on terry-ward.com.