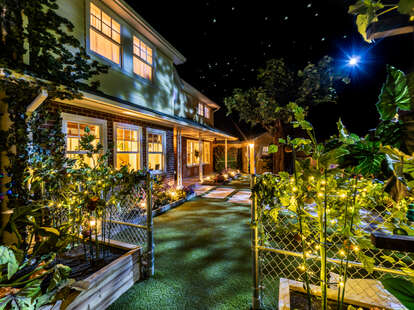 Photo by Kate Russell, courtesy of Meow Wolf
Photo by Kate Russell, courtesy of Meow Wolf
How Meow Wolf Turned a Texas Mall Into Dystopian Disney World
With the debut of 'The Real Unreal,' the cult-favorite art collective is twisting the universe one washing machine at a time.
Even if you're not a proclaimed acolyte of Meow Wolf, architect of prodigious art playgrounds around the US, the gateway into their new space in Grapevine, Texas may look familiar. Called The Real Unreal and debuting July 14, you access through a two-story suburban home. The setting is a comfortably cool night: Stars twinkling above, crickets chirping below, and the house's brick and paneled facade at once welcoming and ominous (which, granted, just might be a side-effect of suburbia). Light glows out of cookie-cutter rectangular windows, while a stone pathway cuts through a manicured lawn up to a front door framed by an innocuous white trellis. What could go wrong?
You find out soon after entering. There's a crisis behind these walls, where a 10-year-old named Jared resides with his mom and their chosen family. Jared has gone missing, and your task is to piece together what happened. You do this as you explore, gleaning the storyline through social media interactions and physical clues. The first assumption is that he's run away, but, as evidenced by the sea life posters on his wall and the stuffed turtle on his bed, you realize that he's not that kind of kid. He's shy, creative, and lives in limbo—an introvert stuck in between outside assumptions of his race. As Meow Wolf senior vice president and executive creative director Dale Sheehan says of artist collaborator LaShawn M. Wanak's Jared, "He's too into white kid things to hang with the Black kids, and too nerdy to hang with white kids." But he does have the psychedelic creative recesses of his mind—into which he can escape, and we can follow. That's where the fun begins.
Turn every knob and lift every lever. Touch every screen. Don't forget to peer into the refrigerator and the washing machine. I hope you're wearing comfortable clothes, because things aren't always as they seem.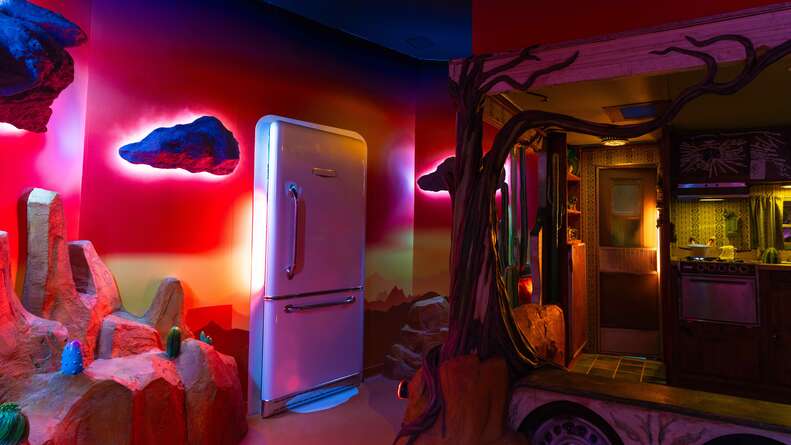 Followers of Meow Wolf might find the suburban setting familiar: The company's very first permanent installation, Santa Fe's House of Eternal Return, also opens in a two-story home. The callback is wholly intentional: Familiarity has always been the guise by which Meow Wolf lays its trap, luring you in with wistful nostalgia before fiercely upending reality.
And we always fall for the bait. Nostalgia is a helluva drug—just look at the excitement over Greta Gerwig's upcoming Barbie movie. (We have gone out of our minds.) Even without Meow Wolf's presence, the Santa Fe and Grapevine locations nod to a simpler time. One is in a repurposed bowling alley while the other set up shop in a good ol' American mall. Whether you were a teenage mallrat or not, the walls themselves tell you exactly how you're supposed to feel.
Heck, the state of today's shopping mall could be a Meow Wolf attraction itself: Almost a hyperreal parody of what it once was, it trades on its former glory by offering a melange of retail and experiential escapism. The Real Unreal began life as a Bed Bath and Beyond (RIP). The mall—and Meow Wolf—tip-toes on the edge of a Jordan Peele-style horror film, presenting a sliding doors version of our collective memory, albeit one doused in acid. We keep coming back, looking for that lost feeling, almost grasping onto it before a cartoon Lucy snatches the football away.
Despite being totally new constructions, Omega Mart in Las Vegas and Convergence Station in Denver evoke a similar sense of altered reality by way of their respective storylines. Omega Mart is a distorted fluorescent supermarket and Convergence Station is a transportation hub, recreated landscapes that appear both utterly familiar and completely new. But with the return to the suburban home motif, The Real Unreal marks the first time Meow Wolf references itself. It's a small move with massive implications.
"The story of the original Santa Fe exhibition extends from, or unravels from, the core story in the family home," says Sheehan. "Here in Grapevine, in a very intentional and purposeful way, we want to expand the world that was created for House of No Return." It's a different house with a different family, but the recurrent scene is a seed that sprouts roaming vines. Explains Sheehan, "It allows us to start connecting the idea of these realms beyond the portals in the house." In other words, tumble through the washing machine and emerge into a shared oversized neon universe, swelling, dripping, techy and tactile—the common link connecting all Meow Wolf installations and serving as the source of all new iterations, including a planned 2024 opening in nearby Houston. And considering the company's rapid expansion, the format has proven an easy template for taking over the world.
Swirling colorscapes aside, however, Meow Wolf's signature psychedelia really begins in the mundane. Case in point, Sheehan is talking to me from the set of the living room of The Real Unreal's suburban house. In the leadup to their opening this week it's one of the quieter spaces around, he says. But it also feels like… a house.
"I actually came around the corner yesterday and saw [Meow Wolf writer] Sarah Bradley sitting on the floor watching the TV," says Sheehan. "She was vetting the content, but it felt so real in that moment. Like, this is a house, somebody lives here, and they're sitting in their living room watching TV."
It's a good sign: The Real Unreal trips up even those who created it.
For the uninitiated, Meow Wolf's backstory might seem like fantastical wish fulfillment, an artist's revenge fantasy come to life. In 2008, a collective of artists found themselves frustratingly shut out from the mainstream art market in Santa Fe. So they created art shows akin to chaotic short-term punk rock "happenings"—interactive and ephemeral, their limited tenure only preserved in pictures and memories. The group exploded in popularity, eventually establishing their own venue in a former bowling alley with partial funding by none other than science fiction titan George R. R. Martin.
Meow Wolf launched The House of Eternal Return in 2016, a 70-room audience-driven art funhouse with a convoluted backstory that appealed to children, artists, explorers, and high-level puzzle-solvers alike. With that, a proud misfit lifestyle and a full-on ecosystem was born, complete with a bar and a venue for music shows. (You can watch it all unfold in the group's self-released documentary.)
The original founders were Sean Di Ianni, Corvas Brinkerhoff, Emily Montoya, Caity Kennedy, Benji Geary, Vince Kadlubek, and Matt King (most of the founders remain tied to the project, while King sadly passed away in 2022). In the years that followed, they perfected the art of catching the eye of those responsible for keeping an eye on such things. And it was at the right time, coinciding with what a 1998 Harvard Business Review article dubbed the experience economy, a theory that purported people were becoming much more apt to shell out money for experiences as opposed to traditional goods and services. The growth of Chuck E. Cheese was an example. And now, Meow Wolf.
The House of Eternal Return cemented itself as an eternal hit. And by the time the collective announced plans for a second permanent installment, a sendup of consumerism called Omega Mart, in 2020, Meow Wolf had somewhat ironically amassed an executive team spanning former players from Goldman Sachs, Disney, and LucasArts and raised $158 million in investment funding. And it's a good thing, too—Denver's 90,000-square-foot Convergence Station, opened in 2021, cost a cool $60 million to construct. Bending reality doesn't come cheap.
With their world-building and rapid expansion, it's a short jump to see Meow Wolf as a more explosive, neon, dystopian—and definitely hipper–Disney. Just start with Sheehan's background: After graduate school, he went straight into a 10-year stint at Disney Imagineering, helping to open Shanghai Disneyland and working on projects in Hong Kong and Tokyo. He was part of the team tasked with determining what interactivity in the theme parks looked like. (A lot of it comes down to wristbands, apparently, a tactic which Meow Wolf also employs.)
But unlike Disney, which has fabricated its own universe to orchestrate familiar experiences in every location, save a few local tweaks, Meow Wolf strives to integrate into the community they inhabit, chosen seemingly at random. When asked why Meow Wolf set its sights on Texas, Sheehan simply says, "A lot of our visitors in Santa Fe come from Texas." But looking at the other locations tapped for expansion—Denver, Las Vegas, Dallas, Houston, and possibly Los Angeles (Sheehan's really not talking about that one)—one can't help but notice each site shares a similar sprawling geographical footprint, the lines dividing city from suburb both abundant and blurred.
And the spaces reflect the cities, starting with the creative staff. The Real Unreal currently employs 150 artists, about 40 of whom are local to the area. Each regional artist is given free reign to create work on any topic, forever etching themselves into Meow Wolf's mythology.
To do this, the company employed a Dallas muralist Will Heron to act as a local liaison, reaching out to established makers as well mid-career artists that could use the boost of such a massive platform, not to mention the space and time to exercise their wildest ambitions. "We're trying to find people whose careers will be benefited by the collaboration as much as our exhibitions will be benefited by their work," says Sheehan, describing the symbiotic working relationship. "The real core of why we do this is because we believe there are amazing, brilliant artists out there [with] interesting ideas that don't really have a home anywhere else, but people will love them."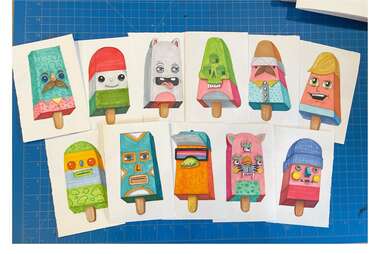 At The Real Unreal, you'll see work by Mexican-born, Texas-raised muralist Mariell Guzman, whose walls are joyful bursts of color exploring identity and belonging. And 3D pieces by Ricardo Paniagua, who got his start in a local community center and has since been exhibited around the world, including galleries in Zurich and New York. There are works by video game designer XaLaVier Nelson Jr., the dynamic figurative portraits of Riley Holloway, and blobby, otherworldly sculptures by Manila-born Vietnamese refugee turned up-and-coming Texas superstar, Dan Lam.
Also featured is Mexican-born, Dallas-based artist Carlos Donjuan, who began his career chasing trains, immersed in graffiti and lowrider subcultures. Through his paintings and murals, he's built himself up into a Texas institution as well as as a professor of art at the University of Texas in Arlington. His vivid works are steeped in Mexican-American culture, embodying themes of immigration, integration, and alienation while also nodding to the people and places that have enriched his heritage. For Meow Wolf, he created a tribute to a Texas summer via a room of life-sized paletas, popsicles sold by neighborhood vendors in roaming carts. But these paletas have faces—they're not only sweet treats making you happy on a hot day, but signify the real people behind them, including some who have given their lives.
And then there's LaShawn M. Wanak. The Real Unreal's lead writer was introduced to Meow Wolf's Sarah Bradley when she was researching science-fiction short story competitions. Though Wanak began writing with fanfiction in her 20s, her career didn't actually take off until 2004, at the age of 33. With The Real Unreal, she's now seeing her work come alive—literally, with people interacting and exploring her tales of hope, grief, and everything that comes in between.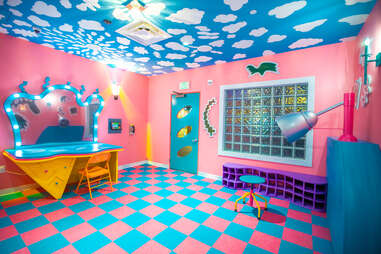 It's inevitable that Meow Wolf has its megafans, but Sheehan wasn't quite prepared for the extent of that fandom. He found out in-person last June, as part of a Meow Wolf panel at FanExpo Dallas, formerly Dallas Comic Con. The title of the talk was "Multiversal Travel Without Leaving Your Home Planet." "I was like, 'Okay Fan Expo is a big place, lots of big properties," he recalls. "Some people will show up and we'll have a great conversation."
He underestimated the turnout, to say the least. "We had to turn dozens of people away," says Sheehan. "When I asked who'd been to Meow Wolf before, so many hands shot up. I was like, 'Actually, who hasn't been to Meow Wolf?' Three hands went up."
If you're one of those three still curious as to what all the hype is about, you might be interested in getting in on The Great Interdimensional Gateway. Purchase a ticket to The Real Unreal beginning at $45, and you'll be sent a link to enter the sweepstakes for a chance to win $3,000 cash, two tickets to three Meow Wolf exhibitions, a $400 Meow Wolf gift card, and tons of Meow Wolf swag.
Cop the prize, and you'll be able to compare installations—and perhaps uncover even more similarities. Without overtly saying it, Sheehan hints that The Real Unreal is a return to Meow Wolf's experiential roots. "At the FanExpo someone asked, 'Hey, I've been to all the Meow Wolfs, and Santa Fe was my favorite. I get that for lots of reasons you guys can't make them all explorable [like that one], with climbing and crawling, but would you guys ever be able to do that again?'"
The question touched him—at its root, Meow Wolf is about collaboration between the guests and the creators. "This isn't formulaic," adds Sheehan. "We're learning this as we go." But in true Meow Wolf style, he kept his answer cryptic.
"All I can say is, you should buy tickets for The Real Unreal," he replied to the fan. "Because we're bringing back a lot of that exploration." Translation? Don't sleep on those refrigerator and washing machine doors.
Vanita Salisbury is Thrillist's Senior Travel Writer. She will always go for the football.