A Florida town populated by mermaids
Apparently, the mermaid legend was started when sailors saw manatees in the water... since also apparently, a sailor who's been at sea for a while thinks freaking anything looks like a hot girl. Thankfully, there's a small town in Florida who's idea of a gorgeous mermaid is far more in keeping with our landlubber expectations.
Welcome to beautiful Weeki Wachee in northwestern Florida. It has a population of precisely 12, most of whom '80s Tom Hanks would totally date.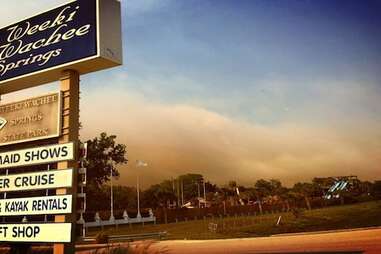 The mayor? She's head mermaid/GM of this place -- Weeki Wachee Springs State Park -- where there's canoeing, kayaking, and, the reason you came today: the mermaid show.
But before we get to the mermaids, here's the water park. If that water looks particularly awesome, that's because it's supplied by a natural spring.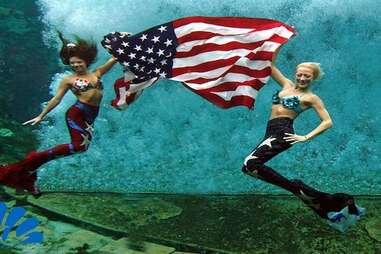 But you're here for the mermaids you dirty fishophile, and Weeki Wachee's aquarium-like amphitheater has been teeming with them since 1947.
During shows, they do neat things like kiss turtles.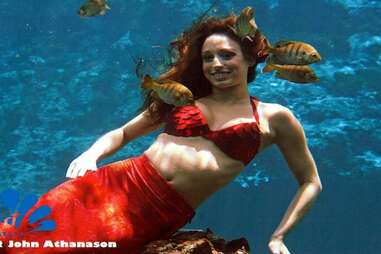 They also pose seductively amidst the fishes.
But it's important to note that these are not, in fact, real mermaids... They're human women wearing mermaid costumes. Because of that, they have to breathe air just like you and me, thus that gas-station-air-hose-looking-thingy floating next to her.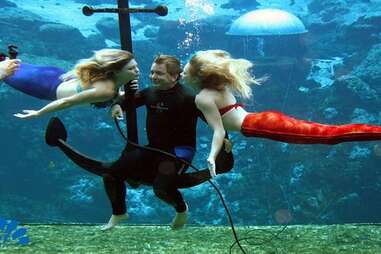 Sometimes they'll put a wetsuit on a member of the audience (YOU?!) and bring you into their tank upon a large cartoon-style anchor.
Sometimes "celebrities" even stop by and exploit get pics taken with the mermaids... That guy on the right is Green Bay Packers running back DuJuan Harris.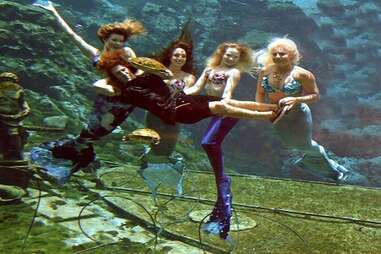 Here they've captured a pro wakeboarder whose name you wouldn't care about even if we remembered it.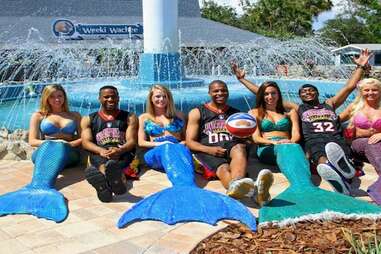 And because, again, these aren't real mermaids, just ladies dressed up in mermaid costumes, sometimes they get out of the water to visit with guests... Especially if they're as famous as THE HARLEM WIZARDS basketball team.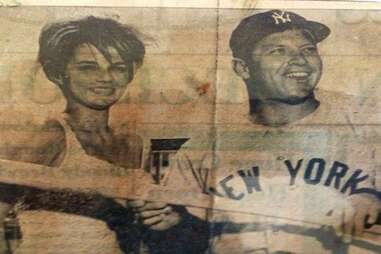 One time, back in the olden days, a mermaid got so far out of the pool she ended up at Yankee Stadium hanging out with Mickey Mantle.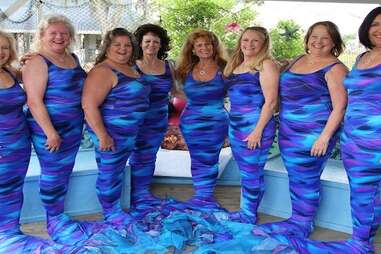 Speaking of the olden days, here're a bunch of former mermaids gathered for the annual alumni performances. YAAAAAR!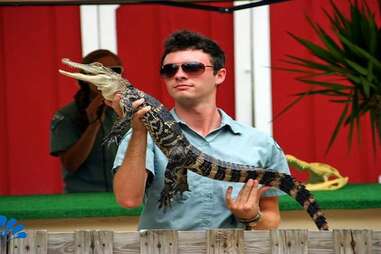 But, lest all this has you thinking a journey to Weeki Wachee will have you surrounded only by mermaids, let us remind you that there is a whole other element to the place, including this guy and the ferocious alligator he undoubtedly uses to keep all the mermaids in check.