Sponsored By
Mexico City Tourism
Mexico City Is A Serious Cultural Destination
Sponsored By
Mexico City Tourism
At just over 760,000 square miles, Mexico is the 13th biggest country in the world. And with over 20 million people, Mexico City ranks in the top five in cosmopolitan global centers. But ask any proud CDMX native where their humble metropolis might rank when it comes to culture and you'll likely get a passionate "Number 1!" chant.
Colorful street art, world-class art museums, 30 distinct architectural sites and phenomenal food -- Mexico City has it all. So whether you book a room in a historic boutique property or splurge on one of the city's many prestigious international hotel chains, make sure you check out our top 11 cultural experiences in the bustling metropolis.
Zócalo / Plaza de la Constitución
Long before the Spanish conquistadors arrived, the zócalo served as the beating heart of the Aztec city of Tenochtitlan. Today, calling Plaza de la Constitución a simple "town square" doesn't do it justice. An immense plaza flanked on its side by the Cathedral of Mexico City, the national palace, and the colonial arcade, Mexico City's zócalo stands alongside Moscow's Red Square and Beijing's Tiananmen Square as one of the world's largest urban open spaces.
Palacio de Bellas Artes
This extravagant edifice that mixes Art Nouveau and Art Deco influences houses Diego Rivera's El Hombre en el Cruce de Caminos, originally commissioned for New York's Rockefeller Center. The Rockefellers destroyed the original due to its anti-capitalist theme, but Rivera recreated it in his home city in 1934, the year the Palacio was finally finished after construction began in 1904. It truly is a national treasure, though: the 24-ton stage curtain is crafted out of one million pieces of iridescent Tiffany stained glass arranged to depict famous volcanoes Popocatépetl and Iztaccíhuatl. But what makes this place so unique is the quirky ornamentation of Aztec gods and coyotes integrated into the building's design and reflects pre-colonial Mexico.
Mercado de San Juan
Mexico City is flush with bustling markets, and each one has its individual charms. But Mercado de San Juan represents the kaleidoscopic global diversity for which Mexico City is known. Vendors here specialize in everything edible under the sun, including one of the world's most extensive selections of dried chiles and exotic meats, like scorpion and iguana. Find a fresh pescado stand and savor a little freshly sliced tuna loin, or follow your path to taco nirvana by searching out your favorite preparation. It's all here somewhere in the stimulating, sprawling Mercado de San Juan.
Museo Nacional de Antropologia
Considered one of the world's foremost museums, the National Museum of Anthropology contains the most comprehensive collection of pre-Hispanic artifacts anywhere on Earth. Sculptures, stella, and frescoes created hundreds of years ago by Aztec, Toltec, Olmec, and Maya artists still sizzle, providing a vision of lost civilizations represented by serpents, shamans, and skulls. Experts aren't sure whether the museum's centerpiece, an Aztec sun disk that measures nearly 12 feet in diameter and weighs more than 24 tons, served as a calendar, a religious totem, or a ceremonial altar for sacrifices of noted Aztec gladiators. No matter what, you'll be enraptured by the four intricate glyphs (Jaguar, Wind, Rain, and Water) surrounding Tonatiuh, the solar deity.
Arena Mexico
We placed this in the middle of the list, but really it's a must-do for anyone looking to balance out the solemnly pre-modern with the surreally contemporary. Masked lucha libre wrestling might seem crazy, but it's taken dead serious in Mexico City, where weekly matches pit técnicos (the good guys) against rudos (the villains). Enjoy micheladas, popcorn, and hot dogs with the bawdy entertainment — and don't be surprised if that frail-looking abuela next to you is the one rooting the loudest for her favorite masked crusader.
Templo Mayor
Containing the ruins of five temples erected before Egypt's Great Pyramid, Templo Mayor bears unusually insightful witness to the remains of a once-flourishing civilization. Begun in 1325, the enormous monolith of Coyolxauhqui symbolized the end of the old Aztec cosmology and the dual rise of Huitzilopochtli, the god of war, and Tlaloc, the god of rain and agriculture, for these proud pre-Hispanic people. Destroyed by the Spanish in 1521 and not fully excavated until the late 1970s, Templo Mayor now houses a museum, an Urban Archeology Program, and a vivid connection to Mexico City's ancient past.
Mucho Mundo Chocolate and Museo de la Caricatura
Looking for a more playful afternoon escape? Try these two quirky museums — one for chocolate and one for caricatures. Mucho Mundo Chocolate is housed inside a beautiful mid-century house, but the historical and gastronomical prominence of cacao in Mexican culture is vividly illustrated via interactive exhibits. As for the Museo de La Caricatura, this humble Centro Histórico museum traffics in what many consider a novelty art form. But sidled up next to Mexico's century-long folk art tradition, these funny, informative, and fantastical pen-and-paper manipulations will give your artistic right brain a jolt.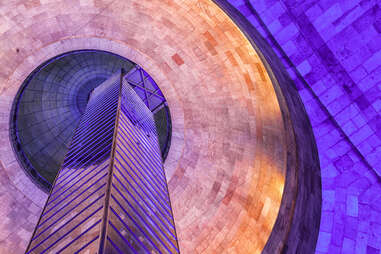 Monumento y Museo a la Revolucíon
This may be the tallest triumphal arch in the world, but the monument stands as a stark reminder of the tragedies of the Mexican Revolution. Five national heroes (including Pancho Villa) rest in peace under this 220-foot tall stone, granite, and marble landmark, which took 41 years to plan, design, and build. Today, a climb up the the arch is rewarded by a stunning panoramic view of Mexico City, with its beautiful fountains providing a perfect place for reflection on Mexico's modern roots.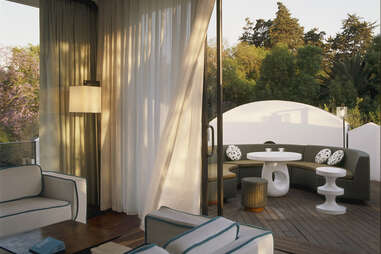 Condesa DF or El Patio
It was hard to pick just two hotels for this list, but you can't go wrong with Condesa DF, which is housed in a 1928 French Neoclassical building on an angular corner. Yes, you can reserve a luxurious all-white room here, but you can also see and be seen on the central patio, elegantly decorated with turquoise and mid-century modern furniture. If that's not your scene, head up to the swank rooftop bar, which is popular with young urban socialites. Want something a little more conscientious? Consider El Patio, Mexico City's first eco-conscious bed and breakfast, located in a quaint 19th-century house in the San Rafael neighborhood. With just eight elegant suites, you'll want to make your reservation early: El Patio is located just one subway stop away from the zócalo, making it a great home base for exploring Mexico City.
Museo Frida Kahlo
This is one of the most popular museums in Mexico City, and there is good reason for that. The famous Mexican artist called this cobalt-blue house home from the cradle to the grave, living and working here alongside her on-again, off-again husband Diego Rivera for decades. Located in the Coyoacán neighborhood, Museo Frida Kahlo still looks much as it did in the 1950s, with works by Kahlo and Rivera themselves sharing space with classics by Paul Klee and José María Velasco. The highlight, however, is the eye-popping kitchen and dining room, adorned in riotous blooms of yellow and blue tile. Just being here may give you the creative inspiration that consumed Kahlo every day of her life.