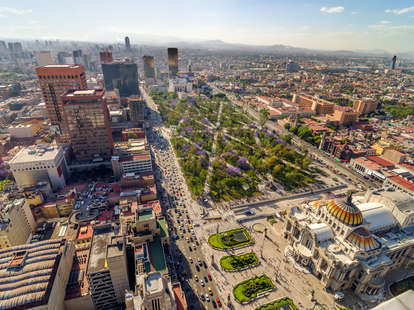 Mexico City, Mexico

| Jess Kraft/Shutterstock
Mexico City, Mexico

| Jess Kraft/Shutterstock
Why Mexico City Is Your Easiest, Cheapest, and Tastiest Summer Trip
"Cities of the Year" can be a drag. Of course you want to throw yourself into the mix and nab your best #wanderlust selfie, but traveling to whichever international city is having a moment can be painfully pricey, way too far (ain't nobody got enough PTO for that), or both. But right now, all eyes are on Mexico City for excellent reasons -- and the attention has actually made it easier for you to get a taste of the good life there. For once, there's no excuse not to go.
New low-cost carriers from the US are a game-changer
Thanks to godsends Volaris and Interjet, you can now travel to CDMX for half of what it used to cost through traditional airlines like United (which, oy). If you're living in a major US city, you'll probably be able to score a round-trip ticket in the $200 to $300 range. Go ahead, search it on Google Flights, I'll wait. Bottom line: It's cheaper to fly to Mexico than it is to fly New York to San Francisco, so give yourself a break from the US and save the money you'd end up setting on fire in either domestic destination.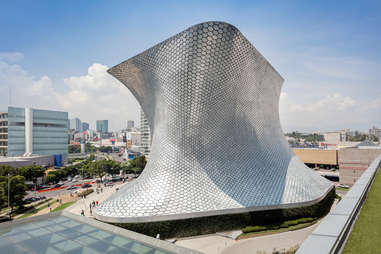 You won't go broke once you get there, either
Polanco is Mexico City's Beverly Hills, Roma Norte is its Williamsburg, and a nice-ass private Airbnb in either sets you back less than $80/night. That's the high end of things, so trust that you won't go bankrupt by just existing. For those who prefer to be on the more frugal end of the (already frugal-friendly) spectrum, you'll have no problem finding a perfectly comfortable room in a trendy local's place for $20.
Put some of that saved money towards navigating the city's staggering 573 square miles -- the equivalent of 25 Manhattans. The Mexico City Metro can take you within a few beautiful blocks of wherever you want to be and costs a quarter to ride. Just make sure you check your seat, or else you might ended up riding more than you bargained for.
Even better than the Metro is Uber, unless you're crossing town at rush hour (CDMX's traffic rivals LA's). Rideshares here charge pocket change, sometimes literally. A 40-minute drive from the airport cost me $6, and a glance over my debit card statement shows numerous less-than-a-dollar charges from quick rides between neighborhoods.
Dining at world-class restaurants is delicious highway robbery
The haute food scene in Mexico City is topping lists like never before. Culinary and aesthetic traditions have modernized and are thriving, to the point where you can walk down any street in Roma, Condesa, and Polanco and see more Instagram-bait bars and restaurants in a row than in Paris or New York.
This spring a friend and I locked in a lunchtime reservation at the much-hyped Maximo Bistrot and splurged on the chef's menu. Picture this: Seared tuna salad, pate, and chicozapote spread over brioche, crispy-skin cod, and romanesco with green mole, chicken breast, and whipped apricot cream, steak and mashed root vegetables with fluffy Parmesan cheese, and deconstructed sorbet lemon pie, alongside a casual midday mezcal cocktail and two glasses of wine. Not only was the bill (what I got x2) only $150, but the owner/founder/culinary world's celebrity crush, Eduardo Garcia, personally served the first three courses to our table. So yeah, we're dating now.
If you're looking to test out the upper limit of dining, Pujol is it. The newly reopened restaurant by Chef Enrique Olvera, and a crown jewel of Mexico City dining, features the highly touted mole dish, with a freshly made version served side-by-side with another that's been aging for six years and counting. A pair of seven-course tasting menus, a couple of cocktails, and a bottle of wine (plus tip) will run you around $300. Steep, yes, but an equivalent meal at his NYC counterpart, Cosme, can set you back almost double.
To find the best seafood you've ever tasted, etch the name Contramar into your brain. It's a rightfully popular restaurant that clamors with attractive, successful Mexican professionals taking three-hour boozy lunch breaks. You'll have a religious experience over the tuna tostadas, octopus tacos, spicy sashimi, and strawberry meringue pie. Get a reservation -- the wait times are insane -- or if you can't, swing by its sister restaurant with the same menu, Entremar.
A word to the dining wise: Round out any good meal with a carajillo, a cocktail of espresso and Licor 43. It hits the exact spot and the order earns you local cred.
Eating famous street food costs literal pennies
Restaurants in every major and not-so-major city try to recreate the magic of Mexico City street food. All fall short. Ditch the fakes and skip the markup -- the real thing is available on virtually every street corner and caters to every craving. For really, really cheap.
To pick a promising booth, look for a bit of a crowd. To start, sniff around for tacos con chapulines, cochinita pibil tortas, potato chips with chile, lime and Valentina hot sauce, and huaraches (buyer beware, these are HUGE). Google image search anything you don't recognize. As always, simply pointing at things can get you pretty far.
Street vendors' sweets are also highly advisable. Look for carts, coolers, or baskets selling churros, paletas/helados (ice cream), condensed milk-covered bananas, and fresh-cut fruit that laughs in the face of the so-called fruits you thought you knew. For the highest concentration of street food options, get lost in Centro.
Mexico City is a drinker's paradise
Those delightful siblings, tequila and mezcal, are rightly a point of Mexican national pride. But you'll find further worlds of beverages to discover. Curious minds would do well to visit the Museo del Objeto del Objeto ("Museum of the Object of the Object" -- the redundancy is intentional), which is currently showing an actually worthwhile exhibition on ancient Mexican drinks.
One example: pulque. Too unstable to export, it has to be enjoyed near its source. This low ABV, agave-based drink is usually sold on tap in multiple flavor options. At Pulqueria Insurgentes, if you're anything like me, you might be taken aback at the snot-like viscosity of your first glass of cucumber-celery pulque. But by glass number two, the house variety mixed with tequila, you start to get it.
And then there's the laundry list of denomination of origin spirits (i.e., the "Champagnes" of Mexico.) To name-check a few: Raicilla, Bacanora, Sotol. They're similar to mezcal in that they're distilled from agave, but the particulars demand they be made from one or sometimes two specific varieties, and be grown in certain Mexican states. The fact that they're rarely exported and difficult to find stateside was like a loud, boozy siren song that lured me straight to the source. Well close enough, at least -- a good start is at La Nacional, whose encyclopedic spirits menu might make a few promises its bar can't keep, but you'll most definitely stumble out the door a more experienced drinker.
Of course, the mezcal and tequila you'll be drinking is quite literally the world's finest. At one of the city's best mezcal destinations, La Clandestina, glass barrels of mezcal bought directly from the farmer are stacked to the ceiling behind the bar. Educate yourself on the vast varieties while dunking tortillas into fundida (melted cheese and add-ons like nopal), and daring your friends to electro-shock themselves on the charged metal handles offered by a guy with a generator in his backpack, milling from group to rowdy group.
Some other bars not to be missed: El Departamento, an apartment-themed bar featuring live music and a crowd of young Mexico City denizens (better known as Chilangos) willing to teach you local slang over mezcal and beers at 1am; Azotea Acapulco, an upper-floor all-day spot whose decor and drinks are just begging to decorate your feed; La Chicha, a vibey neighborhood spot with a patio scene and staff that gives you the lowdown on what's happening tonight; and Cafe Paraiso or M.N. Roy if you want to shake your ass to some EDM.
Just keep tap water out of your liquid diet. It still brings the risk of Montezuma, who may enact his revenge on your too-busy-to-be-sick body. Seriously though: Avoid it when you drink, brush your teeth, or eat raw veggies, 'cause nothing ruins a vacation faster than your guts melting.
Everyone's an expert good time-haver
I was floating down a lazy river on an elaborately hand-painted boat named Maria, strawberry jam and chile dusted-rim michelada in one hand, freshly grilled and buttered elote in the other. It had started pouring rain, and no one was showing the slightest intention of slowing down -- just pull the curtains around a bit tighter and turn the music up. In Mexico City, the good times come first, and there's nothing a little rain can do about that.
In Mexico's floating district, Xochimilco, you can hire one of these boats, known as trajineras, to take up to 30 (?) people out to what must be the world's best party on water. Boats filled with dancing teenagers and picnicking multi-generational families bonk up against yours, while smaller rafts and canoes carrying mariachis, five-piece rock bands, and merchants float alongside. It's one of those magical places where your outsized drink is always full, 'cause if it ever runs low, you just flag down a beer or pulque vendor conveniently bobbing on by.
At Mexico's utterly corny and intensely fun Lucha Libre, you don't need to worry about leaving your seat to get a refill either. Bar runners make the rounds with beer on hand, ensuring that you never have to miss a moment of the outrageous, costumed "sporting" (really putting those quotation marks to work here) event going down feet away from you. Prepare for the high drama of seeing a spandex bumble bee put an Aztec warrior in a headlock, or two luchador gangs rumbling greaser-style, or the playful outrage when the crowd favorite (Misticoooooo!!) gets knocked out of the running.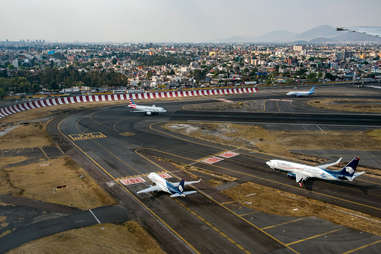 It's a cheap jumping-off point for more of Latin America
As Interjet and Volaris changed the game for flying from the US to Mexico, regional airlines like VivaAerobús are revolutionizing domestic travel. When you've seen some of Mexico City and feel ready to move on to the next place (which may be never, honestly), you can book a one-way ticket to hippie beach town Puerto Escondido for $35, or even Costa Rica's capital San Jose for $130.
Make sure to carefully look through all of the drop-downs when booking your ticket through VivaAerobús, as they contain an almost comical number of pre-selected options that tack on additional costs. Also bear in mind that there's an unavoidable $10 or so added onto the alleged total.
And some final tips to make your visit muy suave:
ATMs can be few and far between, so if you see one without a line, grab some cash. More places than you'd expect take plastic but, like a taqueria bathroom stall, it's a huge pain to get caught without paper where you really need it. A Charles Schwab checking account and debit card doesn't charge for international transactions, and will reimburse you for foreign ATM fees.
When dining out, wait staff come to your table with portable gadgets to charge your credit cards. You'll be asked at that point if you'd like to add a tip; your answer should be yes, and 15% is advisable.
Speaking Spanish is an obvious advantage, but non-speakers: Fear not. Tons of people in Mexico City are bilingual, or at the minimum on their way to being so. Your lingua franca will get you 90% of the way. For the last 10%, the Google Translate app is your friend.
Sign up here for our daily Thrillist email and subscribe here for our YouTube channel to get your fix of the best in food/drink/fun.
Laura Reilly is a freelance person who does social media stuff on the side, too. When she's not pensando en CDMX, she's bungling author bios. Find her on Instagram at @erin_blockabitch.