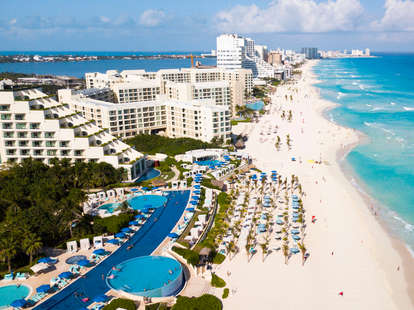 Cancun, Mexico

| SVongpra/Shutterstock
Cancun, Mexico

| SVongpra/Shutterstock
Along with countries throughout Europe and the Caribbean, you may have noticed Mexico is open to tourism—likely because you've seen nothing but #beachporn splashed across your IG feed this summer. Now, you may be wondering, "Can I get in on that?"
The short answer? Yes. Mexico never actually closed to visitors, even in the very beginning of the pandemic. In fact, it's currently the easiest country in the world to visit, despite the rise of the Delta variant. That means your upcoming trip will likely go uninterrupted—with a few caveats.
As of August 2021, travelers can visit Mexico without undergoing quarantine. But with rapidly-changing restrictions and no uniform federal policy in place (something we Americans are, ahem, very familiar with), it can be hard to tell what's really going on south of the border. What's actually open? What does a vacation look like right now? And most importantly, should you take a trip at all? Here's everything you need to know if you're considering a visit to Mexico.
What are the rules and restrictions for traveling to Mexico right now?
As you may have expected, it's complicated. Technically, there are no restrictions on travel to Mexico right now. You can get on a plane without proof of vaccination or a negative Covid test. (But if you're going to travel, please, for the love of all that is moral, we hope you are vaxxed and/or Covid-negative.)
Mexico left Covid-19 management up to individual states, so what's true for one destination may not be for another. Some regions have adopted a "traffic light" system to indicate which regulations should be enforced. These are updated weekly, with changes (if any) going into effect the following week. Unfortunately, the system isn't consistent nationwide, and activities remain open even in some "red" destinations.
On top of that, the situation can change without warning, so you're gonna need to practice serious patience, flexibility, and due diligence. Be sure to check in with your hotel or resort in the days leading up to your trip and stay up-to-date on restrictions by destination.
What's open in Mexico?
Again, it varies by state. More often than not, you'll find that restaurants, bars, beaches, and hotels are all open with varying capacity restrictions. And despite regulations, there are some places (tourist hubs, we're lookin' at you!) where nothing seems to have changed at all. Here's where things currently stand in Mexico's most popular regions—and again, be sure to double-check your destination's policies before you head out.
Quintana Roo
Quintana Roo is where you'll find fan favorites like Cancún, Playa del Carmen, and Tulum (among other lesser-known but equally beautiful destinations). Both the northern and the southern regions are in the orange traffic light phase. That means hotels, restaurants, historic sites, theme parks, golf courses, and tourist services are operating at 50% capacity. Beaches and public parks are operating at 30% capacity, as are supermarkets, movie theaters, and casinos.
Bars, nightclubs, and performance theaters are closed. That's right: The bars and nightclubs in Cancún, Playa del Carmen, and Tulum are closed. This will disappoint some, while others (my fellow introverts) are breathing sighs of relief. This is our time, people. This is our time.
Los Cabos
Los Cabos isn't using a traffic light system—they're going by numbers. As of August 18 they've moved to Stage 3, meaning that hotels, businesses, and recreational activities are open with an occupancy limit of one person per 10 square feet, plus an 11 pm curfew. Face coverings or masks are required for all indoor and outdoor activities throughout Los Cabos.
Puerto Vallarta
A lot of weirdly specific percentages here, but work with us. Puerto Vallarta's hotels are operating at 80% capacity (and at 50% capacity in common areas). Hotel pools, beaches, spas, and gyms are open, and restaurants can operate at half capacity until midnight. Casinos are open at 60% capacity, while bars and clubs remain closed for the month of August with restrictions subject to review for September. Masks are required in all public spaces.
Oaxaca
Nine municipalities in the state of Oaxaca (including Oaxaca City and the coast) are in the red following a recent surge in Covid-19 cases. That said, hotels, bars, and restaurants are still open. Currently, hotels and restaurants in Huatulco are limited to 30% capacity. Beaches in Puerto Escondido, Zipolite, Puerto Angel, and Salina Cruz are open from 8 am to 5 pm at 35% capacity (although locals report that restrictions on beaches aren't always enforced). Masks along the coast of Oaxaca are mandatory, and in some areas, there will be fines for those who go without face coverings in public.
Nayarit
Like Oaxaca, Nayarit is also in the red. But also like Oaxaca, that doesn't mean things are shut down. Businesses and organizations are operating at 70% capacity, including hotels, beaches, and tours. Major attractions are open and there is no curfew in place.
Do I have to quarantine if I go to Mexico?
Nope.
Do I need a Covid test to get back into the US?
Yes! The CDC requires proof of a negative Covid-19 test (rapid or PCR) for all air passengers returning to the States. Fortunately, it's easier than ever to obtain a test in Mexico. More likely than not, your hotel has a testing plan in place for guests.
How do I get a Covid test in Mexico?
You have a few options. First, check with your hotel. You can often schedule an appointment for 72 hours before your departure at check-in, get tested on site, and receive your results via email before your flight. If your hotel doesn't offer this, or you're staying at an Airbnb or with friends, you can make an appointment at a local hospital or clinic that offers testing.
You can also go through a pharmacy like Farmacias del Ahorro, which is likely the cheapest option. And if push comes to shove, several destinations in Mexico offer rapid testing at the airport—but this option is a gamble since it's so last minute, and if you test positive, you've already checked out of your hotel and may have nowhere to go.
Prices for rapid tests generally range between $12-30 USD, while PCR tests tend to be considerably more accurate but much more expensive (around $130 USD) with a longer wait time for results.
What happens if I test positive for Covid in Mexico?
There's no real way to sugarcoat it: If you test positive for Covid, you're going to get stuck in Mexico for a bit. But don't panic! You're gonna make it home.
Many resorts have set up blockades of rooms (a Covid wing, if you will) where travelers who test positive are sequestered for a period of two weeks, usually at no cost. But before you think you've scored a free vacation extension, remember, you'll have to stay in your room for the duration of the quarantine. You'll be provided with meals, but it'll be a pared-down menu, not the typical room service spreads. And if you're traveling with a partner, they won't be allowed in your quarantine room with you, nor will their stay be covered if they test negative—they'll either need to go home on their own or pay for a room themselves.
Assuming you test negative after two weeks, you'll be able to go home. However, many people who have recovered from Covid-19 symptoms continue to test positive for several weeks after. In that rare case, you'll need to get a doctor's note declaring that you completed your quarantine, are no longer symptomatic, and are fit to fly. That note has to be submitted to your airline and is subject to their approval.
Remember that this is all worst-case scenario, but if you do decide to travel internationally during the pandemic, you're running the risk. That being said, it's good to stay ready so you don't have to get ready.
So...should I go to Mexico right now?
Rapidly changing restrictions aside, Mexico is open, so yes, you can go.
But while you're there—traveling from, you know, the Covid capital of the world to a country whose economy relies on tourism—just be sure to mask up, follow local rules and regs, and generally avoid acting like an ass. A margarita on the beach costs $5 and a hotel room in Cancún costs $100, but it's free-ninety-nine to be conscientious and kind while you exercise your privilege to blow off some steam.
Meagan Drillinger's writing has appeared in Lonely Planet, Travel + Leisure, InsideHook, Men's Health, and more. She is a long-time Thrillist contributor and the Mexico reporter for Travel Weekly magazine.