Mexico's Best-Kept Vacation Secrets
Try one of these under-the-radar spots on your next trip to Mexico.
Note: We know COVID-19 is impacting travel plans right now. For a little inspiration, we'll continue to share stories from our favorite places around the world so you can keep daydreaming about your next adventure.
Forget all-inclusive resorts for just a second. Yes, Mexico's beaches are some of the greatest in the world, but this incredibly diverse country is more than just sun and sand: Think towering mountains, steamy jungles, ancient ruins, rare mezcals, and some of the most delicious food anywhere, ever. And with international travel on hiatus right now, we're craving all of it.
So where will your next trip to Mexico take you? While everyone else zigs to San Miguel de Allende and Mexico City, consider zagging to Zacatecas, San Cristobal de las Casas, or one of Mexico's other lesser-hyped cities. Instead of Tulum or Los Cabos for your beach fix, why not kick it up a notch (or down, more accurately) with a visit to Mazatlan, Puerto Escondido, or any number of beach towns you've probably never heard of?
It may take more time and effort to reach these hidden gems, but that's exactly what makes them worthwhile. Here are a few of our favorite "secret" spots in Mexico.
Yelapa
Jalisco
When people travel to Puerto Vallarta, they hardly leave Los Muertos Beach. Little do they know, better beach-bumming is just down the coast. Hop in a water taxi or private boat for a 45-minute ride to this sliver of crowd-free, retro beach nirvana that hasn't been touched since the '60s. In Yelapa, there's only a handful of thatched-roof restaurants, beach bars serving cheap drinks, and a sprawling white sand beach that has a lounge chair with your name on it.
The one must-do thing: The point of Yelapa is to do nothing at all. Crack open a Pacifico at Angelina's and sway in a hammock under leafy palms.
Palenque
Chiapas
If you've been to the ruins of Chichén Itzá, Teotihuacán, or Tulum, believe us when we say you ain't seen nothing yet. In the southern state of Chiapas, the ancient Mayan city of Palenque (or "Lakamha" as it was known in its heyday) thrived between the years 600 and 750 CE as one of the most powerful political centers of Mayan civilization. Abandoned around 800 CE, the mighty city was swallowed by the hot, misty jungle until it was rediscovered in the 18th century by European explorers. Today you can wander the remarkably preserved palaces, temples, terraced fortifications, and internal courtyards. The word spectacular doesn't even do it justice.

The one must-do thing: Wear sunscreen and make sure your camera is fully charged. You won't want to miss a single angle.
Xcalak
Quintana Roo
Remember when Tulum was nothing but a stretch of beach and one or two eco-hotels? Yeah, us neither. Tulum is, without a doubt, one of Mexico's best-known destinations. So these days, boho beach-goers in search of more low-key, affordable sands head south -- waaay south, about as far down the Yucatan Peninsula as you can get. Xcalak is the last stretch of undeveloped Caribbean coastline. It's a bit of a hike to get to, but you'll be rewarded with nothing but easy, breezy, unspoiled charm.

The one must-do thing: Because it's so close to Belize, Xcalak shares some of the magnificent Belize Barrier Reef, which is second only to the Great Barrier Reef in Australia (and some would argue, way better). If you're not already scuba certified, you're going to want to get that done (here's how).
Guanajuato
Guanajuato
The capital city of Guanajuato doesn't get the hype like it's neighbor, San Miguel de Allende, but that won't last for long. Inevitably there will be spillover, but for now, Guanajuato remains one of Mexico's best-kept secrets. Located in a lush green valley, this city explodes with a burst of color, anchored at its center by the stately yellow church of *deep breath* Parroquia de Basílica Colegiata de Nuestra Señora de Guanajuato.
The one must-do thing: Wander! Guanajuato has everything San Miguel de Allende has, minus the hordes of people. Explore the lively plazas, sidewalk cafes, and cobblestone alleys.
Real de Catorce
San Luis Potosi
The American West isn't the only region known for its ghost towns and abandoned mines. If you didn't already know, Mexican silver is top-notch -- but when the price of silver plummeted around the turn of the century, many of its mining towns descended into oblivion, including Real de Catorce. You can still roam the mysterious stone ruins of this old boom town, nearly overrun with huge prickly-pear cacti. But further down the hillside you'll find this ghost town gets much more lively, with several charming cafes, bars, and boutique hotels situated along its steep, cobblestone streets.

The one must-do thing: You'll want to visit Wirikuta, a sacred area nearby where one of Mexico's indigenous tribes makes a pilgrimage each year. This mystical, healing place has its own web of cobbled streets, beautiful church, and plaza.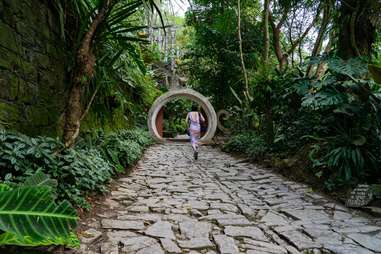 Las Pozas
San Luis Potosi
Las Pozas is English artist Edward James' vision of the Garden of Eden, and it's trippy as hell. Found in the small town of Xilitla, this 80-acre sculpture "park" is teeming with waterfalls, pools, and massive concrete structures. The whole thing feels like a surreal movie set -- or a long-lost abandoned civilization for fairies, elves, and mythical creatures. It's a dream setting for peyote-slugging backpackers, and the fact that it's in the middle of nowhere makes it bona-fide Eden.
The one must-do thing: It's an all-day trip (get it?) so wear comfortable walking shoes.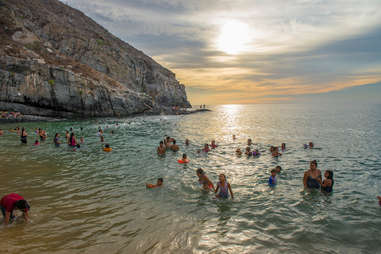 Todos Santos
Baja California Sur
A boon for in-the-know surfers, Todos Santos is about an hour drive from Los Cabos up the Baja Peninsula, beloved for its great waves and artist community. Mexico's next-generation Frida Kahlos have moved in and opened low-key, creative art galleries, and most of the sprawling beaches here are swimmable (unlike Los Cabos).
The one must-do thing: Break out the board and hit the waves at Cerritos, the most popular surf spot. San Pedrito can hold some big swells too.
Mérida
Yucatán
The capital of the Yucatán (different, by the way, from the Yucatán peninsula), this friendly post-colonial metropolis shimmers with colorful architecture and historic sites. The town dates back to the 16th century and is surprisingly short on tourists, despite there being crazy-old cathedrals, buzzy food markets, and museums aplenty. Prowl the peaceful, cafe-lined streets, then take a quick jaunt to sugary sands and archaeological sites like Uxmal.
The one must-do thing: Immerse yourself in the culture. The Plaza de la Independencia hosts free events on the square almost every night of the week, including the Friday "pok ta pok" show that recreates Mayan soccer.
Guadalupe Valley
Baja California
The most important wine region in Mexico (yes, Mexico has wine!) is crawling with roadtrippers and wine enthusiasts. Just a two-hour drive from the San Diego border, Guadalupe Valley in Baja California has luxury design hotels, top chefs opening trendy restaurants, and, naturally, excellent vineyards. It's one of the most scenic, rural spots in Mexico with valleys unfurling for miles under vast blue sky.
The one must-do thing: While wine tasting is obvious, you'll absolutely want to try some of the region's best restaurants. Fauna, nestled on the grounds of the swanky Bruma winery, is talked about in Baja chef circles in hushed, reverent tones. Chef David Castro Hussong opened this much-lauded eatery, known for its elevated take on Mexican cuisine (duck sopes, anyone?). Then there's Origen at Encuentro Guadalupe, one of the most visually stunning eco-hotels in the region. Or Las Gueritas, a local roadside stand. You'll know you're there when you see the plumes of fragrant smoke rising off the grill where quail and rabbit are grilling over mesquite.
Chacala
Nayarit
While the beaches of Sayulita and San Pancho are crawling with kaftans and cafes slinging acai bowls, farther up the coast is the much more elusive Chacala, one of our favorite "secret" beaches in Mexico. With its crescent-shaped, palm-fringed cove backed by jade-colored peaks, it's kind of shocking that Chacala has stayed under the radar so long. This sleepy village has a smattering of modest hotels and eco-lodges along its sandy lanes; try the cheerful Villa Celeste Chacala for a beach-front stay, or Majahua, tucked back in lush jungle overlooking the cove.
The one must-do thing: Surfers will love La Caleta, which is accessible by hike or boat and is a top spot for breaks. Otherwise, hiking, fishing, horseback riding, snorkeling, animal-spotting, and devouring cheap fish tacos is the name of the game here.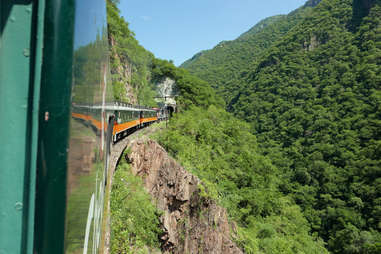 Copper Canyon
Chihuahua
Mexico has its own Grand Canyon and, to be honest, it may be even more impressive than ours. Known as Copper Canyon for its reddish hued walls, it's actually a series of six canyons that extend through northern central Mexico. Here you'll find superb hiking trails, small towns to explore, and many of Mexico's indigenous communities.

The one must-do thing: Ride El Chepe, the railroad that runs the duration of the Canyon, from Chihuahua to Los Mochis. You'll get some of the absolute best views of the canyon from a seat on board. Just be sure to pack on a few days at the end to spend on the beaches in Mazatlan.
Jimmy Im has traveled to 115 countries in 10 years. He writes about it. Sometimes. Instagram: jimmyim, Twitter: dieselmad