You may have visited Mexico's easy-to-get-to places like Cancun and Cabo, but trek further in (or down) -- via boat, car, flammable hoverboard -- and you'll discover a true paradise of virtually undiscovered, enchanting destinations. Sure, they may take more of an effort to reach, but that's exactly what makes them worthwhile: being off the beaten path has helped these 10 hidden gems preserve their culture and avoid the Coco Bongo crowd. And the best part, you still have time to experience them before the crowds do. If you hurry.
Recommended Video
Debatable: It's Fine To Recline Your Seat On a Plane
San Pancho
Why you need to go: Now that the surfer beach town of Sayulita in Riviera Nayarit is completely overrun with cruise ship passengers, cool locals are chilling out a half-an-hour north in San Pancho, a quiet beach town that primarily draws yogis and New Age wanderers. Flanked by the Pacific Ocean and the Sierra Madre Mountains, this underrated, bohemian getaway with little infrastructure is all about immersing yourself in nature and tapping into your inner hippie.
The one must-do thing: Yoga is the big draw, but check into Punta Monterrey, a rustic, all-inclusive gem deep in the jungle; it rocks its own secluded beach and room rates around an unfathomable $80 per person a night. Villas are perched on the hillside, and organic communal meals are made from scratch with ingredients straight from the garden. A short hike through the jungle takes you to yet another secluded beach where guests soak in natural mineral mud.
Merida
Why you need to go: The Yucatan state is having a moment where luxury hotels and spas are opening fast, especially in the capital city of Merida. This charming colonial town dates back to the 16th century and is surprisingly unexplored by tourists, even though there are myriad cultural attractions like crazy-old cathedrals and museums aplenty. Merida is exactly the kind of place where Señor Frog's and Starbucks like to move in... so get there while it's still authentic.
The one must-do thing: Immerse yourself in the culture. The Plaza de la Independencia hosts free events on the square almost every night of the week including the Friday "pok ta pok" show that recreates Mayan soccer.
Guadalupe Valley
Why you need to go: The most important wine region in Mexico (yes, Mexico has wine!) is crawling with roadtrippers and wine enthusiasts. Just a two-hour drive from the San Diego border, Guadalupe Valley in Baja California has luxury design hotels, top Mexican chefs opening trendy restaurants, and, naturally, excellent vineyards in which to frolic. Or, taste wine. It's one of the most scenic, rural spots in Mexico with valleys unfurling for miles under vast blue sky.
The one must-do thing: While wine tasting is obvious, you'll absolutely want to try some of the region's best restaurants.The al fresco Finca Altozano, helmed by popular chef Javier Plascencia, serves up seasonal, traditional Mexican dishes. Laja, touted as the best restaurant in Baja California, dishes out an excellent, farm-fresh tasting menu. And La Villa del Valle, an intimate six-room hotel, features a cool taco truck.
Isla Mujeres
Why you need to go: Isla Mujeres is only eight miles from Cancun via boat, but it feels half-a-world away. The former fishing village is a far cry from Cancun's high-rise-lined beach and tequila-raging spring breakers, and it's super old school (locals get around by foot or golf cart) with some of the best beaches in the Yucatan. Feeling completely removed on this hedonistic island has long attracted jet-setting honeymooners, but there's more to rose petals romancing your beachfront dinner. Unique attractions -- like an underwater sculpture museum and archeological sites -- make it a solid adventure.
The one must-do thing: Isla Mujeres is one of the few places in the world you can swim with whale sharks. Guests can plunge deep in the ocean and swim neck to neck with these peaceful (and, thankfully, vegetarian) creatures the size of school buses.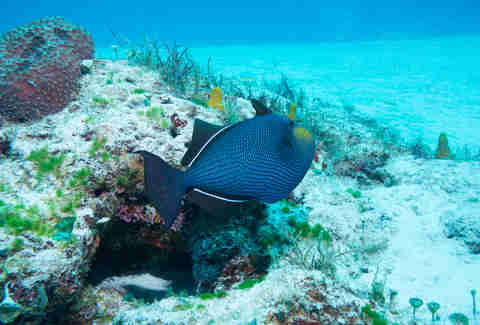 Holbox
Why you need to go: Even more remote than Isla Mujeres, Isla Holbox has a tiny footprint and tons of native wildlife. Travelers get excited by the sheer nakedness of the island. Even on a 20-mile-long stretch, there's virtually nothing here -- which is why birders, kite surfers, and beach bums rejoice. The best part? You feel like you have the entire island to yourself.
The one must-do thing: Holbox is located within the country's largest ecological reserve, Yum Balam, so exploring the island on a water taxi or kayak gets you up close to colorful reefs, lagoons, and even pink dolphins and flamingos.
San Miguel de Allende
Why you need to go: No longer Mexico's best-kept secret (there are two luxury hotels and a restaurant from Mexico's most famous chef, Enrique Olvera), San Miguel de Allende is still an off-the-beaten-path destination pandering to art and history lovers. The UNESCO World Heritage city is like a painting itself: it's chockablock with centuries-old, colorful buildings, historic cobblestone streets, and colonial charm, all of which make nerdy Instagrammers go apeshit.
The one must-do thing: Walk. It's the only way to truly explore the well-preserved, 500-year-old city. Almost everything centers around the main square, and the labyrinth of streets is a time warp worth the footwork.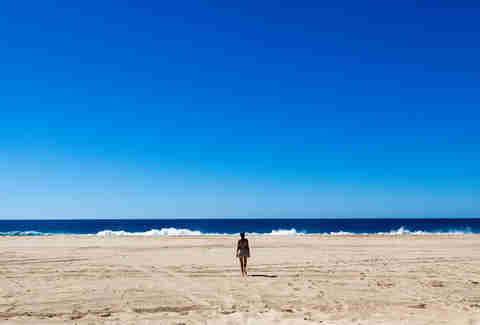 Todos Santos
Why you need to go: A boon for in-the-know surfers, Todos Santos, an hour drive from Los Cabos up the Baja Peninsula, is a hippie-stamped surfing paradise known for great waves and a swelling artist community. Mexico's next-generation Frida Kahlos have moved in and opened low-key, creative art galleries, and most of the sprawling beaches here are swimmable (unlike Los Cabos).
The one must-do thing: Break out the board and hit the waves at Cerritos, the most popular surf spot. San Pedrito can hold some big swells too.
Yelapa
Why you need to go: When people travel to Puerto Vallarta, they hardly leave Los Muertos Beach. But better beach-bumming is just down the coast. Hop in a water taxi or private boat for a 45-minute ride to this sliver of crowd-free, retro beach nirvana that hasn't been touched since the '60s. In Yelapa, there's only a handful of thatched-roof restaurants, beach bars serving cheap drinks, and a sprawling white sand beach that has a lounge chair with your name on it.
The one must-do thing: The point of Yelapa is to do nothing at all. Crack open a Pacifico at Angelina's bar and sway in a hammock under leafy palms.
San Luis Potosi
Why you need to go: While San Luis Potosi is way off radar (about a two-hour drive from San Miguel del Allende), the road trip is worth every drop of gas. The small region is home to some of Mexico's most intriguing (and relatively unvisited) sites, including Real de Catorce, a trippy ghost town with centuries-old ruined buildings and cobblestone streets that literally lead to nowhere. Sure, it's more like a dystopian paradise, but outside Real de Catorce, whitewater rafting and incredible waterfalls seduce the outdoor enthusiast.
The one must-do thing: Get your base jump on at the Cave of Swallows... or just admire it from its rim. It's the largest known cave shaft in the world, so huge that the Chrysler Building fits inside.
Las Pozas
Why you need to go: Las Pozas is English artist Edward James' vision of the Garden of Eden, and it's trippy as f*ck. The 80-acre, surreal "park" teeming with waterfalls, pools, and unusual, massive concrete sculptures feels like a movie set -- or a long-lost abandoned civilization for fairies, elves, and mythical creatures. It's a dream setting for peyote-slugging backpackers, and the fact that it's in the middle of nowhere (for reference, it's a four-hour drive from San Luis Potosi) makes it bona-fide Eden.
The one must-do thing: It's an all-day trip (get it?) so wear comfortable walking shoes.
Sign up here for our daily Thrillist email, and get your fix of the best in food/drink/fun.
Jimmy Im has traveled to 115 countries in 10 years. He writes about it. Sometimes. Instagram: jimmyim, Twitter: dieselmad.