San Francisco's sexy new airport lounge gets a Michelin-starred chef
As if the aquarium, meditation room, and exhibit of classic rock posters weren't enough to kill a fog-filled delay at SFO, say hello to AmEx's swanky new spot in Terminal 3, The Centurion Lounge.
Opened yesterday, TCL offers a relaxation area, shower suites, speedy Wi-Fi, and, most exciting of all, a kitchen helmed by acclaimed Michelin-starred chef Christopher Kostow.
American Express
Seriously, AmEx cardholders can pick from a menu of high-end seasonal fare such as slow-roasted pork shoulder marinated in apple vinegar and fennel; pumpkin cooked in goats' milk; a steamed, "wilted baby bok choy" omelette; and for dessert, a chestnut pudding with chocolate that's been roasted -- but thankfully, not by Jeffery Ross. And there's an open kitchen, so you can watch your food being prepared as you wait.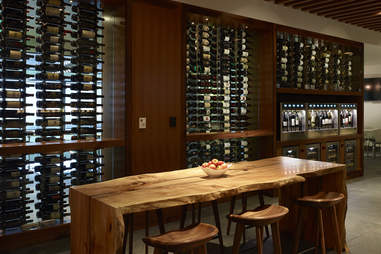 American Express
Assuming you already ate a Power Bar and just want to drink, loungers can sip on cocktails curated by mixologist Jim Meehan (the mastermind behind NYC speakeasy PDT), and wines chosen by Food & Wine expert Anthony Giglio. There's even a wine tasting station where you can nod vigorously while talking in a loud voice about how you can, like, "totally taste the oaky finish and hint of quinoa".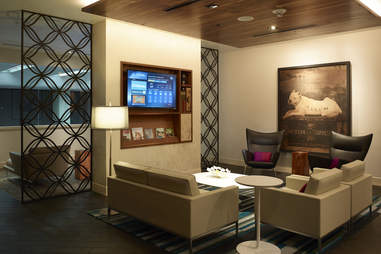 American Express
With sleek, mod decor highlighted by pictures of local celebs and handsome dogs, this is the first Centurion Lounge on the West Coast; there're three other locations in New York's LaGuardia Airport, Las Vegas McCarran International Airport, and Dallas/Fort Worth International Airport, and a fifth set to open in Miami in 2015.
How do you get in, you ask? Here's the deal: Centurion and Platinum cardholders have the luxury of free entry (you know, because they're throwing down annual fees in the $450 to $2,500 range), while other AmEx customers will have to fork out $50 for a one-day pass.
And if you don't have an American Express card? Well, you'll just have to settle for a beer at one of the country's best airport bars instead.

Chloe Pantazi is an editorial assistant on Thrillist's travel team. Yes, that's a British accent. No, she doesn't watch Doctor Who. Follow her on Twitter at @ChloePantazi.