This million-dollar booze cruise ain't any old booze cruise
You spent your junior-year spring break hanging over Cunard's railings (because you were seasick, you claimed) as onlookers scrambled out of the splash zone. But now you're older, wiser, much, much richer, and totally more sophisticated. Which is why you should relive and rethink spring break on the grown-up version of a booze cruise -- to the tune of $1.27 million.
This saucy voyage around the globe swaps shots for champagne, boats for business class, and shared singles for swank suites.
The only catch: It's not actually on a boat. Instead, it takes the cruise to the skies.

The U.K.-based travel company Holidays Please has created the ideal alcohol adventure, aptly naming it "the Ultimate Drink Connoisseurs' Holiday". Starting and ending in London (though, for that kinda cash, pickups can happen anywhere), the trip includes stops at 10 swank locations, chosen for the exclusive drinks that call each home.
Aside from imbibing the priciest spirits in the world, guests will also spend a few nights at each destination to see the sights -- in style, of course, via private helicopter rides and exclusive tours.
Let's take a look at the itinerary, shall we?
3 nights in London, U.K.
Stay: The Corinthia Hotel
Swig: The Salvatore "Legacy'"Cocktail ($20,722), which includes 1788 Clos de Griffier Vieux Cognac, at the Playboy Club, as well as one of the world's most expensive beers, the Vieille Bon Secours ($2,340), during dinner at the Belgo Bierodrome.
See: Stay in the Scottish Highlands for an optional two extra nights for a special tour of the Dalmore Factory.

2 nights in Frankfurt, Germany
Stay: The Jumeirah Hotel
Swig: Egon Muller Riesling ($5,013), the world's rarest riesling.
See: A private tour of the Egon Muller vineyard in Mosel.

2 nights in Bordeaux, France
Stay: The Grand Hotel de Bordeaux & Spa
Swig: Grey Goose vodka, a gallon ($1,000) of which will be shipped back to your place. A gallon!
See: Take a tour of the Grey Goose distillery, where you'll enjoy a special tasting session of its newest flavors.

4 nights in Lyon, France
Stay: Sofitel Bellecour
Swig: Henri Jayer Richebourg Grand Cru 78 ($24,000) red wine.
See: Get a VIP tour of the stunning Cote de Nuits region.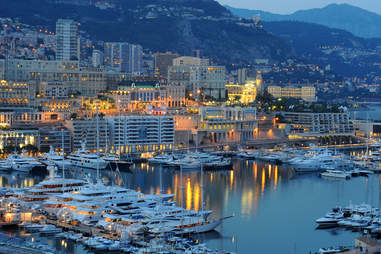 Holidays Please
3 nights in Monaco
Stay: The Hotel Hermitage Monte-Carlo
Swig: Selections from the Armand de Brignac "Dynastie" champagne collection ($565,000) at the Billionaire Sunset Lounge in the Fairmont Hotel… Did we mention it comes in a diamond filled ice bucket?
See: A helicopter ride of the city.
2 nights in Dubai, United Arab Emirates
Stay: The Jumeirah Beach
Swig: You'll get a glimpse of a bottle of Penfolds Ampoule ($183,824), a red wine of which only 12 bottles were ever produced because it contains some rare 2004 Kalimna Block 42 Cabernet Sauvignon, before it gets packed up and shipped to your place.
See: The itinerary doesn't include anything. And um, it's Dubai, so go shopping?
Holidays Please
3 nights in Singapore
Stay: The Raffles Hotel
Swig: A Singapore Sling ($50) at the Long Bar, where it was invented. You even get to keep the glassware -- though if you can afford a $1.27 million bar tab, chances are you don't care about that.
See: Nothing on the itinerary here, either, but Singapore is pretty small. Venture out to Sentosa Island to fly along the half-kilometer long zip line at MegaZip Adventure Park.
Holidays Please
5 nights in Melbourne, Australia
Stay: Crown Hotel
Swig: The world's most expensive cocktail, The Winston ($27,400), which is made with a shot of 1858 Croizet cognac (worth $165,442 a bottle), at the Crown Club Casino.
See: While there's a good chance you'll be hung over during this trip, and there you are again on your own in Melbourne, a sunrise balloon ride offers a unique way to see Australia's second-largest city.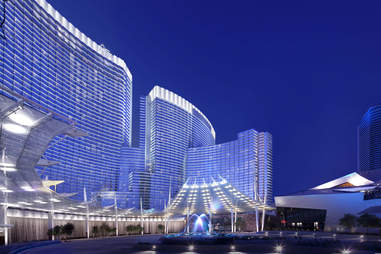 Holidays Please
3 nights in Las Vegas, NV
Stay: Mandarin Oriental
Swig: The Ono Cocktail ($21,724) at Aria, which contains Rémy Martin Louis XVIII Black Pear ($2,088 a shot), as well as shots of Jose Cuervo 250 Aniversario ($668), one of the world's most expensive tequilas.
See: Again, no itinerary. But Las Vegas is an adult playground. Here, our friends have plenty of advice for you.
Holidays Please
2 nights in New York, NY
Stay: Algonquin Hotel
Swig: A martini ($20,053), who's cherry on top is actually a Bader & Garrin diamond.
See: Hey, why let the party ever stop? Though there's yet again no itinerary, you can keep the night rolling by heading to a dance party at 7 a.m. -- on a weekday.
And, once you get back, expect the goody bag to out-goody all goody bags, with a
$13,500 Legacy by Angostura rum, a 64-year old, $170,000, limited edition Dalmore Trinitas whiskey, as well as one of only 12 bottles of the Penfolds Ampoule red wine.
Book your trip here and don't forget to pack the Advil.
Sophie-Claire Hoeller is Thrillist's über-efficient German associate travel editor, and this totally sounds like a good deal to her. Follow her @Sohostyle.