Heaven Is Real, and It's Called Peacebunny Island
This Minnesota teenager bought himself a private island. Guess what's on it.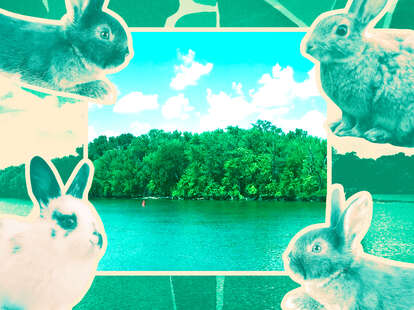 Design by Grace Han for Thrillist
If you were paddling the Upper Mississippi River near St. Paul, Minnesota, in the summer months, you just might happen upon a better, gentler, fluffier world. Here on a shaded 22-acre island, bunnies roam free, specially trained by volunteers to bring comfort, calm, and joy to all they encounter.
Accessible only from the water, Peacebunny Island (even the name is soothing) is all about "hugs, hope, and hoppiness." But it's also about big dreams—specifically those of 16-year-old Caleb Smith, who first got the idea to train comfort rabbits in 2012 after watching therapy dogs in action at Sandy Hook. The island idea came later; he bought a boat and some land, and got to work.
"The more I thought about it, it just made sense. On an island, there are no land predators. Bunnies won't swim off, and birds of prey stay away when human guardians are nearby," Smith explains. The island needed to be little more than a solar-powered rustic campsite, with bunny supplies, wagons, and hammocks to facilitate bunny-bonding.
"It's like a bunny summer camp where teen guardians train the rabbits," Smith continues, noting that volunteers benefit, too. "From the human side, with a bunny in your lap and a summer breeze, gentle chirping of the birds and the sound of water, it's easy to drift off and just be in the moment."
Smith's comfort rabbits—including some endangered species—eventually graduate from hammock cuddle sessions on the island to travel to events across the Minneapolis–St. Paul area. "They go with us to fun events like birthdays, bachelorette parties, or baby showers, then on to senior homes, hospice, and times of grief like children's funerals." Smith and his team make sure the bunnies' personalities match each event. "The bunnies train us to know how to help them feel safe, too."
Prior to Covid-19, access to the Peacebunny Island was invite-only, with regular visitation contests via social media. "To keep it sustainable, we keep the group sizes limited, and it's not a formal tourist site—but rather people come as our guests," notes Smith.
Most of the bunny love goes to those donating their time: Kids age ten and up can volunteer to hang out with bunnies like Monsieur Mac, a Blanc de Hotot; Bandit, a splotchy Harlequin; Chimmichanga, a Chinchilla rabbit; and dozens of other furry lil' island nuggets.
Now that Covid is upon us, "we're doing more Zoom calls, window visits, and outdoor programs," Smith explains. Yes, you can hire a fluffle—that's actually the term for a group of rabbits—to make a special appearance on your Monday Zoom calls. That said, Smith and team give precedence to those experiencing grief and mental health issues, focusing especially on children and seniors.
Until summer returns to Minnesota, the bunnies are happy and healthy back at Peacebunny Cottage (not sure why this isn't a Nickelodeon show already), southwest of St. Paul. But "another Easter without bunnies is unacceptable," according to Smith, so he and his team have begun holding monthly silent auctions and website contests to raffle off visits and Zoom calls. Events are starting up at the cottage, and boat treks to the island are scheduled for this summer. Let the bunny-bonding begin.