On a first date, there's always that heaviness in the air. A suffocating uneasiness that follows you around all night like a really dirty-minded chaperone saying, "So... will it happen?" Now imagine doing that for 72 hours. With actual humidity, not much clothing, and a lot of tequila. Also, you may have just dropped several thousand dollars to fly this date to an exotic location.
That's exactly what you sign up for with Miss Travel, an online dating site devoted to finding "traveling companions." At first glance, it sounds like something straight out of Tag the Sponsors. But is Miss Travel really just full of half-time hookers and rich guys? Or is it a legitimate dating site for people with an insatiable wanderlust? In the name of hard-hitting investigative journalism, I wanted to find out. So naturally, I took a woman from Miss Travel on a weekend press trip to a Mexican resort.
Recommended Video
Timothy DeLaGhetto and David So Devour all the Bacon at the Blue Ribbon Bacon Festival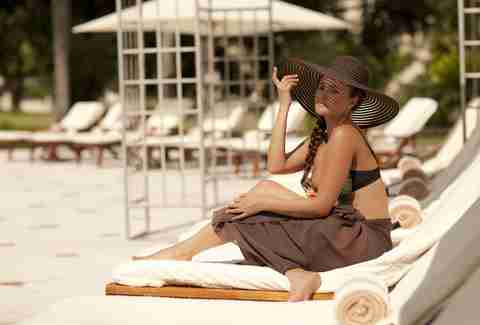 Much like on other dating sites, your first objective on Miss Travel is to make a match and playfully message each other to ensure he or she's not Chris Hansen. Then, instead of agreeing to meet over Frappuccinos at the local Starbucks, you make plans to go to Borneo. NBD.
Unlike other dating sites, however, Miss Travel makes you lay out the financials right away to avoid any check-splitting awkwardness; simply select one of three payment options on your profile: "I'll pay for you," "50/50," and "Pay for me." And as riveting as it was to find out what kind of enchantress would openly tell men she wants a free vacation, I also knew going with someone like that would be the three worst days of my life. [Full disclosure: Miss Travel covered the cost of her airfare and, as it was a press trip, the resort paid for our rooms, food, and drink.]
 
The young lady I matched with was definitely not one of those looking for a free vacation, although this wasn't her first travel date. She was a pretty, Midwestern blonde with a college degree and a good job. She had also competed in a famous national pageant as Miss Some State. So from this point forward, we'll call her Miss Travel.
 
We started by exchanging get-to-know-you emails before moving to text messaging, where -- I might add -- she had an incredibly quick wit; when I signed off one night with a goodnight text she responded with a meme of Carlton Banks that read: "Thugs don't say goodnight, we just stop texting." A Sponsorette, she clearly was not.
And so it begins...
We met at the Casa Velas hotel in Puerto Vallarta, a Four-Diamond adults-only boutique resort designed for romantic weekends with total strangers. Or, if you're into that kinda thing, your significant other.
Miss Travel arrived after me and suggested we meet in her room (these "dates" require separate rooms, to eliminate that time-honored: "Whoops, it looks like they just have one bed," move that guys have been using since the invention of sleep). She was tall and blonde and all sorts of Midwestern nice, and just as quick in person as she had been over text.
We took a property tour through the herb gardens and the golf course, over to the private beach club, and then to the lagoon pool, complete with swim-up bar. "How late does that stay open?" she asked our tour guide about the bar. Then turned to me, "We'll definitely be hitting that up later." Oh, will we now?
Dinner was at Emiliano, the resort's gourmet restaurant, and included an extravagant five-course feast with stuff like fried penale cheese with tomatillo (also known as, stuff I didn't eat). Miss Travel noticed this as I picked at my sous vide duck breast. "Still hungry?" she quipped. "You know the mini bar is included... wanna split a can of Pringles and some mini-bar beers in my room?" 
 
At this point you must be thinking, "It's on, right?" But then you wouldn't understand much about Midwestern nice: when a nice Midwestern girl invites you back to her hotel room for potato chips and Pacificos, it's probably because she thinks you'd enjoy them too. Not to have sex. So after a couple hours of demolishing the mini bar, I excused myself and returned to my suite.
Day 2
We spent the second day at Casa Velas' private beach club, relaxing in the infinity pool's built-in recliners, drinking cocktails, and eating sushi. After four hours of high-speed banter and even higher-speed margaritas, we'd reached that crucial juncture in any date where you're getting along, but you don't want to find yourself in the friend zone.
"So, how do you think the date is going?" I asked her.
"Oh, this is a date," she responded, taking a sip of her pomegranate margarita. "I wasn't sure, it seems like you're here for work, and I'm just tagging along. But if it's a date, I'd say it's going very well."
"Good," I said. "So do I." 
I smiled and tried to kiss her. She pulled away. "Later," she said. "I'm not going to be one of 'those people' who make out in the swimming pool."
That night we were treated to a food tour at the resort's Five-Diamond sister property Grand Velas in Nayarit, which included seven stations of gourmet treats including lobster foam. Again, my dinner consisted of tortilla chips and Patron. [Yes, I'm a finicky eater -- don't judge me!]  On our walk back, Miss Travel suggested we move the mini-bar nightcap to the Jacuzzi tub in my room.
Now, again, you might think a girl who invites herself up to the Jacuzzi tub in your hotel room is clearly ready to party. But that would be missing the point of a "Miss Travel" date. The experience is built on first date suspense. If she makes it clear upfront that we're not having sex, the rest of the weekend is devoid of any flirtation. And what fun is that? Have sex too soon, and you risk some serious awkwardness.
So it is clearly unspoken that if sex is going to happen, it'll be on the last night. And while our late-night party led to an eventual first kiss, that was it.
Will we or won't we?
Alright, so rather than regale you with another day's itinerary -- tanning, beach, bar, etc. -- I'll skip right to the aforementioned dramatic third-night conclusion. Which, I should note, started unpromisingly with a taco tour of Puerto Vallarta. Yes, as delicious as seven street tacos in an hour is, it's about as conducive to first date sex as a lengthy discussion about, well, street tacos.
Despite that, we had a lovely post-tour stroll along the Malecón in Puerto Vallarta, returned to Casa Velas, and went straight back to my room -- no questions asked.
The suspense was finally about to be lifted.
My stomach was queasy with a combination of nerves and suspect Mexican street meat. And as we sat down on my king bed in all its plush, hotel-sex allure, we both knew: "If there's ever a time to act on this, it's now." We began kissing, and as I moved my hand around to her back she pulled away, looked at me, and gave the answer to the question I'd been wondering all weekend...
"I'm not going to have sex with you," she said. Bam! And there it was. [Although you knew that's how this was going down, didn't you? It was my finicky eating, right? Maybe?]
Well, that was fun...
Obviously, I was disappointed, but not the least bit surprised. Sure, we'd spent three days together, half-naked, downing tequila, and trading quick-witted barbs. But from what I gathered, she'd made up her mind that it wasn't going to happen before even boarding the plane; given she still chose to spend the weekend with me, it went as well as it could have.
In the morning over breakfast in bed, I asked her if she'd like to do this again sometime.
"You can tell a lot about a person by their thoughts on honeydew," she said, examining a chunk of melon on her fork.
"Excuse me?" I said.
"Look," she said, taking her eyes off the fruit and back to me. "I live where I live. You live in Florida. This was a fantastic weekend, and I like you, but I can't give you an answer because I have no idea what I'll be doing. So let's just enjoy our breakfast, and maybe we'll see each other again. OK?"
Still waiting for her to make a connection to the honeydew, I nodded. I mean, it wasn't the answer I had hoped for -- in fact, it really had nothing to do with melon at all -- but she made a lot of sense. Eventually I walked her to the lobby, and she boarded her airport shuttle. We've kept in touch a little, but I'll probably never see her again.
So, what did I think about my weekend with Miss Travel? Overall, it was a fun time with a clever, pretty girl at a first-class hotel in a beautiful destination. It didn't hurt that we weren't paying, but I don't think that changed anything. That said, I have no idea how a guy who shells out $3,000 for a similar trip might see it, but it was clear from the get-go that this wasn't an escort service.
I think the takeaway is this: if you're the adventurous type and go in expecting to share a high-risk/high-reward weekend with a new person -- and that's something you're willing to spend money on -- you won't be disappointed. Unless, of course, your date is terrible. In which case, there's always the buffet.
Sign up here for our daily Thrillist email, and get your fix of the best in food/drink/fun.
Matt Meltzer is a staff writer for Thrillist. Follow him on Instagram: @meltrez1.