Travel with beautiful not-escorts. Hear that??? They're <em>not</em> escorts!!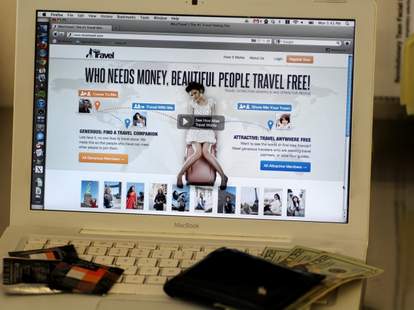 Everything in life isn't always as it seems, but just-launched "travel dating site" Miss Travel probably is, being that it matches "Generous" travelers with "Attractive" companions who'll tag along as long as a) it's to a place they want to visit, and b) all the expenses are paid for. To reiterate: this is a "dating" site where wealthy dudes pay hot chicks to stay in hotels with them. Want a piece of the not-at-all-sketchy action? Just create a profile, upload photos, and establish yourself as either a...
...Generous Traveler, which allows you to browse Attractive Traveler profiles, message them (for a fee), and propose a trip using subtle presets like "come to me", "travel with me", or "show me your town", which, considering what they're doing to make money, is probably a place they're trying to escape. If they want your dirty lucre, they'll "unlock communication" to exchange contact info, trip details, and possibly gonorrhea.
...Attractive Traveler (guys can apply), assuming of course that your profile pics pass muster and you're declared "beautiful" by the site managers. Then you can rifle through profiles, send messages, and propose trips 100% free of charge. You're also eligible to accept "gifts" of actual frequent flier miles from Generous members, who you can rest assured are after exactly what it seems like they're after.