Time to one-up your won't-shut-up-about-his-skydiving-trip friend with Moab B.A.S.E. Adventures: the only company in the world where you can finally hurl yourself off a cliff in a tandem B.A.S.E jump. No skydiving or basing experience is needed for this euphoric roller coaster ride -- you just need to head out to Utah, choose between the two jumping options, and fit under the non-negotiable 185 lbs weight limit. Looks like being a tiny ladyboy is finally paying off!

The first option is the easier-to-access Mineral Canyon: an impressive cliff near the Green River w/ a 20min trail walk to the edge that looks down 900 feet over the canyon.

The second is the Parriott Mesa in Castle Valley, where the couple that runs the company apparently got married, so let's hope she doesn't get all jealous when you get attached to him.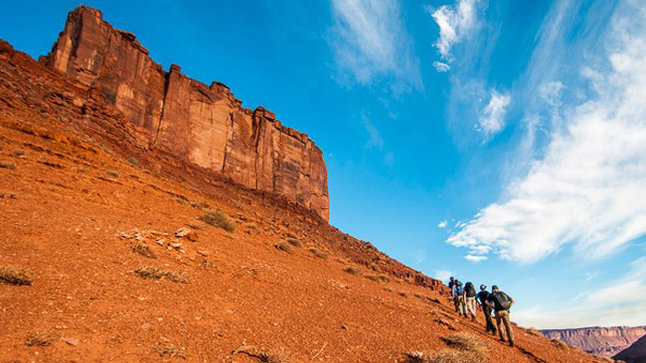 This mini quest requires a 2hr hike up the rocky terrain of the valley w/ fixed rope sections and scrambling, so you need to be in "very good shape", but clearly not in such good shape that you have the kind of manly physique that weighs more than 185lbs.

The total altitude is over 1400 feet, making it the highest of their tandem jumps.

Once you get up to either location, they'll fasten you into your tandem passenger harness and clip you onto a safety leash away from the cliff edge to practice the jumping sequence and make sure you don't go solo on them.

The instructor will link up the tandem suit to his, lose the safety leash, and give a hard 3-2-1 count...

Next thing you know you're airborn and free falling into the valley below. Soon you'll feel an upwards tug as the parachute (likely) opens, and you descend down slowly through the desert landscape and onto the sandy ground below. Congrats, you're alive, and much cooler now!