The impossible dream: Having a place to call your own, but not being tied down by a massive mortgage or monthly rent. Most people already pay truckloads for just-bigger-than-a-box homes -- so why not upgrade to an actual truck? That's what California-based Alek Lisefski did, building his own tiny, moveable house for $30,000, where he's been living rent-free with his girlfriend and dog since last November.
Lisefski built the bulk of the house himself over the course of a year, to create a better living arrangement that would see him outdoors more frequently.
Effectively a studio apartment on wheels, Lisefski's home is technically deemed an RV, given that it sits atop a trailer measuring 8 feet by 20 feet. Right now, Lisefski lives in a backyard somewhere in California, where, aside from small onsite work that pays for the turf, he lives without the burden of rent. The small home has set off a larger venture of its own, which its proud owner calls The Tiny Project -- where users can download guides on building their own private palace, as well as find blog posts that endorse a sustainable lifestyle.

A bird's-eye view of the interior goes to show that cramped space needn't be an excuse to forgo style.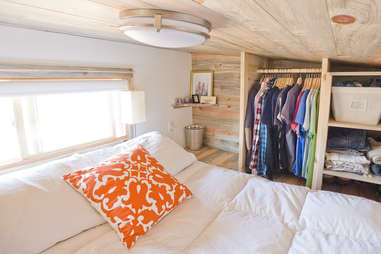 That ladder you just saw in the picture above? It leads here, to Lisefski's bedroom...
The bathroom -- with a shower, toilet, and sink -- is so compact, it can barely fit in-frame for this photograph.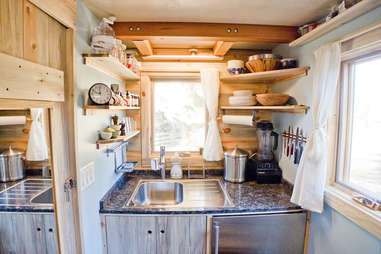 The kitchen's really more of a kitchenette, but the stacked shelves create ample space for pots and pans.
While Lisefski's home life is tight, he trades mobility, utility, and affordability for having a sprawling space. Because after all, if you're living in a mobile home, you're always in a room with a view -- a view that can change at your whims, no less.
Chloe Pantazi is an editorial assistant on Thrillist's travel team. Yes, that's a British accent. No, she doesn't watch Doctor Who. Follow her on Twitter at @ChloePantazi.