Mobile houses: the coolest way to travel, ever
If someone told you mobile homes and RVs had room for improvement, you'd probably laugh and shake your head in the "no" motion, signaling how preposterous that sounded.
You probably would, but now you won't, because you're intelligent and savvy and reading this article right now about the next level in mobile-homing: Tumbleweed Tiny House Co. Designed to fit specifically on trailers, these bona fide mini wooden homes can hook up to your vehicle, or be permanently fixed on land and connected to water and electricity.
Check out some of their models, and decide where to take 'em...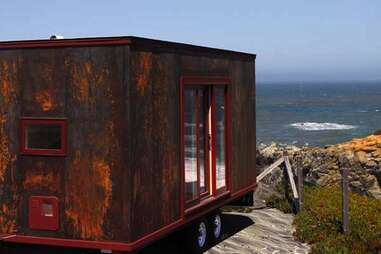 The Popomo:
This adorably named, deceptively mundane rust-bucket is one of the largest and easiest to construct of the tiny houses. The unit comes complete with a living room, kitchen, separate bedroom, and bathroom, and can be towed permit-less by any full-sized truck.
Take it to: The beach! You know how much hotel rooms with living rooms, kitchens, separate bedrooms, and bathrooms are? We suggest a jaunt up the Pacific Coast in your Popomo.
The interior is decked out with an almost-queen bed that easily sleeps two, and's heated by a first-rate stainless steel propane fireplace, perfect for your closing line: "What do you say we go back to my place and heat things up? Seriously, this heater gets super hot". And the coolest part of this guy? The price. Clocking in at just $20K, you can obtain the plans and (maybe) easily build your own, if you're good with tools and measurements and stuff.
The Fencl:
The space clocks in at 130sqft but, because of the cathedral ceilings, feels much larger and homely.
Take it to: If you like the sound of rain pitter-patting on tin roofs, cop the "Fencl" and follow the precipitation around the U.S., naturally spending most of your time in Portland, but going other places too... like Seattle.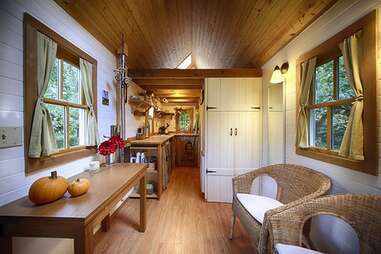 Once you get past the pine-finished interior and kitchen, outfitted with stainless steel counters, sit back, relax, and stare out of a window and/or look at some pumpkins. Ah, nature.
Fear of heights? Watch out for the view from the lofted bed area. There's plenty of storage space right around bout the front door, and the adjacent nook offers a brand-new perspective on pumpkin-viewing, as well as space for a futon or daybed.
The Linden:
If you're looking for something like the Fencl, but one square foot larger, you'll want to go with this model. Here you'll get a front porch, the largest loft out of all the Tumbleweed models (it can fit a king bed), and a nook to put up tiny houseguests.
Take it to: The snow. This model is perfect for recreating a chalet feel in the mini, and your porch'll look all the cooler with a snowboard propped against the railing.
The interior is pretty simple and functional, with an air conditioner/ heater combo, plenty of storage, and, if you removed that wonky bike painting, a perfect place to throw a flatscreen so you can finally re-watch Happy Days in peace. Eyyyyyyyyyyyyyyyy!