This Travel Hack Is the Best Way to Breeze Through Customs
Hint: It's as fast as Global Entry but way cheaper (AKA free).
It's time to stow your tray tables and secure your luggage in the overhead bins—travel is back in full swing. Introducing Return Ticket, a collection of first-person stories, thoughtful guides, and clever hacks designed to help aspiring globetrotters navigate our new normal as safely and smoothly as possible. Buckle up and prepare for liftoff.
As anyone who's spent an hour or more shuffling through an immigration line after a red eye flight can tell you, customs can be a painful final hurdle before you get home. The weakest among us might see the line and just give up, broken—and that's in regular travel times. During the high volume, low-staffing points we experienced in 2022, wait times in the immigration line skyrocketed to up to three hours (!), causing missed connections, missed bedtimes, and, possibly, even some breakups.
However, there are a few spots for relief—though they're slowly disappearing, those Automated Passport Control (APC) kiosks have helped a lot. They streamline declaration forms for US citizens and residents, Canadians, and certain visa-holders. But those have been increasingly pushed aside in favor of facial recognition cameras placed next to customs officials, significantly adding to potential wait times, especially at busy times in big airports.
Travelers with a few extra bucks to spare can always spring for Global Entry, which runs $100 every five years. But if you have a misdemeanor on your record or don't have time to trek to the airport for the in-person interview, not to mention sit around afterwards waiting for approval—a process that can take up to 730 days according to Customs and Border Protection— it ain't happening.
Don't despair: There's still an incredible way to cruise through customs at certain airports with blazing speed, sometimes even faster than Global Entry minus the cost and the hassle. And though it's been around since 2014, it's still one of air travel's best-kept secrets.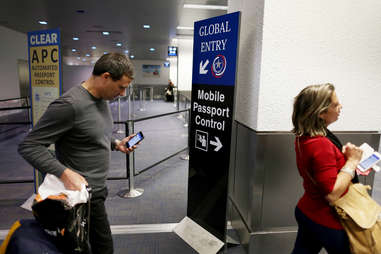 It's called the CBP MPC App, which stands for Customs Border Protection Mobile Passport Control. Formerly called Mobile Passport Control, rest assured that it still works the same. CBP MPC is (in addition to being a mouthful) a smartphone app that fills out all your declarations digitally, sends you through a special—and usually very short—line at immigration, and drops you in baggage claim with time for a snack before everyone else on your plane arrives.
The CBP MPC app is accepted at 31 US airports and 4 seaports, and, as of this summer, you can also use it at Montreal-Trudeau International Airport (YUL), Toronto Pearson International Airport (YYZ), and Vancouver International Airport (YVR). Here's everything you need to know.
How does the CBP MPC app work?
Trust—ordering from a McDonald's touch screen menu is more complicated than operating this app. First, go to your app store of choice and search for Mobile Passport Control (it's still called this, and will redirect you to CBP MPC). Once you've downloaded it, it'll ask you to complete a profile: name, passport number, gender, country of citizenship, and birthdate. It's all encrypted, so no security worries there.
Next, it'll ask you to take a picture to have on file. If you've ever taken a selfie, this should be easy. If you're doing this for your grandparents, maybe snap the photo for them.
Then, once you've landed—or sailed—safe and sound onto your desired turf, turn your phone on, open up the app, and select the "New Trip" section. It'll ask for your arrival airline and port of entry, and if you have any goods or cash to declare. (Though internet access is necessary for downloading the app, you won't need a wifi connection to fill it out.) After you've filled all that out, the app spits out a QR code to present at immigration.
Sounds like the digital version of that little blue form that makes everyone on the plane ask to borrow a pen, right? So what's so special? Wait until you get off the plane—that's where the magic really happens.
First of all, there's no pen necessary! Because, of course, there's no need to fill out that blue form. As the masses trudge single-file toward the slow-moving APC kiosk line or queue up in front of immigration booths, you and your mobile phone can follow the signs for Mobile Passport Control. If someone tries to direct you elsewhere, tell them you have Mobile Passport, and they'll point you in the right direction.
Your line is typically set up next to the area where diplomats, celebrities, and regular folks go through immigration. Or, at some places like Newark Airport, it'll funnel you into the Diplomats line (fancy!). If there's more than three people there, it's a busy day. Even the Global Entry faithful will probably wait longer. Show your QR code to the immigration officer along with your passport, answer whatever pro forma questions they might issue, and off to baggage claim you go. Didn't check a bag? Hit the road and you'll be home a good 30 to 60 minutes earlier than expected.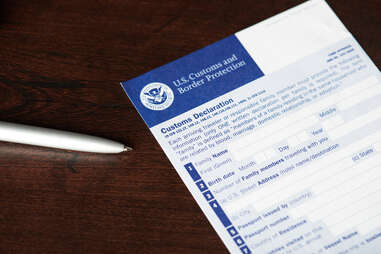 Why's the passport app so fast?
Simple: Many people don't know about it. That may change as word continues to get out, but for right now, so few people are using the CBP MPC app the lines are gleefully short.
Who can use the passport app?
Unlike the APC kiosks, CBP's Mobile Passport Control is only open to US and Canadian passport holders. Legal residents and certain visa-holders who are able to use APC aren't eligible for the app yet.
For most American travelers, you'll be able to cover your whole family with your app. Much like with those old blue forms, you only need one application per household and you can include up to 12 companions on a single trip.
How much does the passport app cost?
Nothing. Well, technically, your taxes pay for it, so you might as well get your money's worth.
Where are these magical Mobile Passport lanes?
The app is used at 31 major US airports and four seaports: Port Everglades, San Juan, Palm Beach, and Miami. (You can see the full list of them here.) Note that it is not accepted at international airports where you clear US customs prior to departure. This includes most Canadian airports, Dublin, Aruba, and some others.
This is not to say that the CBP MPC app will be the express lane into America for its citizens forever. And it's not a way to get around any screenings or inspections, so don't think you'll be bringing home some agricultural souvenirs from Jamaica just because you have a cool app: Your luggage is still subject to scrutiny, pal. But if you're new to overseas travel or a salty vet who just wants a quicker way to get the hell out of the airport, it's a great hack to save time and stress.
Matt Meltzer is a contributing writer to Thrillist who feels a little cheated he spent all that time getting Global Entry. Follow him on Instagram @meltrez1.