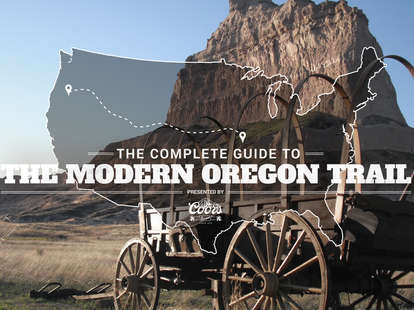 The Complete Guide to the Modern Oregon Trail
175 years ago, the Oregon Trail was the ultimate symbol of the pioneer West. Next time you are tempted to sigh, "Are we there yet," from a reclinable seat of some description, consider that between the 1820s and 1860s, an estimated 400,000 migrants crossed the Rocky Mountains to claim recently-relinquished (thanks Britain!) land in Oregon Territory -- in oxen-led trains of "prairie schooners" and homemade handcarts. What are those? Exactly.
While the host of diseases and other calamities that beset these hardy souls are pretty much wiped out, the jaw-dropping landscapes and pristine forests they traversed remain, and are a whole lot more hospitable these days, thanks to some modern pioneers of food, drink, and lodging. We've rounded up the coolest spots, natural and man-made, that you need to hit along the way.
Missouri & Kansas
Every road trip (let's just make that every day) is doomed to failure without a decent breakfast. So grab a Sticky Biscuit at The Big Biscuit before you get behind that wheel. Next, check out The National Frontier Trails Museum near Independence Square -- the traditional start of the Oregon Trail -- as you ponder the enormity of what you're about to undertake. Ready? Take US Highway 24 west into Kansas City and look for the 85th & Manchester Ruts at 7558 E. 85th Street, where grassed-over evidence of the Oregon, California, and Santa Fe Trails is still evident. Next, pick up I-435 South and exit onto State Highway 10, which follows the southern bank of the Missouri River to Lawrence. Head north on US Highway 59, then west on I-70 into Topeka, then over the Missouri River on US Highway 75 before turning west on US Highway 24 into St. Mary's, where a mission (now St. Mary's Academy & College) was established as an important way station for migrants.
Need some perspective after a long day in the car? Stop off at Belvue's Vieux Cemetery, where 50 migrants who succumbed to an early cholera outbreak are buried. Yeah. In Wamego, turn north on State Road 99 toward Frankfort, then head west on Highway 9 and north on US 77 for Alcove Springs in Blue Rapids. Not only is it considered the most significant Oregon Trail site in the state, as an emigrant camp and water supply, but it also marks the border between the tall-grass prairie of Eastern Kansas and the short-grass Great Plains. In Marysville, turn west on US Highway 36 and north on State Road 148 for Hollenberg Station -- an original 1857 structure built by the Pony Express to serve emigrant traffic.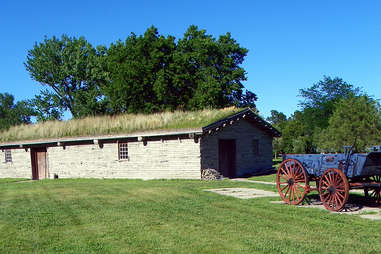 Nebraska
Note that once you cross into Nebraska, Kansas State Road 148 turns into Nebraska State Road 8. From there, turn west on US Highway 136. A series of back-road stair steps -- north onto State Route 5, west on State Route 4, north on State Route 14, west on State Route 74, north on US Highway 281, west on US Highways 6 & 34, north on State Route 10, and west on US Highway 30 -- lead to Kearney, where you can celebrate a road well tripped with lunch at Suwannee Thai Cuisine and "big ass beers" at Cunningham's Journal.

Just south of the Platte River, stop at the first Western military post built expressly to protect Oregon Trail emigrants, Fort Kearny State Historical Park. From here, stay on US Highway 30 (I-80 is faster, but... road trip! ) through North Platte to Oglalla, then head north on US Highway 26 / State Highway 92.
Ash Hollow State Historical Park & Cemetery near Lewellen still has original wagon ruts and a pioneer cemetery, which dates from 1849. Near Bayard, take a quick detour on County Road 75 to get an up-close look at Chimney Rock National Historic Site (they called them as they saw them back then), followed by a sunset swing through the majestic Scotts Bluff National Monument. After that, check in to the awesomely named Barn Anew Bed & Breakfast Country Retreat, then head into town for Mexican at El Molcajete Restaurant, followed by Goonie's Kozy Keno Bar & Grill; 64oz domestic pitchers are $5 on Wednesdays, so plan accordingly. Maybe even drop a few coins on a game of keno -- after all, what you just drove in a day often took the Oregon Trail's original pioneers 20 or 30 days. You have some time to kill.
Wyoming
Get ready for of the most remote, rugged, and unspoiled day of the trek at Cappuccino & Company in Scottsbluff -- and, DO NOT SKIP THIS PART, load up on fuel, water, and snacks at a gas station, as it can be 100 or more miles between towns in Wyoming. Take US Highway 26 to Fort Laramie National Historic Site, which once stood sentinel over the Oregon, California, and Mormon Trails. Near Guernsey, make an obligatory stop at Oregon Trail Ruts State Historic Site & National Historic Landmark, which boasts some of the deepest (up to five feet in some places) and most photographed wagon ruts of the overland trail.
A 5-mile dirt road hugs the original Oregon Trail from Guernsey through Bitter Cottonwood Creek Camp and along Cottonwood Road, with views of Laramie Peak -- an important trail landmark. But don't expect many fellow travelers until you rejoin the modern world at I-25 into Douglas and the Wyoming Pioneer Memorial Museum. West of Douglas, look for Natural Bridge Rd., which, logically, leads to Ayres Natural Bridge Park -- a natural stone span over LaPrele Creek. Another hour up I-25 is Casper, Wyoming's second-largest city. Chow down at Cottage Café (yes, it's an actual cottage), build your own sandwich at The Sandwich Bar, or opt for something spicier at Lime Leaf.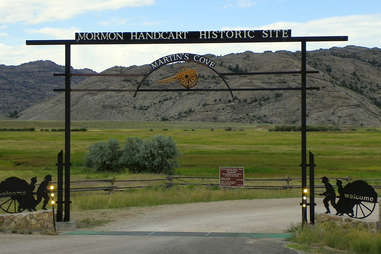 The drive to Casper was short, so take some time at the National Historical Trails Interpretive Center, which features simulated wagon and stagecoach rides. Check out Fort Casper Museum and the site of Platte Bridge Station, which was built by Brigham Young's Mormon pioneer party in 1847 to cross the North Platte River. Perspective duly gained, toast the new West with a cocktail at Vintage Fine Wine & Martini Bar or sample the giant on-tap beer list at not-at-all-shy The World Famous Wonder Bar.

When you next hit the road, head southwest on State Road 220 toward Sweetwater River and through Pathfinder National Wildlife Refuge; west of Alcova, stare in awe at Independence Rock. One of the biggest Oregon Trail landmarks west of Fort Laramie, it is inscribed with thousands of still-visible emigrant names from 150 years ago. Get a taste for how hard those people had it at Mormon Handcart Historic Site and Willie Handcart Historic Site -- the latter of which marks the main Sweetwater River crossing.
Merge onto US 287, then State Road 28, and follow the three-mile Oregon Buttes Road to drive or hike the one-mile original two-track wagon trail to South Pass. Every westward migrant prior to the construction of the first transcontinental railroad, in 1869, passed through this 20-mile gap in the Rockies. Look left for The Oregon Buttes, which at the time denoted the unofficial entry into the Oregon Territory; further along, you'll see virtually unaltered wagon ruts. Take State Road 28 across the Green River, then turn right on State Road 372, west on US 189, south on State Road 233, and right on US 30. If you aren't Wyoming-ed out yet, check out Fossil Butte National Monument. Otherwise, head for The National Oregon/California Trail Center in Montpelier, Idaho, and dinner, drinks, and civilization in Pocatello on I-15 north.
Idaho
Follow sushi at Sumisu with live music at Portneuf Valley Brewing, then break a cardinal road trip rule by backtracking, just a few miles, to McCammon for a stay at the vintage-cool 1960s Harkness Hotel. Next day, fill up on a cinnamon bun at Butterburr's, then get ready for what the original Oregon Trail emigrants considered the Desert West, where volcanic barrens, sagebrush steppe, salt-crisped deserts, and teeth-like rows of mountains wore down hopes and dreams (now might be a good time to blast "Don't Stop Believin'"). Take in the Fort Hall Replica Museum, which started as a fur-trading post before evolving into a supply post for the Oregon and California Trails, then turn west on I-86 toward American Falls. Just west of town, shake a fist at the Snake River Outlook (French trappers called it the "mad accursed river") that emigrants would follow for the next 300 miles.
Today's history lessons: Massacre Rocks State Park's visitor center, and just down I-86, Register Rock State Historic State's preserved basalt boulders with original inscriptions. Next up, stop at the Raft River Crossing, which marked the Parting of the Ways between the Oregon and California Trails, and where the Bureau of Land Management has enshrined 7 miles of original wagon trail. Pick up I-84 or US Highway 30 toward Twin Falls, but before you get to town, stop at Shoshone Falls, considered the "Niagara of the West." By now, you're probably in need of a Chicken Bacon Ranch with a side of homemade chips at Twin Falls Sandwich Company, followed by afternoon refreshment at Scooter's or O'Dunken's Draught House, where you can choose from 20 beers on tap.
West of town, don't miss Hagerman Fossil Beds National Monument, which claims the highest concentration of Pliocene (2 to 5 million years ago) fossils in the world. Pause for reflection at Three Island Crossing State Park in Glenns Ferry, where settlers faced a totally un-winnable coin toss: cross Snake River -- no mean feat, it's deep -- for better grass and easier access to water (and do it again at Fort Boise), or stick with barren, more difficult conditions. Did we say these people were hardy?
Head northwest for Boise on I-84, admiring Lucky Peak State Recreation Area as you go. Hit Latin American meat-fest Barbacoa, or New American at Fork, followed by beer at Bittercreek Alehouse or cocktails at Red Feather Lounge. If you want to be down with the Boise cool kids, find them at Hotel 43, or combine your libations and your room for the night at The Modern Hotel and Bar.

Get creative for breakfast at Bowl of Heaven Café, before exploring the Oregon Trail Historic Reserve and Fort Boise Park downtown. Head west on US Highway 26 toward Parma and the Snake River, where the Fort Boise Replica Site stands five miles south of the original, which was constructed by Hudson Bay Company in 1834. Follow the river back south to State Road 18, and cross into Oregon's State Road 452, which bridges the Snake River.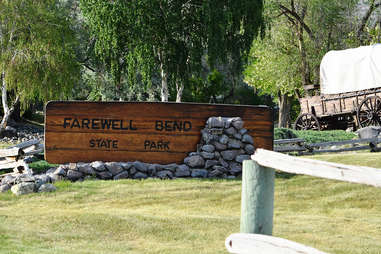 Oregon
Turn north on Highway 20/26, then State Road 201, to meet back up with I-84, now designated the Old Oregon Trail Highway. This last hot, dusty, desert-like stretch before the Oregon Territory forests was called the Alkali Springs Segment (AKA "Over It") in the mid-19th century: emigrants couldn't wait to hit Farewell Bend State Recreation Area, and wave goodbye to the Snake River after 320 fun-free miles. In Baker City, make sure to pull off at the Oregon Trail Interpretative Center for a well-curated exhibit dedicated to emigrant life. Also, take in views of Flagstaff Hill, the first landmark of the Blue Mountains -- and imagine how that felt on a prairie schooner.
Take in Hilgard Junction and Emigrant Springs state parks, then head into Pendleton, where the Oregon Trail (and modern-day I-84) finally turned west after a grueling ascent. Grab a bacon cheeseburger at Hal's Hamburgers or check out Thai Crystal, followed by Great Pacific Wine & Coffee. Before you rejoin I-84 for the final stretch west, check out the Tamusatlik Cultural Institute, which commemorates peaceful interactions between the area's Native Americans and settlers.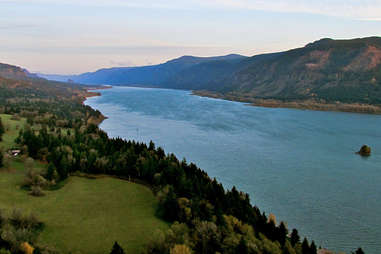 Echo's Umatilla, John Day, and Deschutes river crossings were mere practice runs for The Dalles, where pioneers had to turn their wagons into rafts -- because it had been just too easy until that point. The overland alternative to that journey down the Columbia River, past Mt. Hood to Fort Vancouver -- Barlow Road -- opened in the 1840s to much rejoicing. Today, the southern route provides awesome views of, and access to, Mt. Hood National Forest. But you can't beat I-84's northern route, which hugs the Columbia River Gorge National Scenic Area, and one of the most stunning vistas in North America at the Cascades of the Columbia.
The Oregon Trail Interpretative Center in Oregon City is the final destination of the trail, and a most fitting end to your trip, but Washington's Fort Vancouver National Historic Site -- a replica in the original location -- is also worth a look. Back in Oregon, check out Portland's Southern-style eats at Screen Door, or bacon beignets at The American Local. Later, check out Teardrop Cocktail Lounge, or talk your way into the Secret Society Lounge, housed in a former Woodmen of the World Meeting Hall. Finally, lay your head at Ace Hotel Portland, The Nines Portland, or the funkiest of all, Inn at Northrup Station.

The final item on the itinerary? Raise a glass to the hundreds of thousands who braved one of the most grueling journeys of the 19th century -- all so you could do it in five comfortable days instead of 150. You did it! But... relax dude.