Travel Agents? More Like Travel Besties
Armed with insider intel and advanced technology, the age-old industry is learning to court the Gen Z crowd.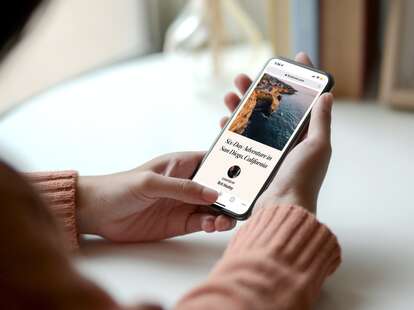 Photo courtesy of Fora
Photo courtesy of Fora
The last few years of travel have been mercurial, to say the least, and travelers—seeking some semblance of support—have been turning to travel agencies like never before. Tired of navigating uncertainties on their own, they're asking experts to do the leg work. Plus, the desire to explore the world is surging post-pandemic, and there's a widespread mindset of, If we're gonna do it, we're gonna do it right.
But it's not just the client who's changing their way of doing things—it's the agency, too. Gone are the days of legacy booking platforms with far too many pop-up ads. Modern travel agencies are shifting their focus to hyper-local experiences and employing the tech necessary for more personalized, human-to-human consultations. In other words, today's travel advisor looks a lot more like a vacation planning buddy texting you insider recommendations.
"Travel is such a personal and intimate experience, yet in the digital age, the industry has created such a sterilized booking experience," says Henley Vazquez, co-founder of travel advisor-led booking site Fora. She helped start the company in 2021 with an aim to create a travel agency that was better suited for the next generation of travelers—not just for those taking the trips, but also for those booking them.
Fora doesn't look like your average travel agency. For one, the company embraces the gig economy. Vazquez says that "booking your vacation with Fora is like having a best friend in the travel industry," and that's because anyone with a passion for travel can apply to become a Fora advisor as a side hustle or full-time gig—no certifications required.
Host agencies are not a new thing. Companies like Outside Agents and Nest have been around for over a decade. But Fora touts a "business-in-a-box" solution, setting budding travel advisors up with training resources, marketing tools like templates and social assets, a client and booking management system, and immediate payment (that means no invoicing or chasing commissions).
"We do the collections for our advisors so they can focus on the next trip, not trying to get paid for work they've already done," says Vazquez, who also strives to disrupt the competitive environment associated with traditional travel agencies in favor of a more community-based approach. "A community app is available to all advisors 24/7, where they can seek help, advice, troubleshoot issues, leverage supplier connections, and beyond," she adds. "Our approach is rooted in welcoming newcomers to the industry."
On the client side, travelers get to collaborate one-on-one with an advisor who's actually been to their desired destination, all for the same price of doing the work themselves. Fora has partnerships with over 4,500 hotels around the world, and while you won't exactly get a discounted stay, you'll be able to score perks like spa credits and free upgrades. In other words, it's the same as booking directly, except with added VIP treatment. And it's a win-win, as hotels, cruises, and other hospitality companies prefer to work with human travel advisors who are better equipped to make recommendations over online agencies like Expedia.
Vazquez is particularly passionate about streamlining booking technology. "This is one of my biggest issues from years in the business—why it's so hard to collect someone's credit card info," she says. In response, the team developed an all-in-one tool called The Vault, which easily collects and stores payment information. "It eliminates what is often the most awkward and outdated part of advisors' jobs."
Another tech-driven travel agency, Origin, has developed an app that consolidates a user's travel plans, tickets, and activity suggestions in one place. It also offers a direct line of communication with a real-life travel advisor, or as the agency likes to call them, "curators." These curators combine their travel experience with artificial intelligence to craft ultra-nuanced itineraries.
It might seem counterintuitive to suggest that tech advancements like AI are leading to more human connections, but such platforms are actually better adept at sending travelers to places that forgo the tourist darlings and give them a more localized experience. Elsewhere, which was acquired by Lonely Planet in 2022, connects travelers directly with experts in their locations of interest, whether that's an outdoorsman who knows everything about the salt flats of the Atacama, or a food enthusiast who's willing to guide you through the cliffside fishing villages of Cinque Terre.
Beyond providing access to less-trodden places, Elsewhere offers access to an "on-the-road concierge service," so you can make tweaks and additions to your itinerary once you're on the ground. Elsewhere takes away the gamble travelers tend to make when booking tours abroad by screening their experts, checking for licenses, and testing their commitment toward responsible and ethical travel.
What all these modern travel agencies have in common is an opportunity to get more personal. "It really is a unique way to connect with someone when you get to talk about world cultures, foods, and incredible destinations," says Nicole Cueto, a travel advisor at Fora. She joins a diverse group of advisors who are trained to help travelers find destinations that meet their specific needs, whether that means LGBTQIA-friendly, accessible, or primed for the solo traveler.
In the end, it's about meeting travelers where they are. As Vazquez puts it, "In a world that's oversaturated with top 10 lists and riddled with recommendations from algorithms, it's a breath of fresh air."