The Motorized Riding Suitcase Will Be a Hilarious Reality Very Soon
It became official when online donors blew the doors off a second-chance crowdfunding campaign: Modobag, the corniest wait-maybe-I-actually-need-that invention of the year is going to be a reality. Its inventor, Kevin O'Donnell, had a vision of commuters puttering around airport concourses on a carry-on suitcase powered by an electric motor. If you need proof that America is and always has been great, look no further than his invention, straight out of a Saturday Night Live spoof ad, raising a third of a million bucks this summer.
Watch for the bags -- and the owners who love to sit on them -- to be whizzing around American airports at 5mph as soon as November. In January, the big shipments begin. For O'Donnell, the final steps to becoming a motorized-suitcase mogul took him through the worlds of motorcycle racing, FAA regs, and Paula Abdul talent shows.
Truly, if the path to bringing the world the first hybrid luggage/quadricycle/mobile-charging station were easy, someone would've done it already. We asked him how he went from wheeling around his luggage like a peasant to becoming the Steve Jobs of carry-ons.
Break dancers led to the breakthrough
O'Donnell's inspiration came from an unlikely source: traveling with a break-dancing team from his hometown of Chicago. Through a mutual acquaintance O'Donnell had met the Chi-Town Finest Breakers, consisting of six pint-sized b-boy and b-girl siblings, backstage at a performance. "It was kind of a hard-luck deal," he says. "The family was formerly homeless and just starting to get back on their feet. They are such an awesome family, the kids and the parents, and break dancing went a long way in getting them through it."
At the time, O'Donnell, a veteran of e-commerce startups, was looking for a new project. He began funding and accompanying the young dance troupe on trips across the country for auditions on TV talent shows like Abdul's Live to Dance. It was during a post-audition layover with the kids when inspiration hit. "We had some time to kill, so I started towing the youngest kid, DJ eFresh, around on my luggage to get to an arcade on the other side of the airport. It was fun, but I was getting kind of tired, so I kind of jokingly told them, 'Man, I need to put a motor in these things!'"
There, the clouds parted, a beam of light shone down, a choir sang, the whole nine. "And then," O'Donnell says, "it was like 'Man, I reallyshould put a motor on these things!'"
Courtesy of Modobag
Finding the right partner
The first person O'Donnell turned to for his new idea of high-speed carry-ons was Boyd Bruner, O'Donnell's longtime friend and former AMA Pro Road Racing Daytona 200 winner. "I called him to my office, gave him the spiel, and he just kind of stood there and shook his head," O'Donnell says. "Then all of a sudden he got goosebumps. He got it. He quit his day job pretty quickly after that, and we've been doing this thing ever since."
Bruner not only brought the technical expertise needed to make O'Donnell's dream of marrying motors and luggage a reality, but his bona fides in the motorcycle-racing community also lent cred to an idea that the public was too keen to dismiss.
While O'Donnell and Bruner were high on the idea of motorized suitcases, it took the rest of the world a little time to catch up. A 2015 Kickstarter stalled, sort of like your regular ol' suitcase does now when you try sitting on it. Would-be investors seemed to be intrigued by the idea conceptually, but not enough to plunk down the cash the team was hoping to see.
"It stung a little bit, but we just kept pushing," O'Donnell says. "We kept improving the design, the manufacturing process, the tech, all that. We kept hammering out one prototype after another, the last substantially better than the first. Looking back, the lukewarm response to the first Kickstarter campaign definitely seems like a blessing in disguise."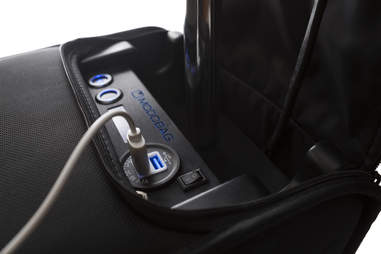 Courtesy of Modobag
After a setback, a return to the design table
Sobered, O'Donnell and Bruner seriously upped their tech game. They upgraded to a DuPont ballistic nylon shell, refined the design on the lightweight aluminum chassis, designed custom, uber-durable, skateboard-inspired wheels, and incorporated cutting-edge lithium batteries that can reach a maximum charge in under an hour, all while still managing to retain 85% of a traditional bag's storage capacity, at a weight of about 19lbs. They found room for a USB-charging port and an optional GPS-tracking system, so no more lost baggage or Grand Theft Auto-style luggage jackings (you're welcome for that visual, btw).
The Modobag also comes with indoor/outdoor speed modes: top speeds of 5mph indoors and 8mph outside (safety first, kids). A 180lb rider on smooth terrain can now expect a travel range of about eight miles on a full charge, O'Donnell says. Its battery, good for 4,000 charging cycles, will keep you chewing up enough industrial airport carpet to circumnavigate the equator.
"With the newer bag," O'Donnell says, "when I fly back to Chicago, I hop off the plane, drop the bag into the bike lane, and literally ride it home."
Importantly, the time between fundraising efforts also helped the team conquer one of the most pressing problems: making sure they could pack all that tech into a bag no bigger than 22" x 14" x 9", and to have a battery that wouldn't go all Galaxy Note7 and burst into flames. They now meet all relevant standards, O'Donnell says: "Modobag batteries are as safe, if not safer, than the batteries in laptops and smartphones."
The team also juiced up their PR effort with this tap-dancing-on-the-edge-of-surreal video of real, grown-ass people riding around on motorized luggage. You probably remember the buzz. Some 400,000 people have watched it on YouTube so far, and countless more across other platforms.
The viral success of the video proved what O'Donnell and his team had learned from their live demos at trade shows across the country: the best sales pitch is simply letting folks see the Modobag in action for themselves. "It's fun, right?" he says. "It's hard not to smile seeing someone riding around on a suitcase. That's the initial hook; people are like, 'What the heck is going on here?' But when people really start wrapping their head around what they're seeing, they start getting how useful and functional this thing really is. Now, when I travel, people come up to me and are like, 'Oh, my God, it's a real thing!' I'll have flight staff, even the pilots, coming out of the cockpit after a flight asking to take a ride."
The mob has spoken, and it wants to ride suitcases
Indiegogo patrons seemed to agree. This time around, some 350 backers provided O'Donnell & Co. with more than $330,000 worth of pre-orders. An initial production run of 200 will begin in November of 2016 -- the first 25 are getting "the ultimate abuse test" -- while the balance will be delivered to early investors and partners starting in November.
If you just can't wait to get your hands (or rear end, as it were) on your very own Modobag, you can still pre-order through Indiegogo for $1,095, a cool $400 off the expected retail price. Sure, that's a hefty sticker, but your conventional carry-on ain't letting you do a Jeff Gordon imitation from the TSA checkpoint to your departure gate, all while charging your iPad, now is it?
A more robust production cycle starts up at the end of the year, which means Indiegogo investors with priority order fulfillment will be zipping around airport terminals, convention centers, and college campuses on Modobags as early as January 2017.
For O'Donnell, watching the Modobag transition from brainstorm to legit travel solution is fulfilling on multiple levels. "It's such a cool deal considering where we started," he says. "Two years later the Chi-Town Finest Breakers and their parents are doing well, they've moved out to a house in LA, the kids are still dancing and finding success. And here I am still putting motors on luggage!"
Sign up here for our daily Thrillist email, and get your fix of the best in food/drink/fun.
Kashann Kilson is a Thrillist contributor and sweet potato pie enthusiast from Portland, OR. Follow him on Twitter @kashannkilson.