Anyone who's seen The Wolf of Wall Street (or is a billionaire) knows that a yacht with a helicopter on top is pretty much the pinnacle of pimped-out nauticalness -- so it stands to reason that the next logical step would be a yacht with a private jet on top. 
And that's where the Monaco 2050 comes in: designed by Vasily Klyukin, this sci-fi-looking yacht concept features all the sleek styling you'd expect, with the added bonus of a vertical-takeoff-capable private jet built into the boat's upper deck.
Recommended Video
Take on This 4-Pound Taco
If that sounds totally batshit crazy, that's because it kinda is -- Klyukin's previous yacht concepts include ones themed after a Swan, a Mississippi steamboat, and the Manhattan skyline. Yep. In fact, the 2050 in the yacht's name is actually Klyukin's prediction for when the first of these absurd vessels will emerge for purchase.
So basically, you've got 35 years to save up the level of scratch it'll take to own one of these. If they ever actually get made, that is.
Check out some more renderings of the impossible-yet-jaw-dropping Monaco 2050 below: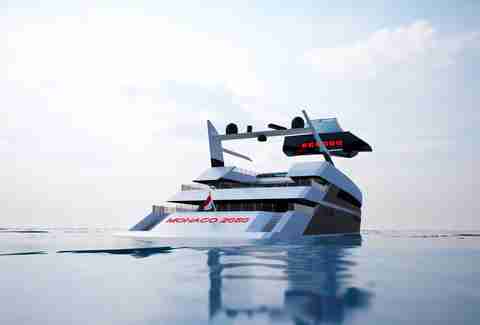 Gianni Jaccoma is a staff writer for Thrillist, and he's pretty sure he designed this yacht as a kid. Follow him to futureboats on Twitter @gjaccoma