The definitive Montreal bachelor party guide
Montreal has worked for generations to maintain its spot on the moral low-ground. Populated by leggy seductresses descended from French explorers who arrived when the Mohawk scare meant more than a bad haircut, Canada's second city would tell you it's anything but second-rate -- especially if you ask a Francophone or anyone looking for a good time.
There's plenty you might not know about Montreal as an out-of-towner. But that's OK. We're here to explain the written and unwritten rules of partying on the St. Lawrence, breaking down where to chow, where to rage, and where to crash. And of course, providing the finer details on the wonder that is the Canadian ballet (slang term: strip clubs).
Gather up your boys, grab your passport, and gear up for the ultimate weekend of debauchery north of the border.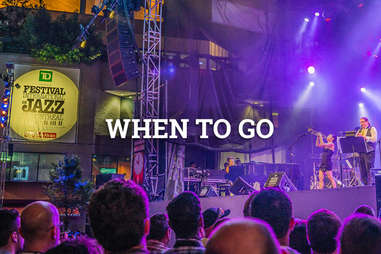 Montreal's winters can be utter misery, ending with what Lenny Cohen called the April autopsy, when all the ugly mushy stuff below the snow finally becomes visible and glory begins to thaw. But that said, there's plenty of glory below the frozen tundra. Like, a lot.
Busy Times
Grand Prix Weekend: F1 Weekend transforms the island city into a magnet for racing fans, Eurotrash, and hookers (yes, even more than normal!). It's such a cash cow that a succession of mayors have had to kiss Bernie Eccleston's backside for a mere guarantee to keep it going. Check out racing car street fairs on Crescent. And in other parts of the city, hotel prices will skyrocket.
Jazz Festival: A sea of see-and-be-seen events jam the summer calendar, none better than the jazz festival, which takes over the streets for two weeks at the end of June and always comes with great and not-so-great musical freebies. Even if jazz isn't your genre of choice, the festival attracts massive crowds and artists like B.B. King, Aretha Franklin, and Ray Charles (obviously before he died).
Carifiesta: Though it lasts just two hours on a Saturday in July, this parade celebrates all things Caribbean; basically, it's a Canadian version of Carnival. Drum beats and dancing, semi-clad Caribbean babes take over downtown Montreal just for your watching pleasure. What's not to love?
Hockey season: Foot-bladed men crash into one another (on purpose!), while trying to slap a rubber disc into a net. Sure, Americans might not fully understand why Canadians are crazy about hockey. But pop in for a Canadiens (call them the Habs) game against Boston, and you'll quickly understand the depths of passion this city feels for its sport. Mullets not required.
Winter: Yes, babes really do stand outside of clubs on freezing nights, bare-legged in cocktail dresses. They're Canadian, so they're accustomed to the cold. They grow 'em hearty up here. Hotel bargains can be had on off-season visits, so you'll have more dollars for the ballet, and first-class skiing is just a couple of hours drive. Don't sleep on the cold months.
...if money's not an issue: St. James Hotel
Costly boutique hotels have swamped the streets of the recently-hot Old Montreal, none of which top the St. James Hotel, which has become the go-to place for such actors as Halle Berry, after she dumped her local hubby.
...if you're a little more budget-minded:Novotel on Mountain
Aim for a foothold in the downtown Golden Square Mile, the heart of the city. This place offers great views and a great location.
...if you think bachelor party budgets are better spent on red meat and strippers than hotel rooms: The Youth Hostel at Mackay and Overdale
It's just a stone's throw from the center of the action and offers the standard backpacker brigade to swap stories and lies. Which is an essential part of any bachelor party experience in its own way, after all.
...if you just can't make up your mind until the last minute: St. Jacques W
This basecamp offers an ever-dwindling but reasonable bunch of motels. Not a charming area, but a short drive to everything. It works, though, because bachelor parties are not about charm.
...if you just want to choose your own adventure:AirBnB
For the clever crowd considering AirBnB accommodations, the Plateau, Mile End and McGill Ghetto are spots without much in the way of hotels, but will get you within striking distance of the Main, St. Denis, Mile End and a bunch of university-tinged scenes.
...and want to fry on a beach: Ile Sainte-Helene On Montreal's all-too-rare sizzling days, hit the man-made beach on Ile Sainte-Helene, which is even accessible by metro, or the French-inspired novelty waterside beach on a pier that makes it impossible to enter the water.
...and want to see naked people: Oka, Quebec
If you've got a car at your service, take the 45-minute drive to Oka, which has a clothing-optional section -- though admittedly, it might be a bit weird to hang out at a nude beach with a group of your boys. Instead, check out the water park and night-club-esque Beach Club nearby.
...and want to join a drum circle: Mount Royal
All measure of deviants converge amid impressive urban nature in Mount Royal. Walk to the cross atop the mountain and see if you can spot wildlife or perverts in the bushes, and don't miss the tam-tam bongo sessions which see stoners and hippies take over a big chunk of real estate on Sunday afternoons during the summer.
...and want to see old, grungy Montreal: St. Catherine
For a dose of nostalgia of the hardscrabble Montreal of the 1990s, head to the strip of St. Catherine, between Prefontaine and Pie IX, the last spot in the city to find old style streetwalkers, hot dog joints and ketaine (tacky) country music in bars like the St. Francoise.
...and you want see guys with mullets fight: Molson Centre
The Montreal Canadiens have won the most Stanley Cups of any team in NHL history, with 23. The Habs (short for Les Habitants) are almost as great a source of pride for Montreal as the strip clubs.
Almost.
...and you want to hear old Montreal war stories: McLean's Pub
McLean's Pub on Peel is a stone's toss from the intersection which gives the city its reputation. Drop in and chat with the good-natured manager about his bank-robbing ancestors.
...and you prefer your beverages in bulk: La Distillerie
The drinks here are strong, and served by the liter in mason jars. You can also get mason jars filled with goldfish crackers to insulate yourself for a long day and night of drinking. Just get there early. You're welcome.
...and you don't mind possible mobsters:Bar Serie Capri
Old time Montreal Irish gangsters have long congregated at the Capri on St. Patrick after spurning the overpriced Magnans, which gave them the boot for their bad, boozy singing. The place recently changed owners, but it's still probably worth a visit.
...and you need to be on a rooftop: Nelligan Hotel
The city temporarily has no rooftop drinking these days, but terraces come in some several lackluster forms, notably the vine-enclosed St. Elizabeth. The St. Sulpice is a bigger version, but it's often overrun by young francophone students still learning to hold their liquor.
The best rooftop option is the Nelligan Hotel in Old Montreal, but it's no high-rise. You're probably best served exploring other day-drinking options.
...and if you're still looking for ideas
Just check out our guide to the 8 Coolest Bars in Montreal.
...and you want foie gras on everything:Pied de Cochon and Joe Beef
Restaurants attract ambition and talent in Montreal the way Wall Street attracts kids good at math. At the top of that hierarchy sit the eccentric Pied de Cochon and the Joe Beef in St. Henri. Pied de Cochon offers foie gras poutine -- basically the only way you could make poutine better and less healthy -- while Joe Beef serves up the foie gras double down, which we previously covered in Montreal's 10 most iconic meals, describing the "cheddar and aioli stuffed between two slabs of foie gras breaded with potato chips, deep fried, and then drizzled with maple syrup".
Yes.
...and you want to see naked women while you dine:Chez Paree
This gentlemen's club is only a five-minute walk away from the Bell Centre (where the Canadiens play), and has ruined many a hockey player. It's also just five minutes from a bunch of hotels, and even has an electronic casino. But you're not going there for slots. You're going for gorgeous French-Canadian women. The bouncers wear tuxes, and the women wear basically nothing. And it serves cold cuts.
Some would call Chez Paree the definitive Montreal experience. We would not argue.
...and you need piles of smoked meat:Schwartz's
You don't want to return to Springfield without name-dropping a smoked meat sandwich experience at Schwartz's. Cope with the line or go off hours. Get the mandatory Black Cherry soda.
...and you just need poutine:Banquise
You can't leave Montreal without eating poutine. You can get it just about anywhere, but this is the default joint.
...and you want to brag about getting an authentic Montreal bagel:St. Viateur
And the bagel thing. Yeah, it's required. Head to the St. Viateur instead of the Fairmont because it's the nicer strip.
...and you just want a burger:M:BRGR
What it lacks in vowels, M:BRGR on Drummond makes up for in satisfying burgers. Plus God, or P.K. Subban, as he's otherwise known in Quebec, has named it his go-to joint.
...and you want to gawk at celebrities:Buona Notte
Because you've got money to burn, check out the Buona Notte on St. Laurent as a celeb-spotting hangout. It also serves as a solid springboard to the adjacent party strip.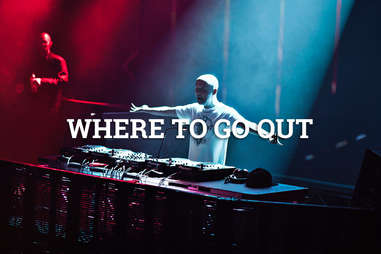 For a true EDM experience: New City Gas
New City Gas is the big boy on the block, and can cost a bundle to get in, but freebies can happen as club promoters turn to social media to fill up the cavernous joint on non-show nights. This isn''t a place to get your drink on... but if you wanna rage and rave, expect 2,000 pill-poppers mesmerized by DJs and fast beats.
For a lesson in French-ing: Crescent Street
Francophone women have earned a reputation of openness towards casual sex, so don't be intimidated by language issues. If you really want to keep to your tongue, get to Crescent street. Mainstream as it is, it's still a meat-market.
For clubbing with your crew: Nightclubs on St. Laurent
The nightclub strip on St. Laurent, or St. Lawrence as many locals call it, contains a variety of equal-but-different clubs and your tipsy stroll will likely lead to the right door. A warning: If a tout begs you to come in because there's not too many women inside, he's probably telling the truth.
Watch out for the post-club fistfights at 3 a.m., on St. Laurent and St. Denis, not so much because you'll be in them, but overeager cops will cuff indiscriminately and even hit you with a hefty fine.
Santos, Joverse, and Flyjin are some of the hotter lounge-type joints, Galt is new, and Apt 200 and SUWU are the hipster joints. Homebrew local champ is the Bily Kun these days, where everybody wears black shirts and ostrich heads adorn the walls.
For a slice to protect your future-married friend:Angela's
In the downtown core, Angela's has the antidote for a beer-filled belly, as the salty pizza special will soak up all your excess booze.
For late night smoked meat:The Main
The Main does smoked meat as good as anybody, but if you've been doing psychedelic drugs, stay away. The lame artwork will make you trip.
For a gyro and stories from zeros:Kojax
Kojax, near Crescent, offers Greek fast food with a ton of banter from other tables. If you're there late night, you'll likely overhear other losers explaining why they struck out. Not that you're a loser. You just respect women.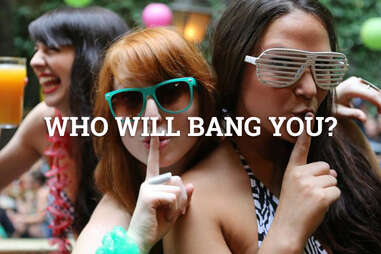 The Houston, Beaver Hall and Viger practically reek of female office-worker desperation. Like most of the downtown area, English is fully understood and spoken, but PUAs (pickup artists, for the laymen) attempting conquest in French had better brush up on their French NLP doublespeak, however, as "je crois que je te connais" might not cut it alone.

If you're looking to go native, Montreal's Pigeon Park at Atwater and Ste. Catherine has been a magnet for visiting Inuit who have become solid patrons of bars in the area. Some are generous with their customs of affection. Check out the Bull Pub if you're into that sort of thing.
And lastly, massage parlours can offer you that fairytale finish you seek. In recent years, such outlets have exploded in number, making a happy ending easier to find than a pack of smokes -- and almost as cheap -- as competition has driven down costs.
The old-school Red Light district: Cafe Cleopatra's
Forget all the other cloned-out downtown peeler clubs. Cafe Cleopatra's is the joint. Sure it hasn't been renovated in 50 years, but it's got the babes, the location and the charisma. It's also the heroic final refusenik in the effort to clean up the famously rough Lower Main.
The Scarface-Style Mirrors And Pole Joint: Solid Gold
If you could stand the various thresholds of tips, the Solid Gold further north is a sure bet for a stag party. Grooms can expect to get whipped in their underwear on stage. What better way to finally admit that you've been p-whipped?
The Sexual Hinterland
Nearby Laval, informally known as the sex capital of Quebec, will yield a seedy underbelly of alternative peeler joints – Deeses, Champion, Modernic – all considered great value by out-of-town standards.
The Clubs to Avoid
Downtown clubs don't have the $2 booth cover charge popular off-island, but they are more heavily policed by bouncers. Avoid the Ste. Catherine strip and the two Sergakis-owned clubs (Montreal Strip Club on Notre Dame and Amazones on St. Jacques) where wild behaviour is discouraged. Bouncers will usually side with you against overcounting dancers, but don't be scared if he threatens to call police. He won't.
If You Still Need More Guidance
Just check out our Definitive Guide to Montreal's Best Strip Clubs. We've got you covered.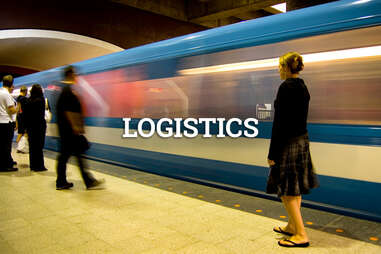 The metro will get you where you need to go
Montreal's metros are a trippy, seductive ride on smooth, rubber wheels (always what you want from a night out) and should be essential to your visit, particularly since the metro will frequently be jowl-to-shoulder full of clubgoers geared up for a night out.
You probably won't understand parking signs
Car parking has become tricky, if not impossible. You may want to bring a hieroglyphics translator, as the signs can be tough for out-of-towners.
Cabs will require cash
Hacks are plentiful in Montreal and drivers won't generally take the long way, but don't be under the impression that anything but cash will work. Line your pockets with Canadian Monopoly money before you try to get home in a car.
You can rent bikes, if you really feel like living on the edge
The local pioneering rent-a-bike Bixi service looks like it could be going broke, but for now, it's still a great way to feel the devil's fingers in your head as you speed down hills.
Walk, do not run to the strip clubs
Montreal is highly walkable, but watch out for bikes flying down bike lanes. The city has a lot of hills, so two-wheelers can come out of nowhere at a silent, high speed.
Don't come with a festival in mind
Montreal's tourism officials have justified their hefty salaries by supporting countless festivals. But some of the festivals truly stink, such as the annual late-summer film festival (though Fantasia and a couple of others aren't so terrible).
Cops like to ruin your good time
The growing barrier to fun for visitors is overattentive cops. Bars will card customers to make sure they're 18 (thanks for keeping it legal though!), rather than assume that if you're tall enough, you're old enough. Cops even slap jaywalking tickets on those exercising the traditional Montreal sport of marching through red lights. So don't assume everybody is still going to laisser les bon temps rouler (let the good times roll).
Silence is golden in metros
Never speak to a metro booth attendant. They're known to snarl, growl, and possibly even bite.
Expected costs
A big chunk of the Montreal experience lies in the dining, and Montrealers support the industry more than other entertainment options. If you're cool with snubbing fancier joints, you can party on $200 a day, hotel included.
Booze, while heavily taxed, is easy to buy. Beer and wine are in corner stores, and hard stuff sells at the government-monopoly locations open until 10 pm. Some of the city's best bars are of the dive variety, such as the Biftheque, where failed local musicians are known to gather and cry in their beer. Don't be shy if you're not rolling in cash.
Drugs
Marijuana is easy to score and tolerated at the weekly tam-tam bongo session on the mountain near Park and Duluth that fires up Sunday afternoons. So if you're looking to get in a toke before you fly home, this is your place to do that.
Cocaine has long been an easy score in bars. The trade was so hot at one point that dozens were killed in a biker war over it. While coke remains illegal, you shouldn't have to ask too many locals to get what you want.
Avoid heroin for obvious reasons, but if you really need someone to talk you down, the local supply has been occasionally poisoned in recent times by a powerful opiate additive that has led to many tragic deaths. Don't play that game without a friend, if you're dumb enough to play it.
Prostitution
Street prostitution has been on a steep decline in the city, but don't be shocked if a perfectly vivacious babe approaches your group with a brazen come-on, saying, "How are you? I'm working".
Various sites like annonce123 and backpages offer surprisingly bargain prices, with many beckoning to the surprisingly clean Motel Excel. Massage parlours (the Canadian spelling, of course) also routinely offer a wide variety of services, with many of the best found in the west end.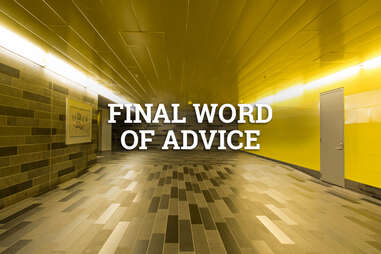 Montreal weather can be drab or outright nasty, so find refuge in the bizarre labyrinth of downtown tunnels that join mall-to-mall-to-office-tower in the city center. There you'll feel like Alice in Wonderland, surrounded by hermits, metro stations, tie shops, and glorious shopping malls, replete with the fantastic and exquisite babes that have put the city on the map.